地層と泉が共鳴する世界に包まれる美容院
A beauty salon surrounded by a world of strata and springs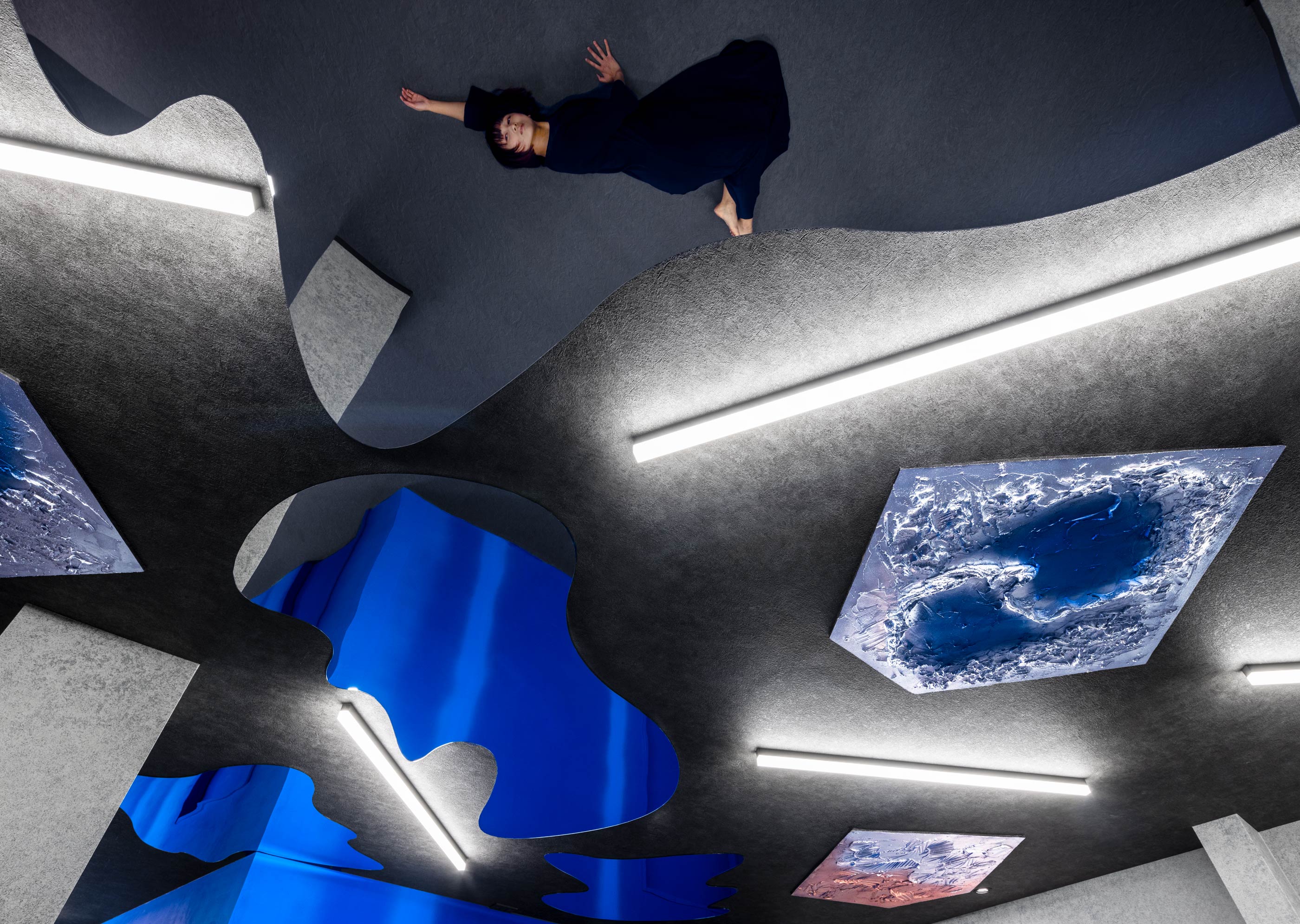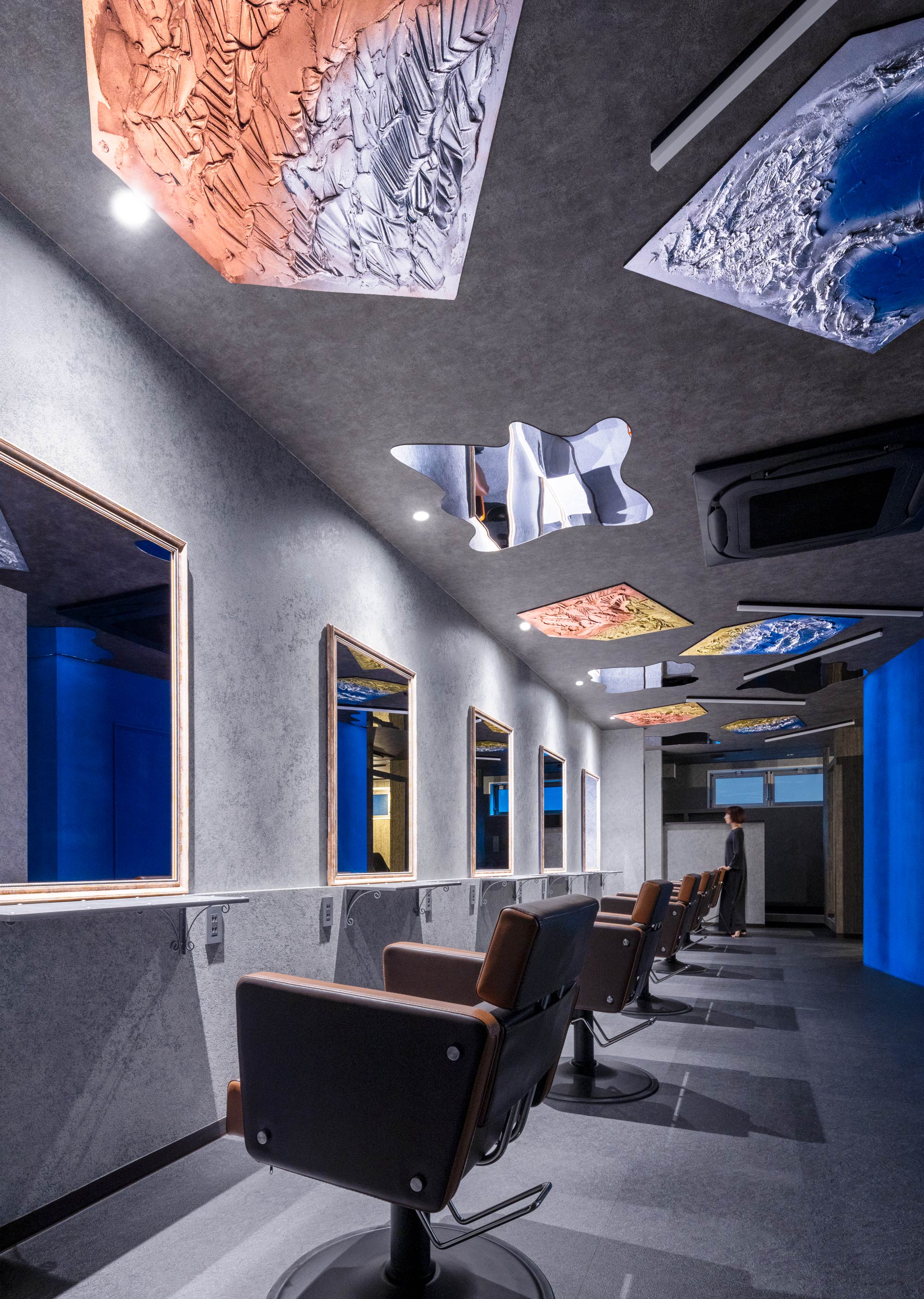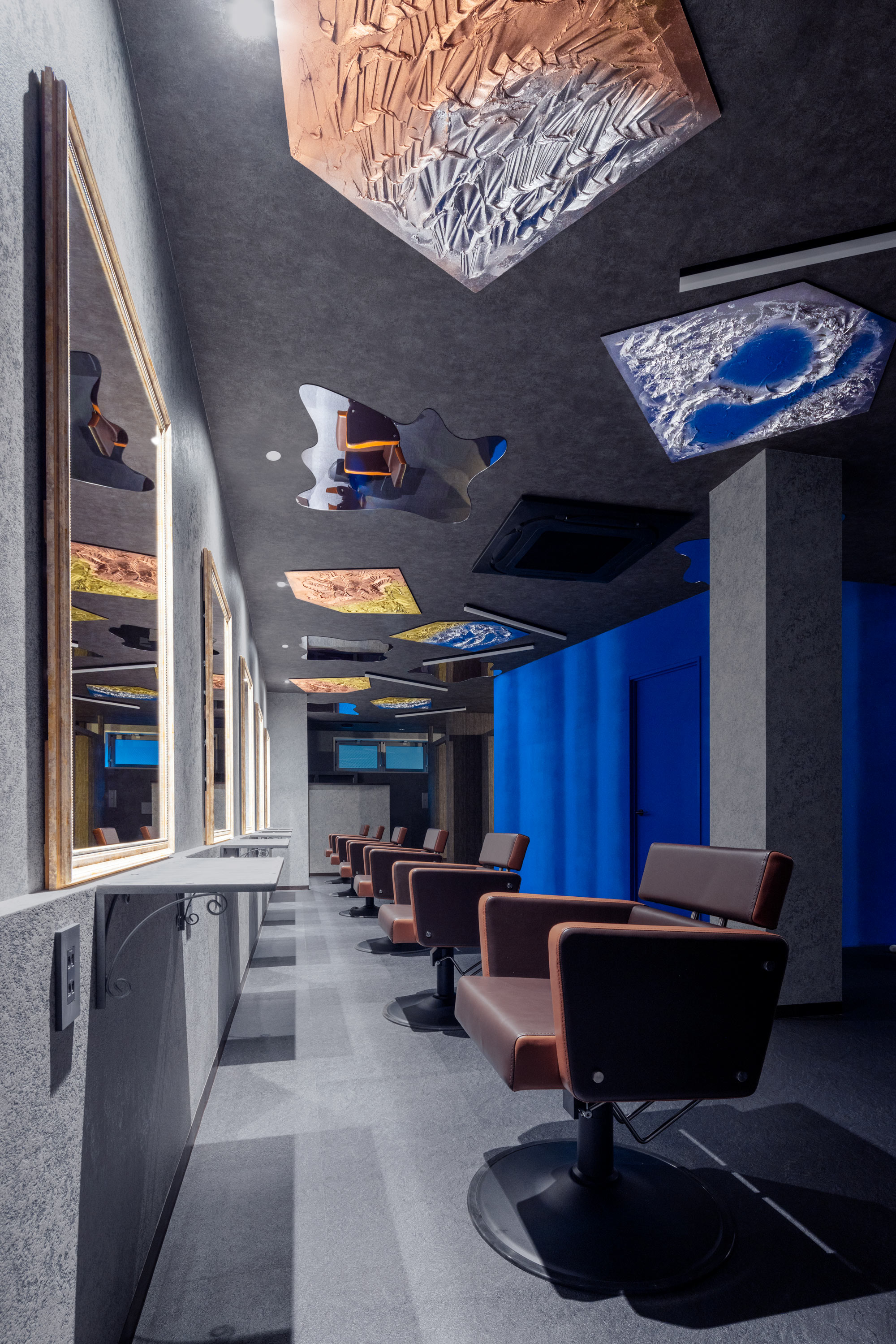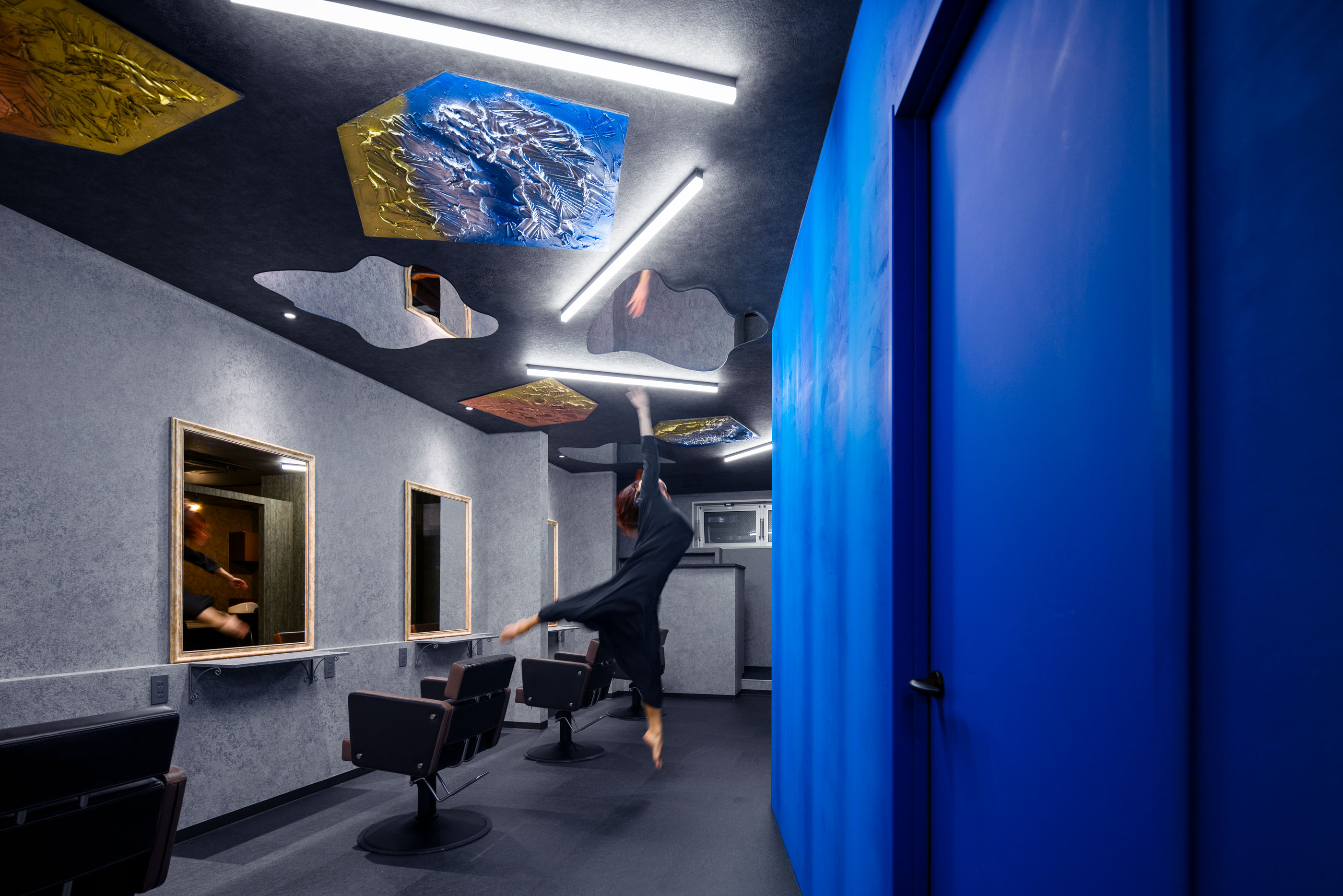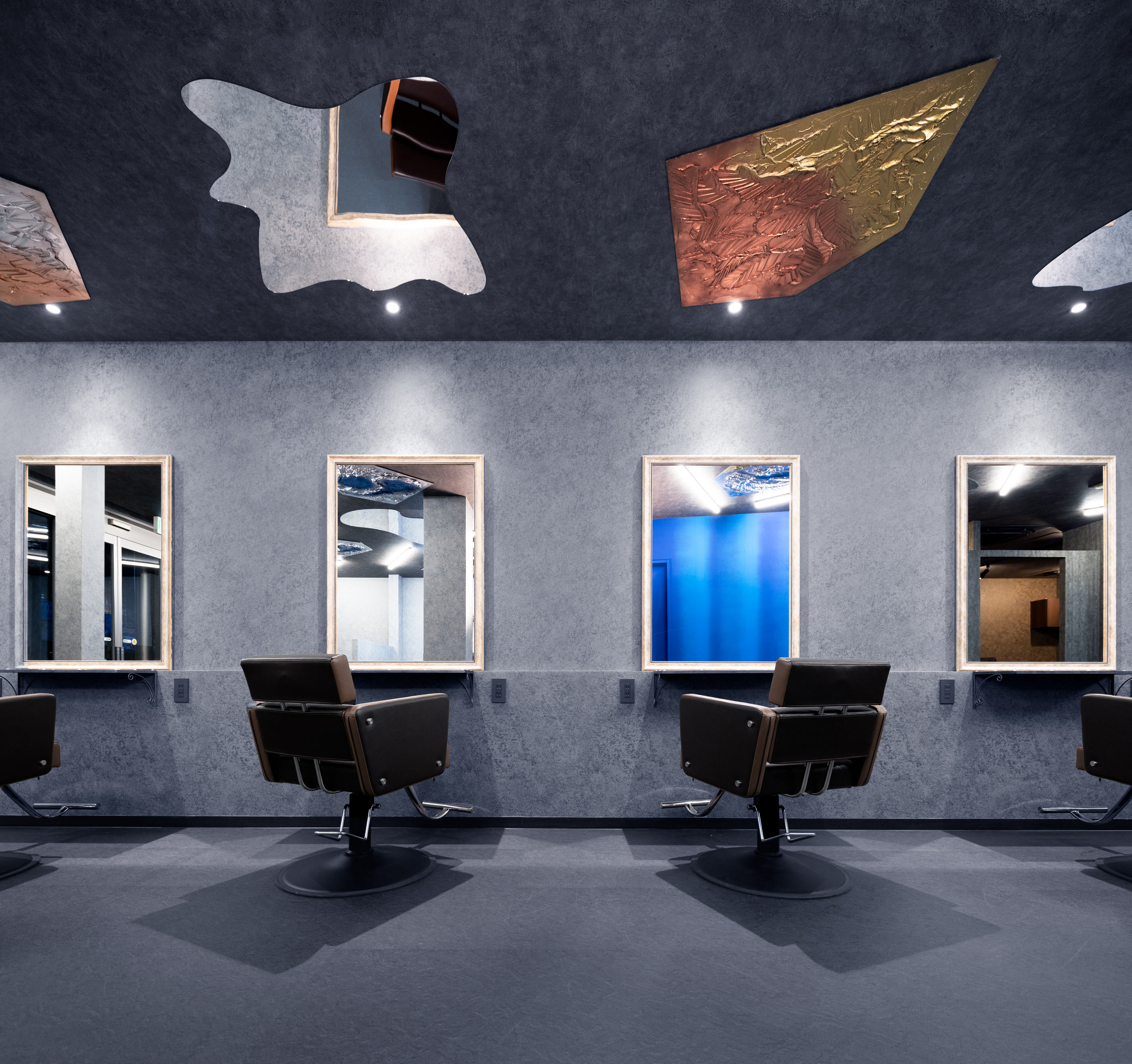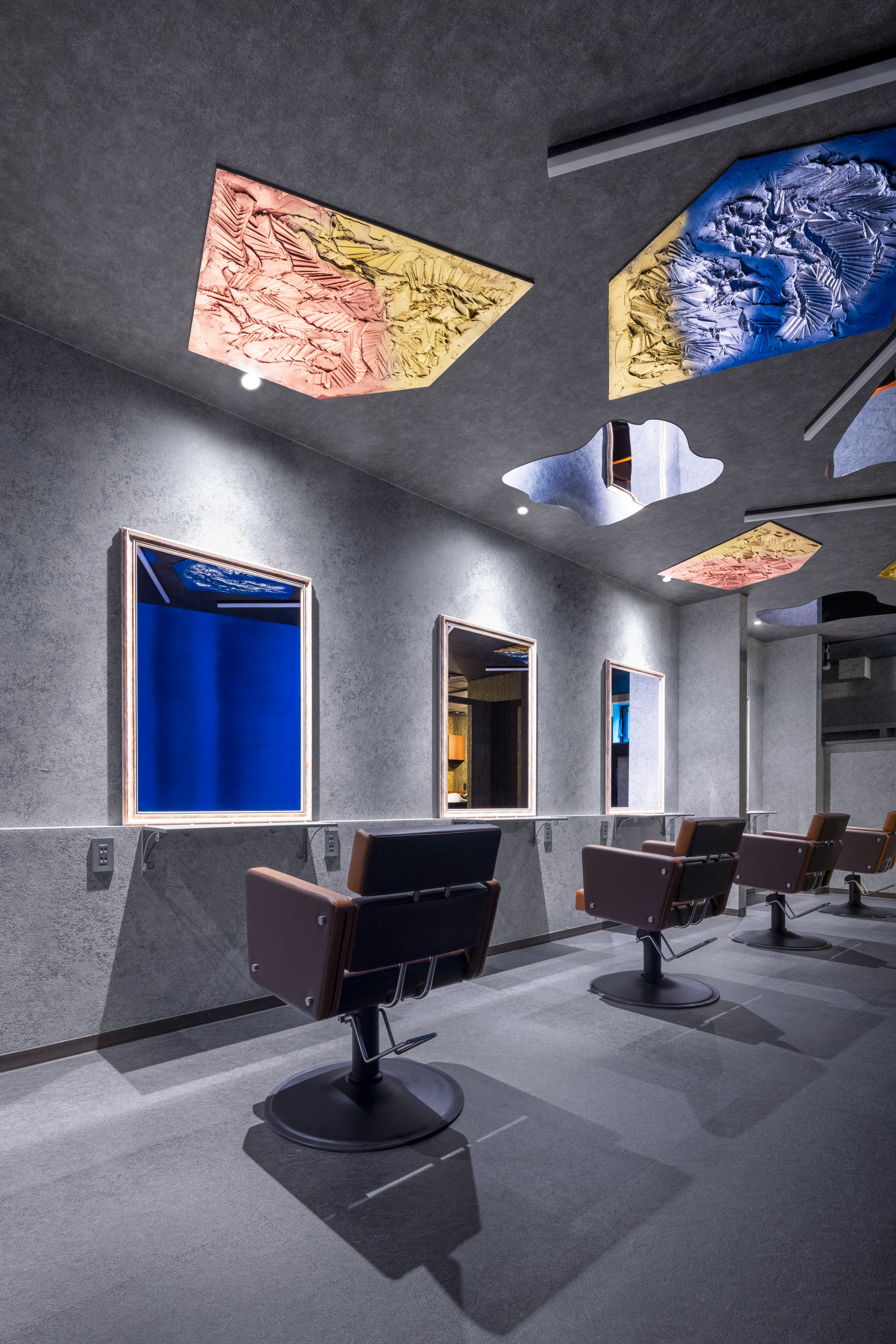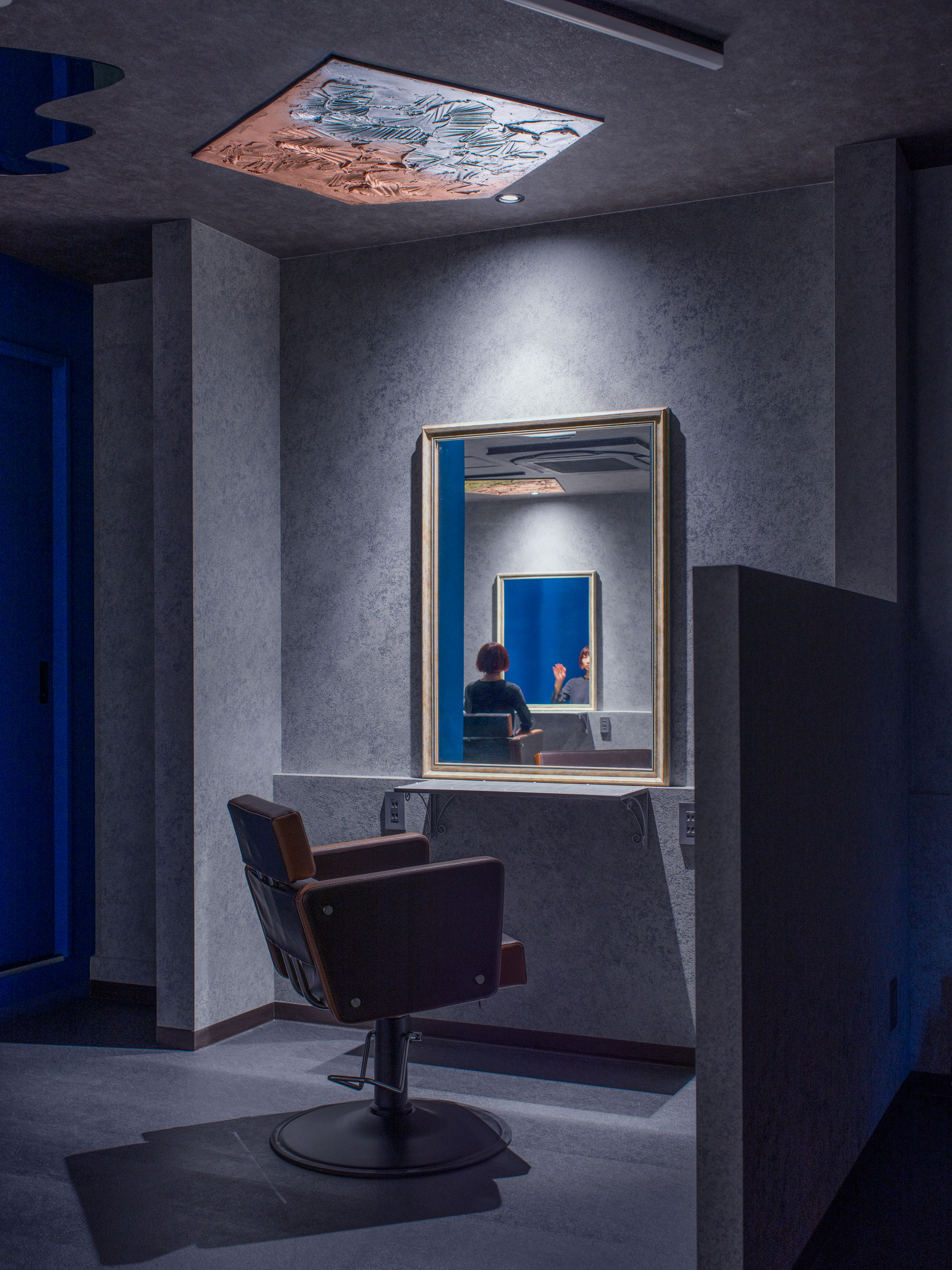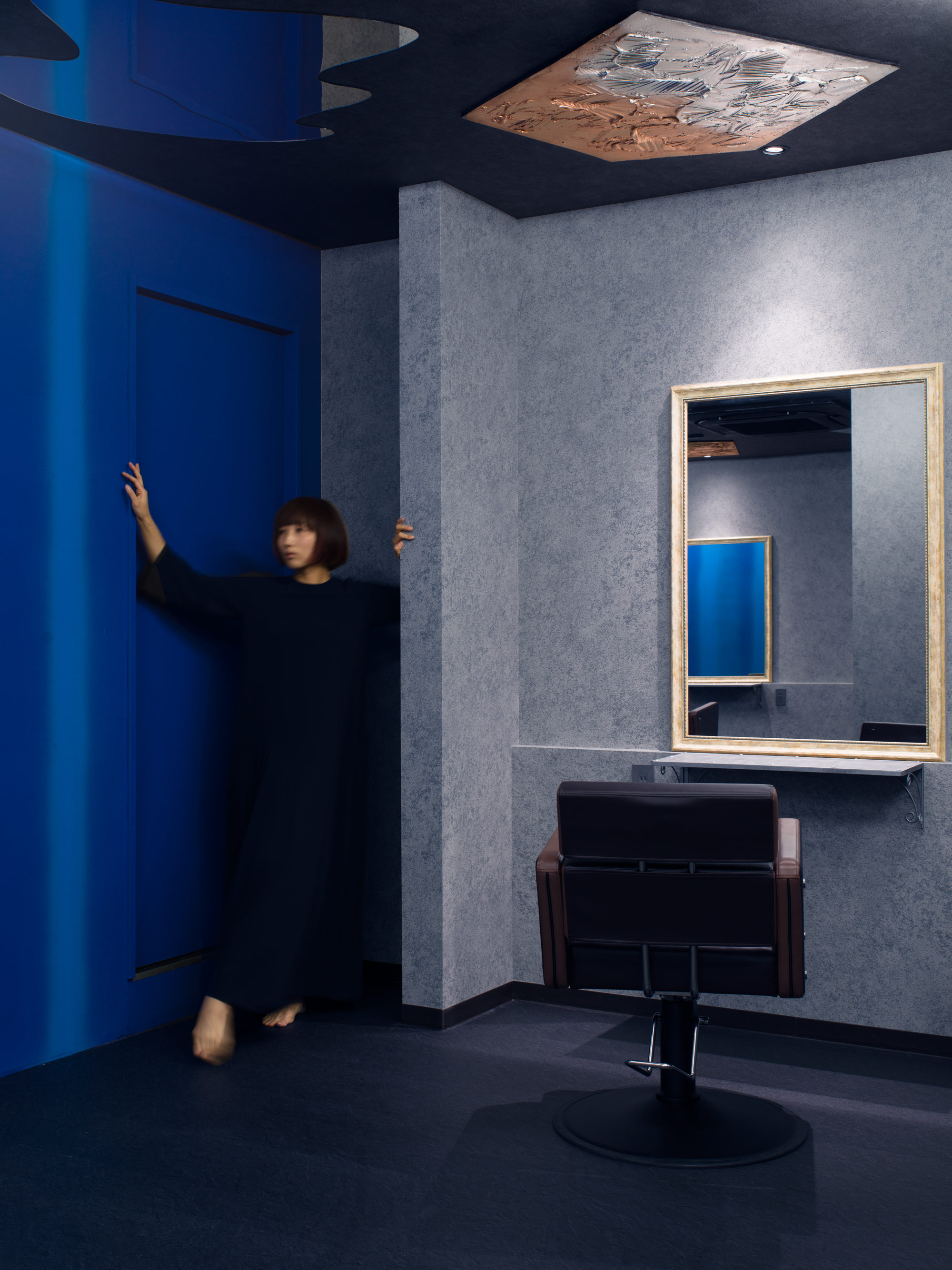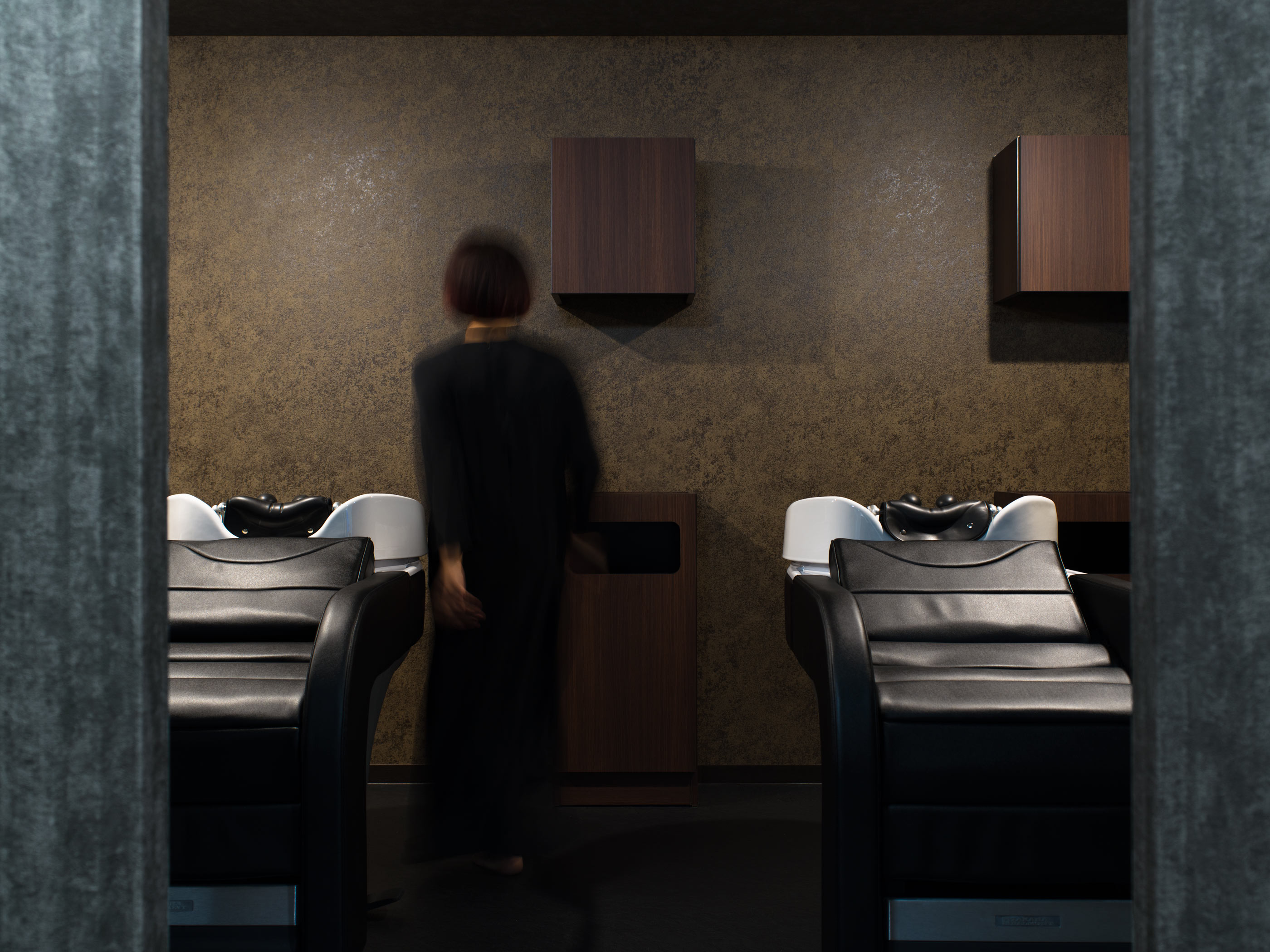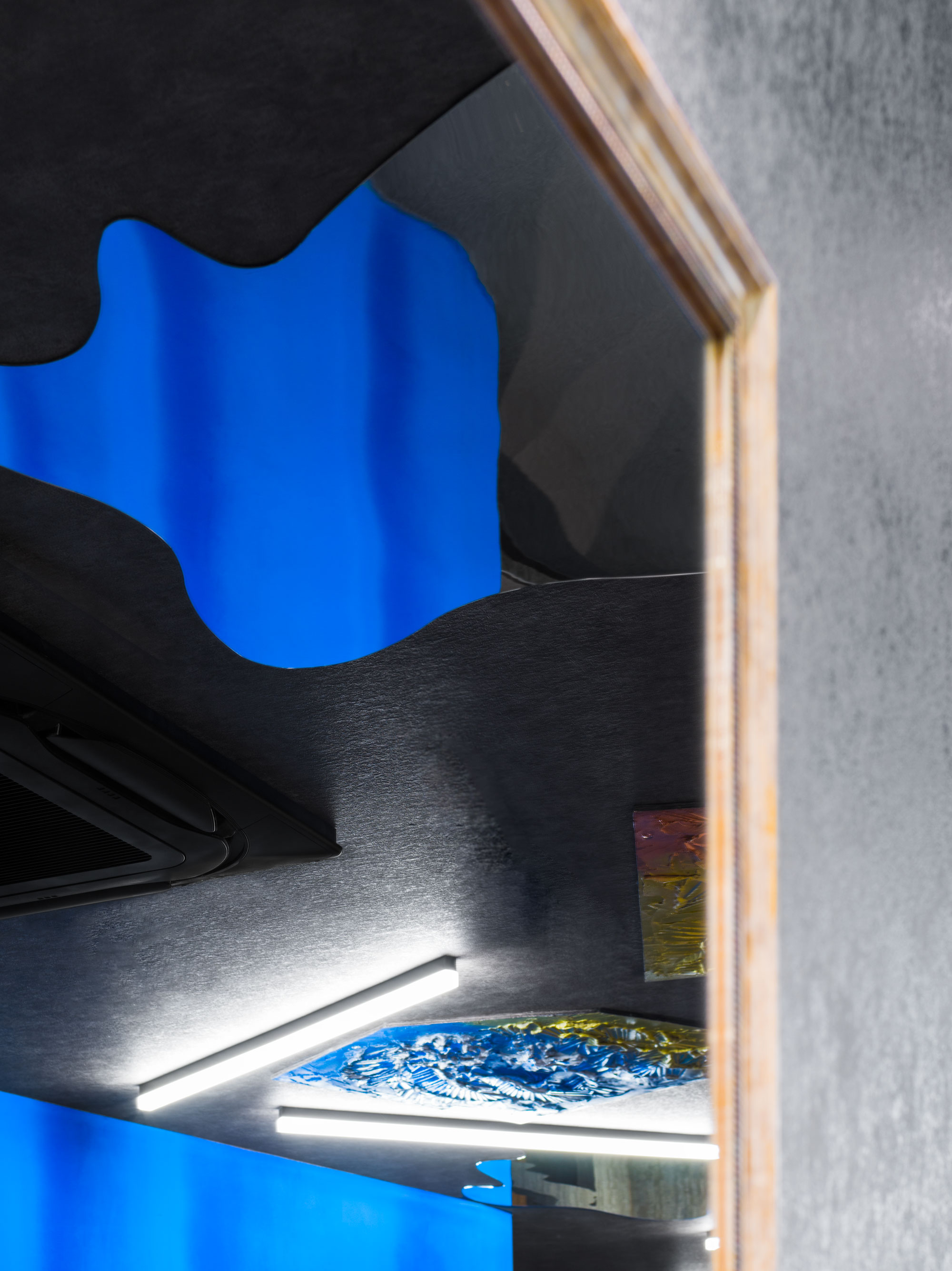 Strata / Springscape
地層と泉が共鳴する世界に包まれる美容院
敷地周辺には、大規模な丘陵地帯であったかつての面影を残す丘や坂が多く、地層の断面が荒々しく露出する場所や、湧水で満たされた泉を中心とする公園がある。
このような土地の成り立ちを意識し、地層、土、泉、丘を発想の原点とした。これらの大地の要素を一つの流れの中で瑞々しく浮き上がらせ、そのエネルギーを、力強さを帯びた空間によって実現することを試みた。
空間全体に、地層/土や、泉/水流をイメージした要素を展開。天井には、入念な手仕事から生まれた地層と泉のエネルギーを結晶化したような光のかけらが舞い、静けさと神秘をたたえる泉のようなミラーが浮遊する。壁面は、水流のようなブルーグラデーションの色彩と、地層を構成する山砂利のような質感で仕上げた。空間には、活きいきとした自然の力と煌めきが溢れ、人々は様々な表情を見せながら変化していく風景に、身体が包み込まれる世界を体感する。
ミラーに反射した像が伸びやかに広がる全体風景は、陰影と反射が織り成す多様なリズムに満ち、有機的な生のあるもののように輝き、訪れた人々の喜びを拡大する環境を生み出している。
Strata/Springscape
A beauty salon surrounded by a world of strata and springs.
The location is surrounded by many hills and slopes that retain the contours of a former large hilly area, with parks centered on sites with natural springs filled with water borne from unique and roughly exposed sections of geological strata.
Conscious of the origins of such a landscape, these strata, soil, springs, and hills became the starting point of our design.
We thus sought to bring these natural elements into fresh relief in a single flow to create a space imbued with their energy and strength.
The entire space is embedded with elements inspired by strata, soil, springs, and water streams.
Fragments of strata and spring motifs can be seen dancing on the ceiling next to floating fountain-like mirrors. The walls are finished with blue gradations that resemble water streams reflected in a fountain, and with a texture evocative of stone gravel in a geological formation.
The space is filled with the power and brilliance of nature, and visitors experience a world in which their bodies are enveloped by the ever-shifting landscape.
As we become enfolded by the changing manifestations of strata and springs, we find their image permeating the richly expressive materials reflected, stretched, and expanded by mirrors.
This creates an environment full of diverse rhythms of shadows and reflections, shining like something organic and alive, thereby magnifying the joy of those who pass through it.
Design Team : Moriyuki Ochiai, Jun Ueda
Use: Beauty Salon
Constructor: Aslego
Special Paint : Osamu Yamaguchi
Lighting : Kayo Yokoyama (Koizumi Lighting)
actor : Risa Shimada
Photo: Takehiro Kawamura
Design Team : Moriyuki Ochiai, Jun Ueda
Use: Beauty Salon
Constructor: Aslego
Special Paint : Osamu Yamaguchi
Lighting : Kayo Yokoyama (Koizumi Lighting)
actor : Risa Shimada
Photo: Takehiro Kawamura
Award