建材・衛生陶器・住宅設備機器等を扱うINAXブランドの
グローバル展開におけるブランドヴィジョンを表現するプロジェクト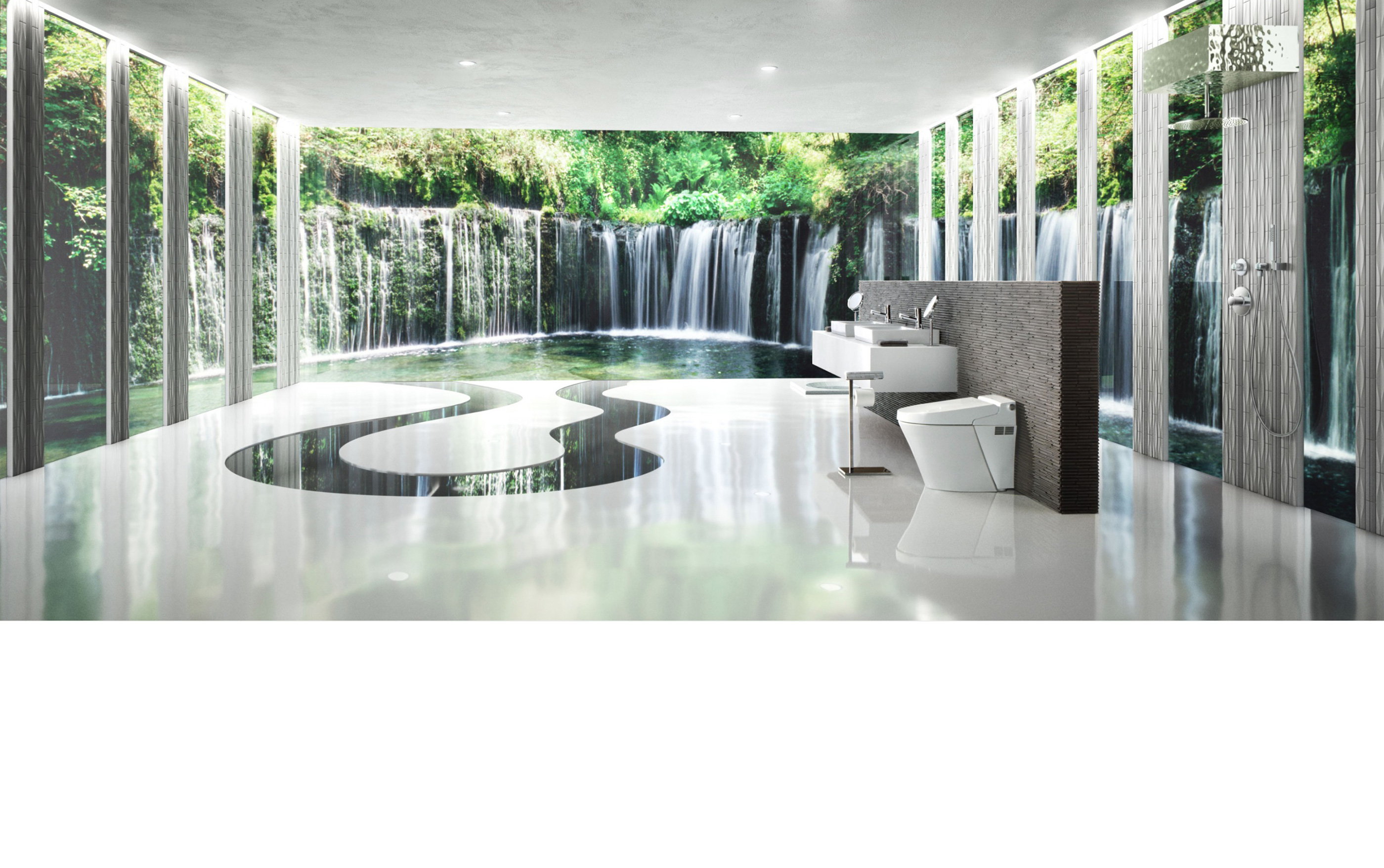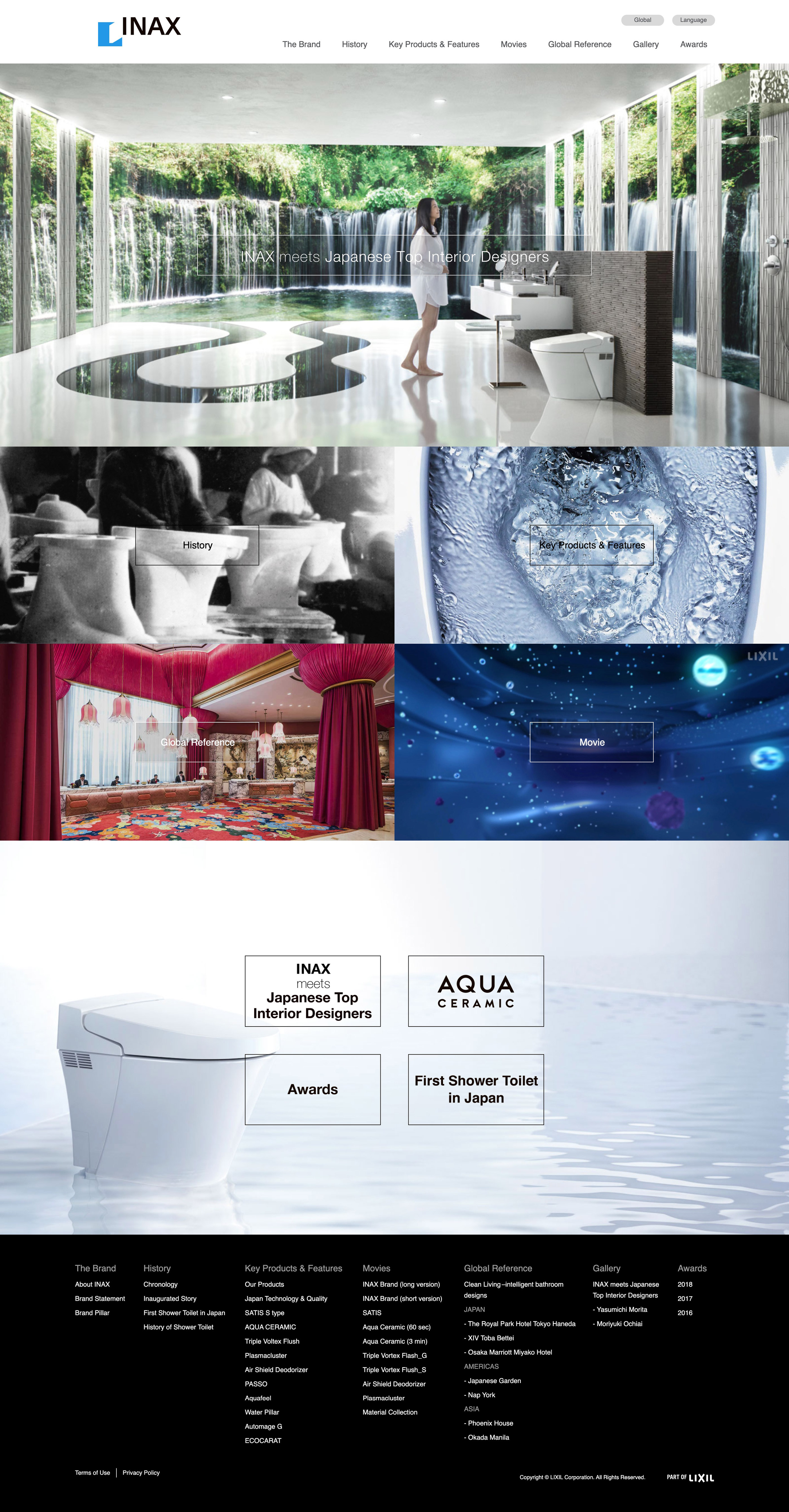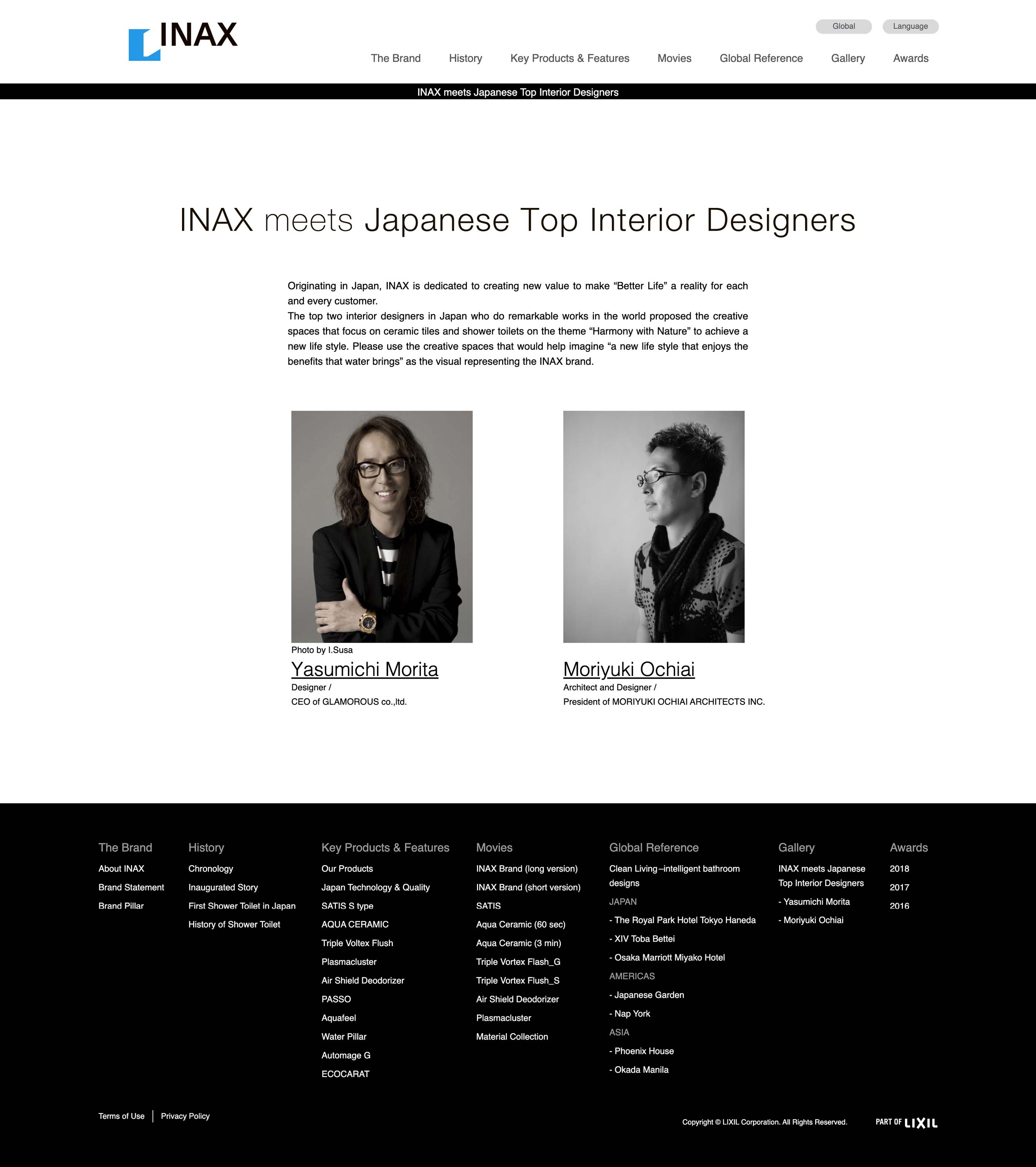 WATERFALL VILLA
陶管やタイルの製造から始まり歴史あるINAXブランドの、グローバル展開におけるブランドヴィジョンを表現する空間プロジェクト。
以下の要素
・自然との融合
・オープンエアで外との繋がりを直感
・タイルの良い質感が伝わる壁
・主力衛生機器であるSATISを魅力的に展示
を反映し、日本発のグローバルブランドとして相応しい、創造的な空間創りが求められた。
そこで、自然と人とを繋ぐタイルとしての機能、水まわりの先進的な衛生器具SATISに焦点をあて、水と親しむ新しいライフスタイルを想起させる空間を創り出すことを試みた。
日本には、「見立て」という、日本庭園における白砂や小石の文様を水の流れとみなすなど、対象を別のものになぞらえ表現する技法がある。
日本人の自然に対する感受性を意識し、日本文化の奥行きを深めているとされる「見立て」の技法を用い、日本のクラフトマンシップをベースにしたグローバルブランドのイメージ表現として、この文化的背景を意識した空間設計を行う。
両脇の壁のタイルを滝に、腰壁のタイルを岩に、床のタイルを水面に見立て、開口部と床に反射した像、水の循環を暗示する床の泉を通して、自然を豊かに感じられる空間を提供する。
移ろいゆく自然の変化を繊細に感知する全体風景は、晴天や曇り空の光、朝日や夕暮れの光など、季節や一日の自然光の変化を豊かに感じられ、自然現象の驚きと神秘を感じさせる。懐かしくも新しくもあり、最小限の住まいの空間であり、最大の幸福感を感じられる環境を生み出している。
開口部から広がる景色を眺め、自然と一体化する心地よい贅沢な空間。
室内に反射した風景は、豊かなリズムを刻み、自然の力と美しさを拡大していく。
人と自然を繋ぐ、快適なライフスタイルをイメージさせる空間の実現を目指した。
WATERFALL VILLA
The INAX brand originated from manufacturing ceramic pipes and tiles. In developing the key visuals to represent the INAX brand vision worldwide, it was necessary to produce a creative space worthy of a global brand from Japan, incorporating the following elements:
- Harmony with nature
- Sense of connection with the outdoors through open air
- Walls that convey the high-quality textures of tiles
- Attractive display of SATIS, the main sanitary-ware product
Therefore, I attempted to create a space that would help imagine a new lifestyle that enjoys the benefits that water brings, by focusing on INAX's innovative sanitary-ware SATIS and the function of the tiles in connecting human beings with nature.
In Japan, there is an aesthetic technique called "mitate" which uses matters symbolically to express something else, such as perceiving patterns made with white sand and pebbles as the flow of water in a Japanese garden. Incorporating the Japanese sensibility towards nature and using this technique of mitate, which is considered to have enriched Japanese culture, I designed a space that represents the image of the global brand that reflects INAX's cultural background - a heritage of Japanese craftsmanship.
Imaging the tiles used on the side walls as waterfalls, the low wall attaching SATIS and the washbasin as a rock, and the floor as water surface, I configured a space which allows one to feel the abundance of nature, through the reflections in the windows and the floor, together with the pattern on the floor that symbolizes the flow of water. The overall landscape which is devised to reflect the delicate change in nature, allows one to experience its wonder and mystique, such as the change in natural light depending on the season or the time of day, whether under sunny or cloudy skies or upon sunrise and sunset. With both a nostalgic and a new feel, the minimal living space offers an environment where the greatest sense of well-being can be felt.
A comfortable and luxurious space where one can enjoy the view from the window and unite with nature. A reflection of the landscape with a dynamic rhythm, expanding the power and beauty of nature. A space that makes one imagine a comfortable lifestyle that connects people and nature. By using tiles that create the image of water, tiles that bring about reflections like the water surface, and tiles that look like soil, I endeavored to design an attractive space full of energy, that portrays all these elements.