牧場を運営している企業の販売店舗
商品の大切な価値である新鮮な牛乳をモチーフとした発光体の光に満たされた空間
Unity under the luminous aura of milk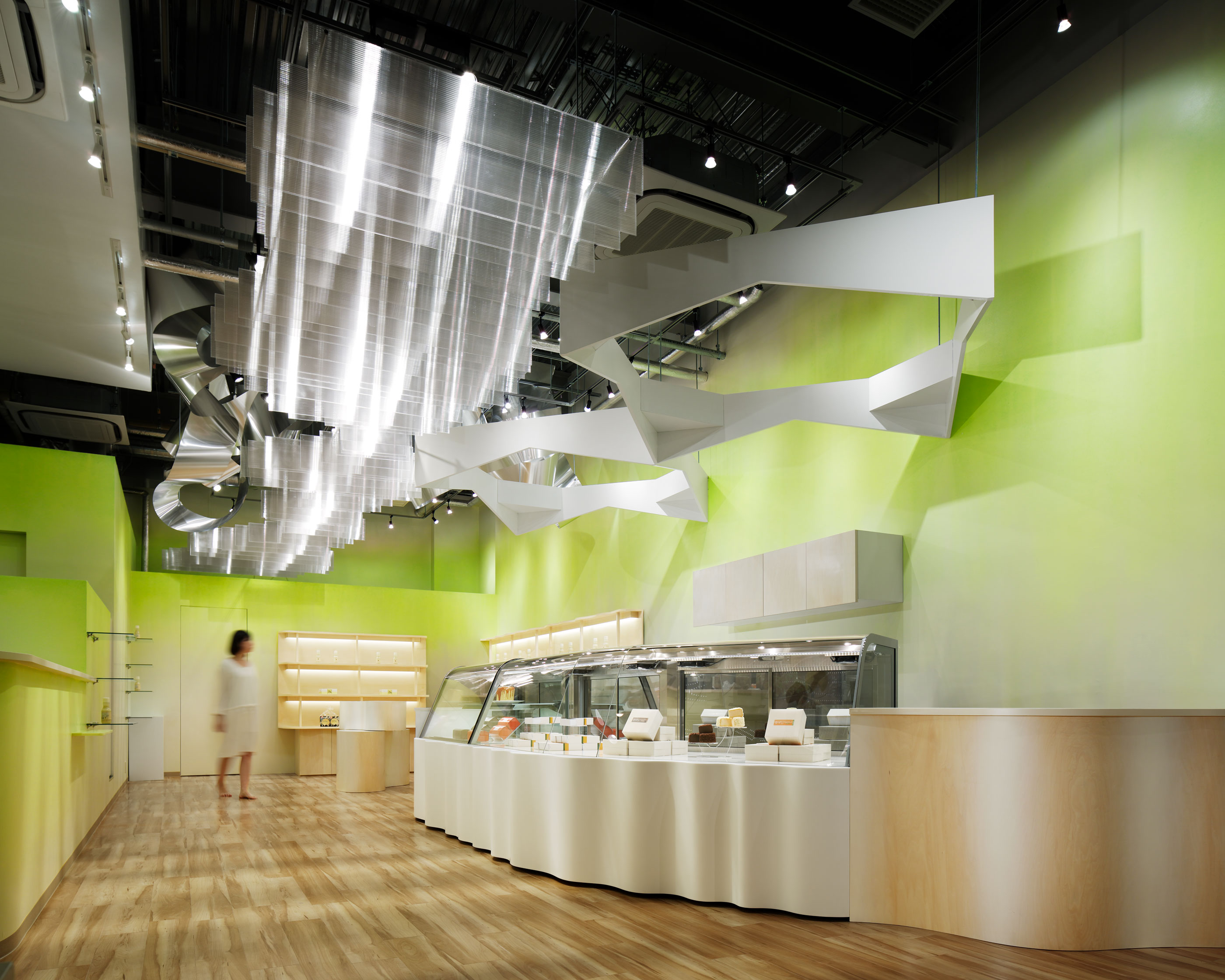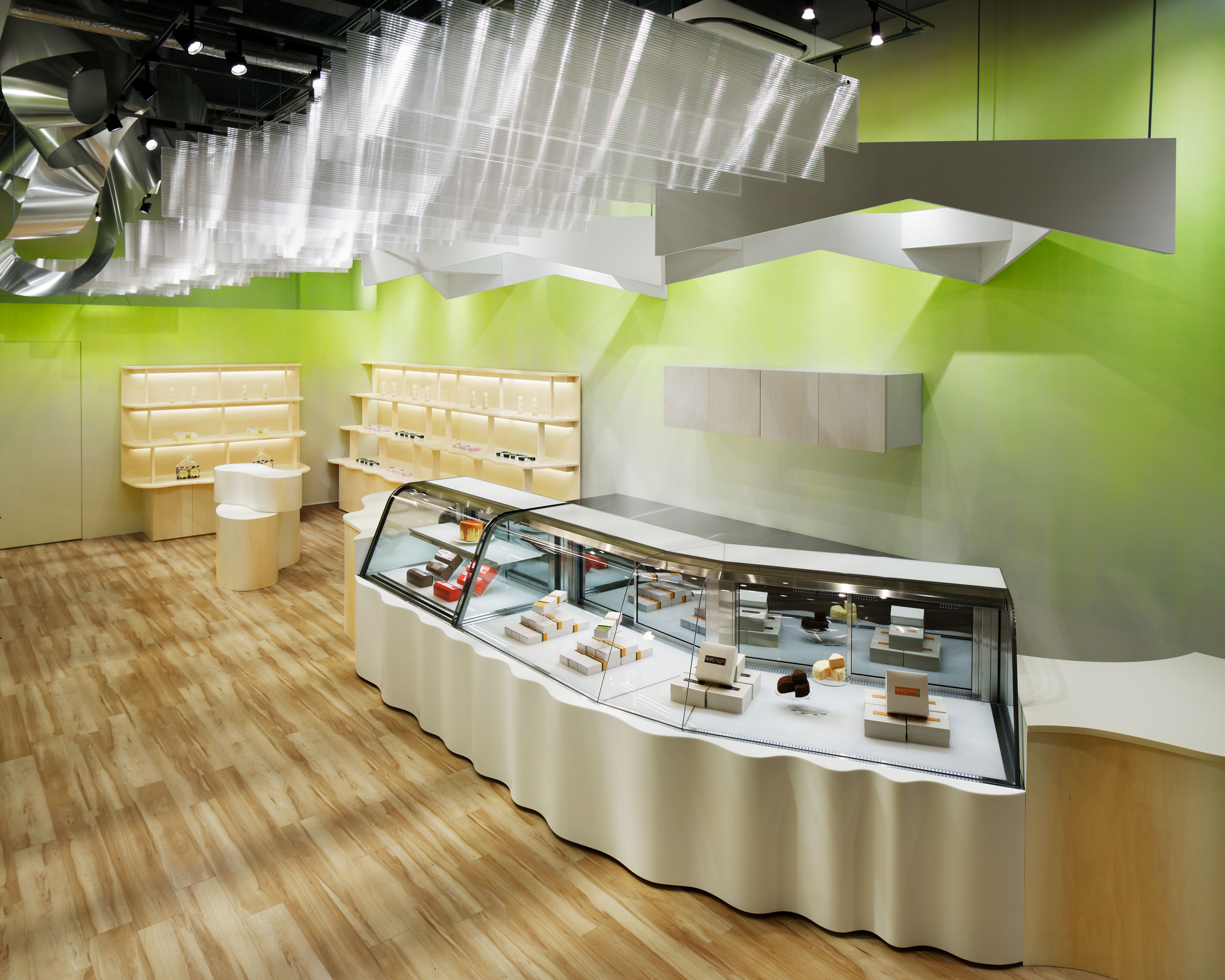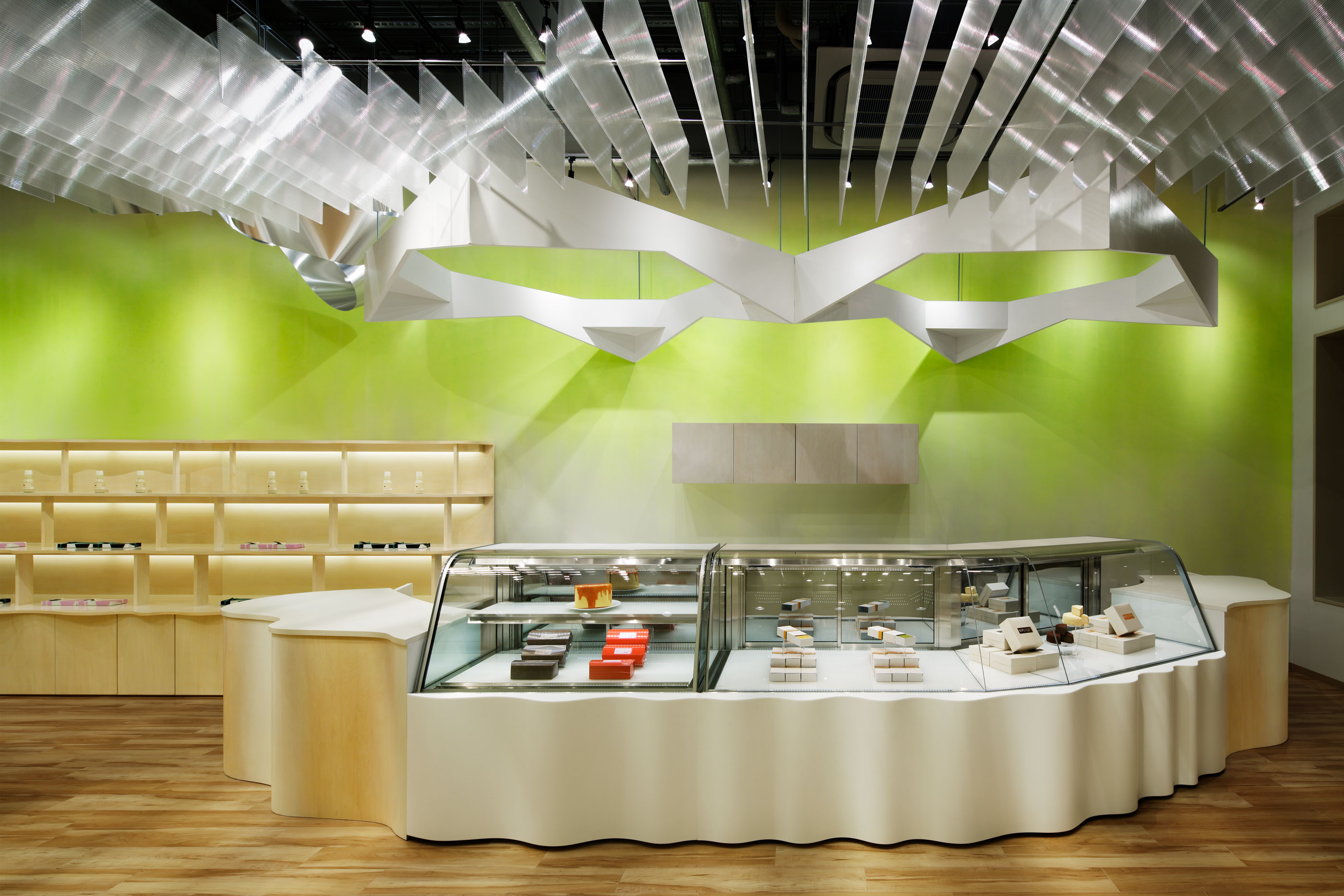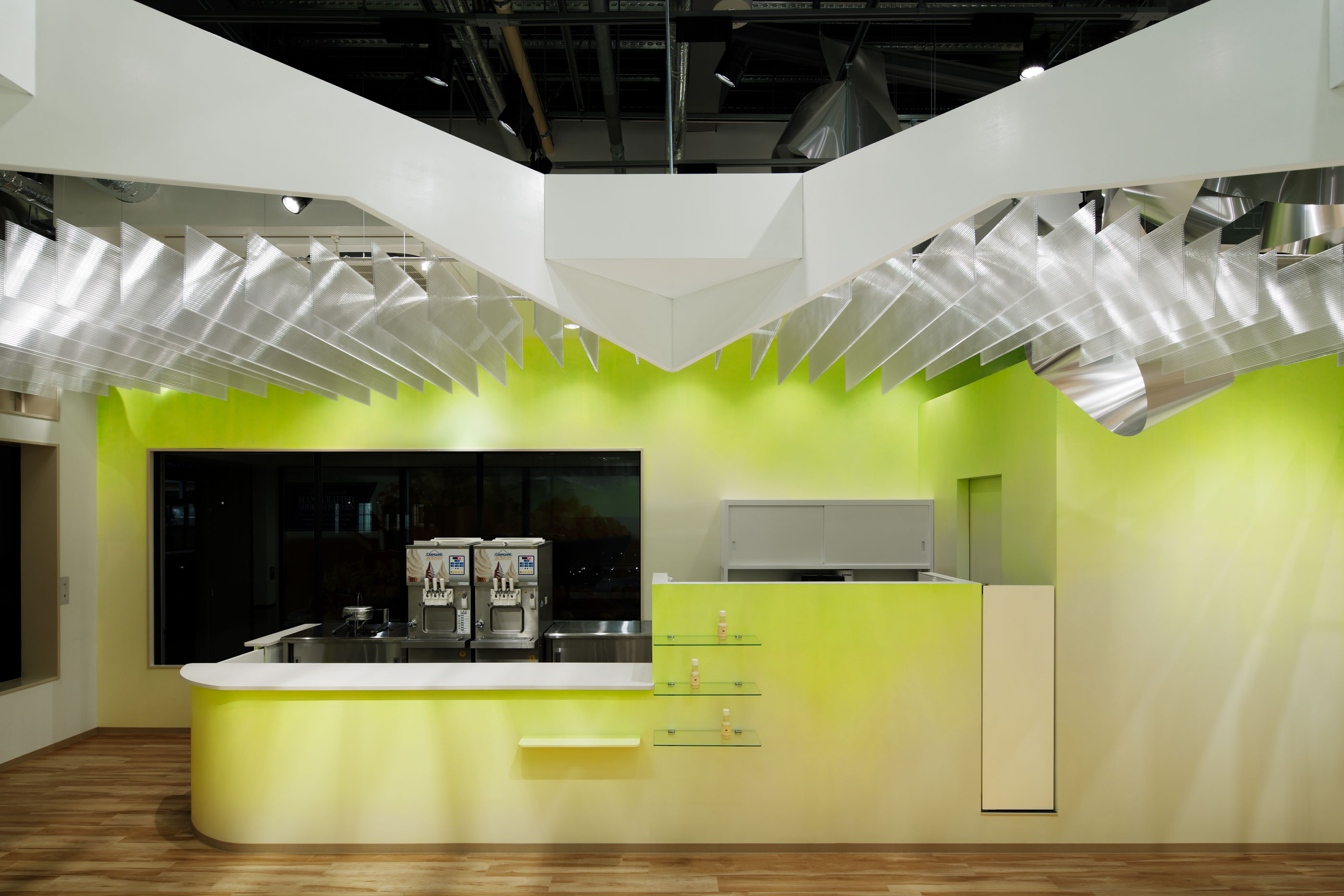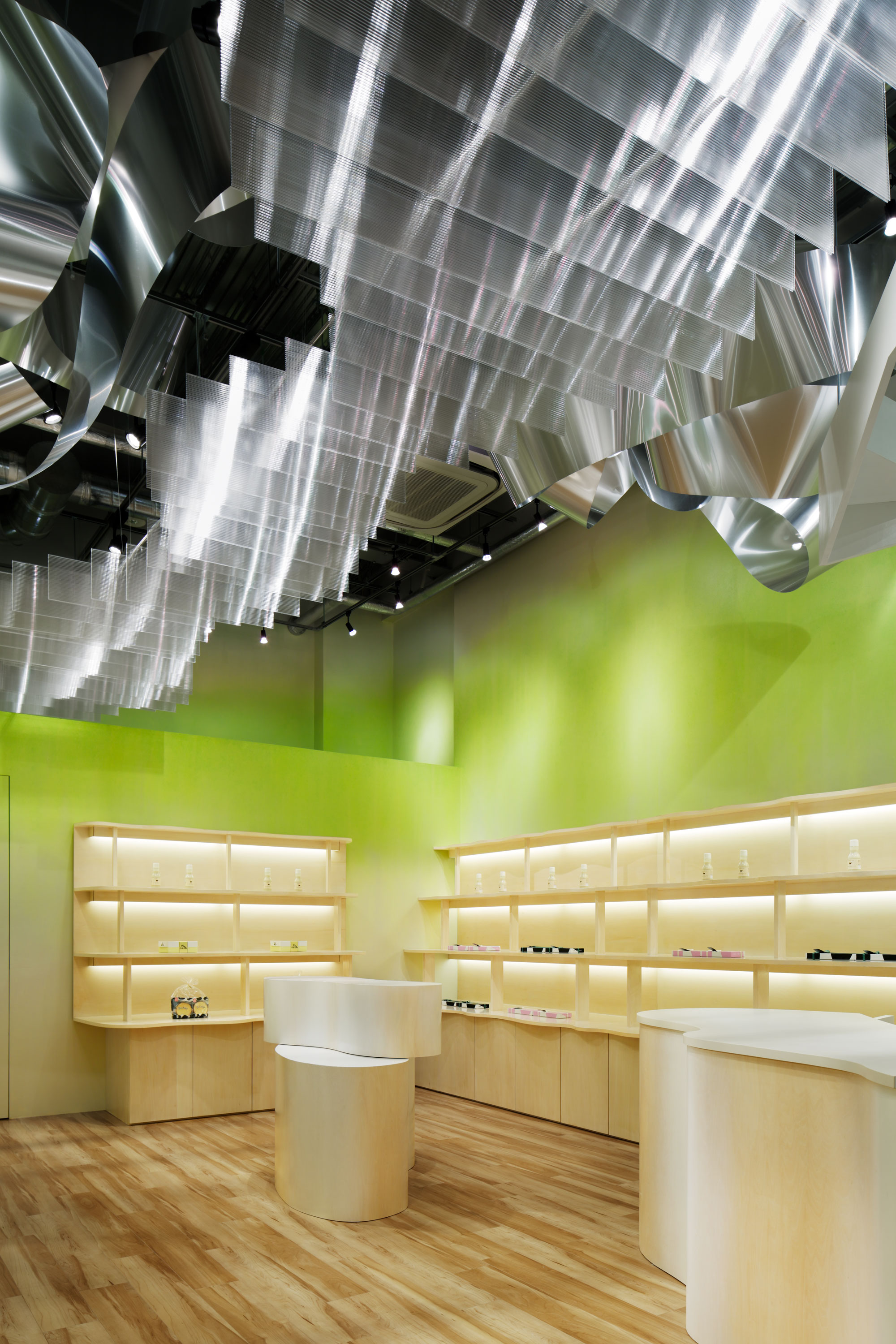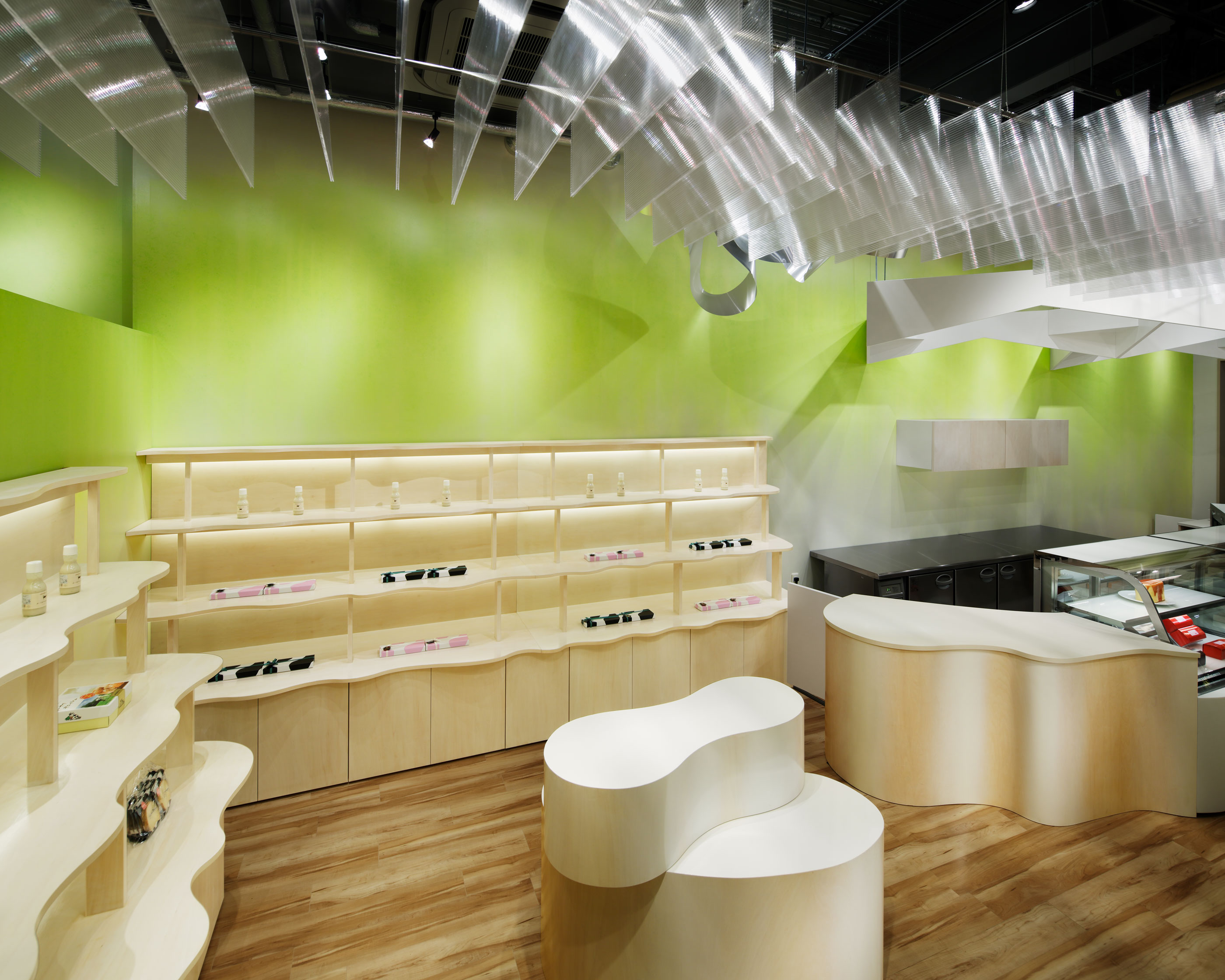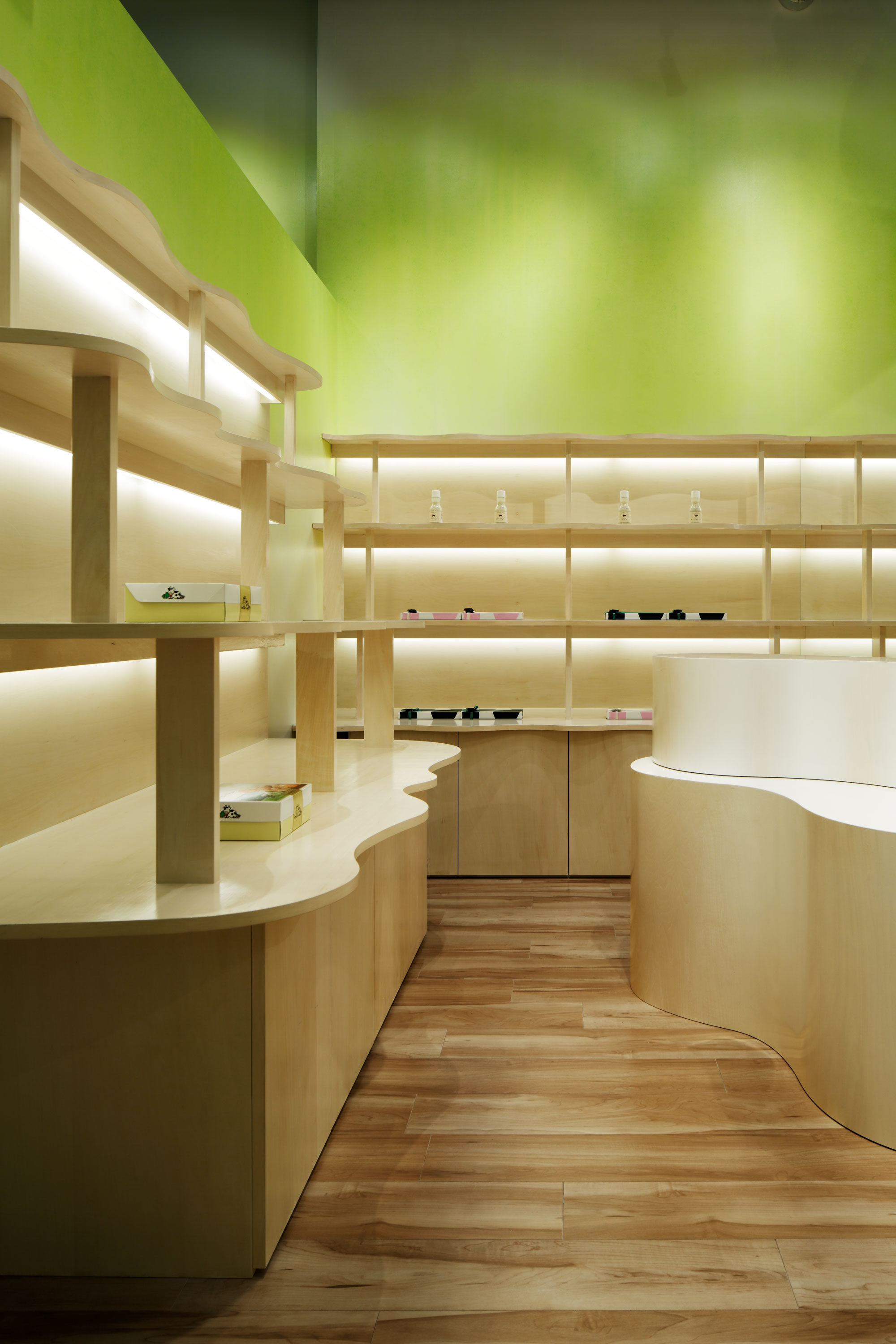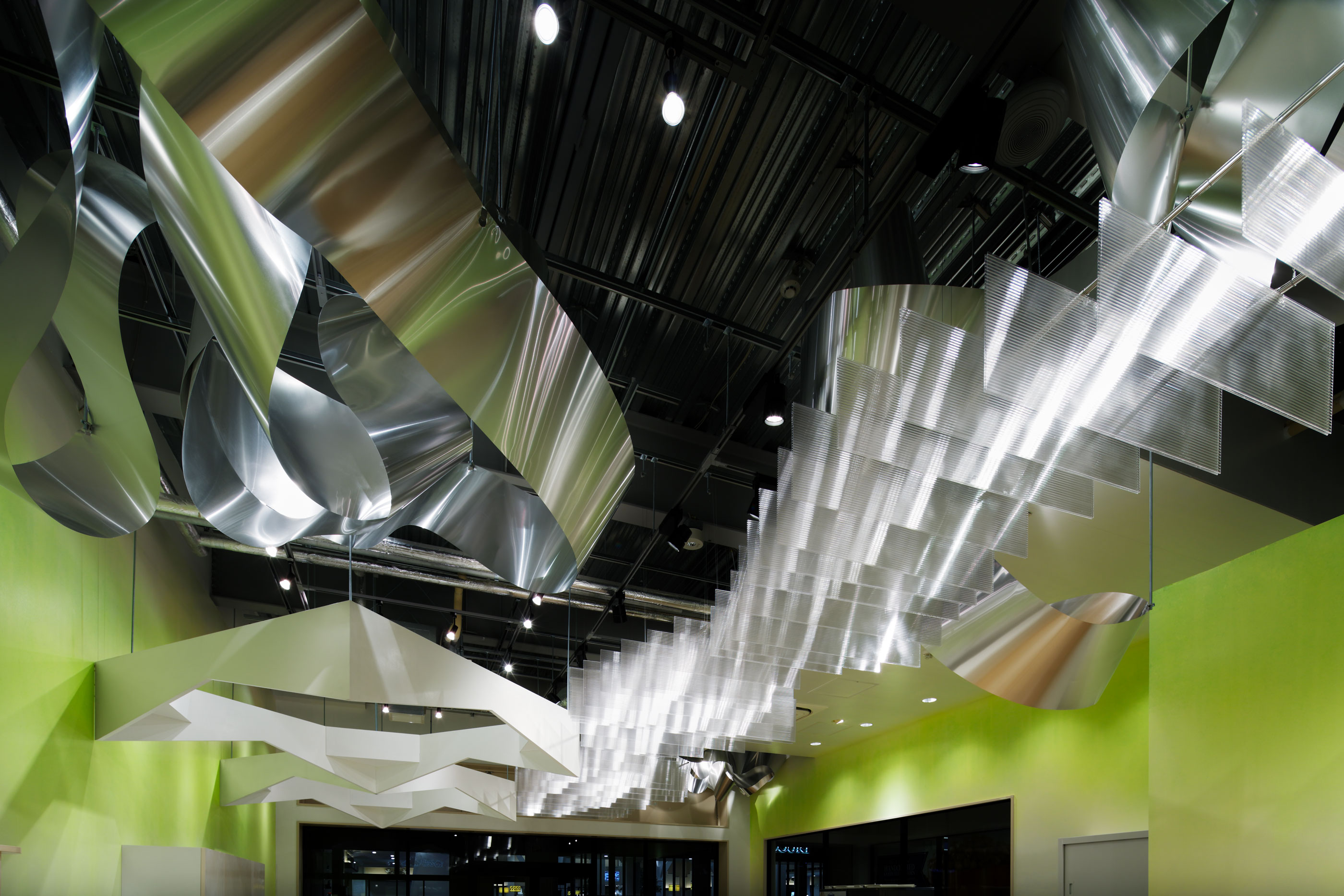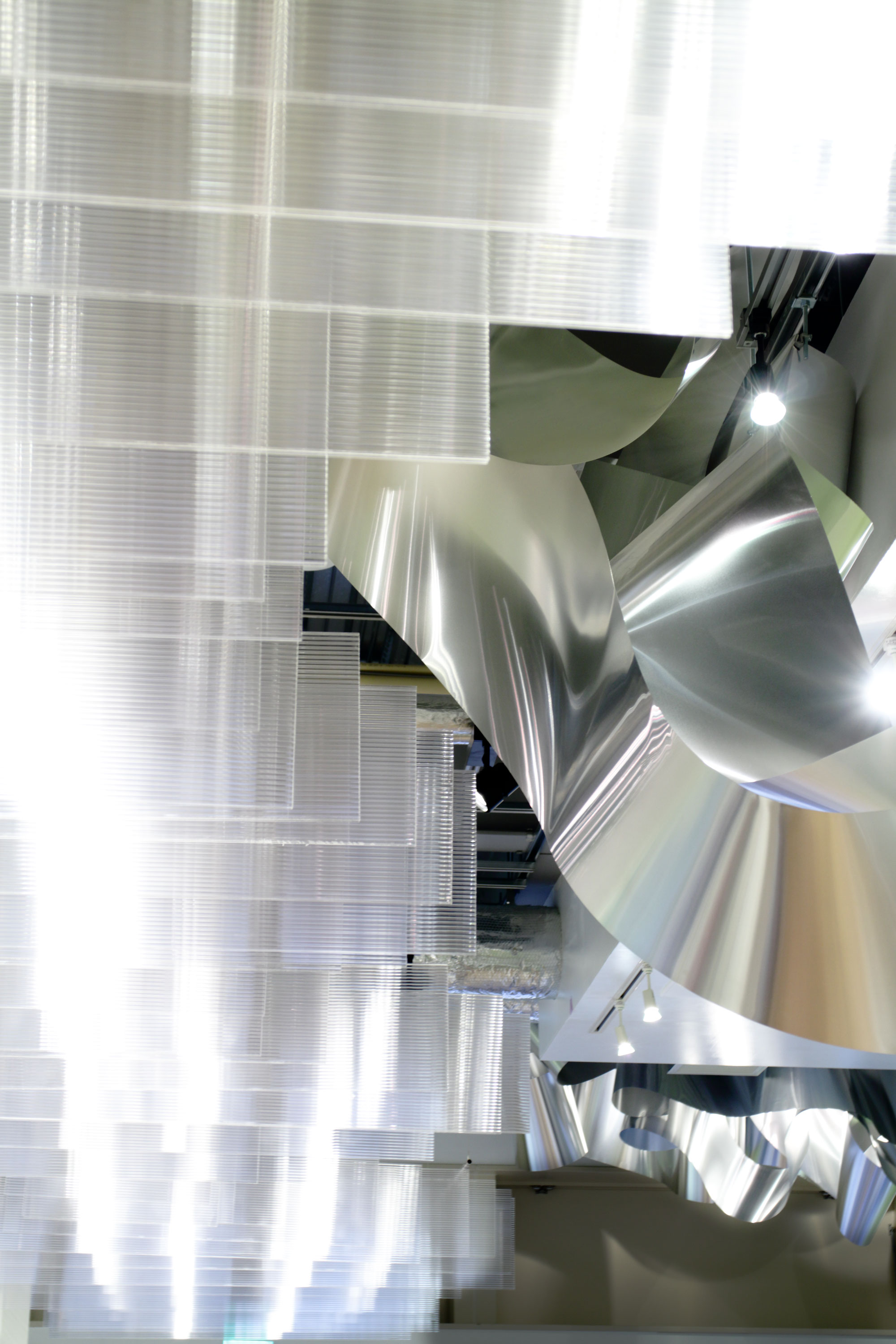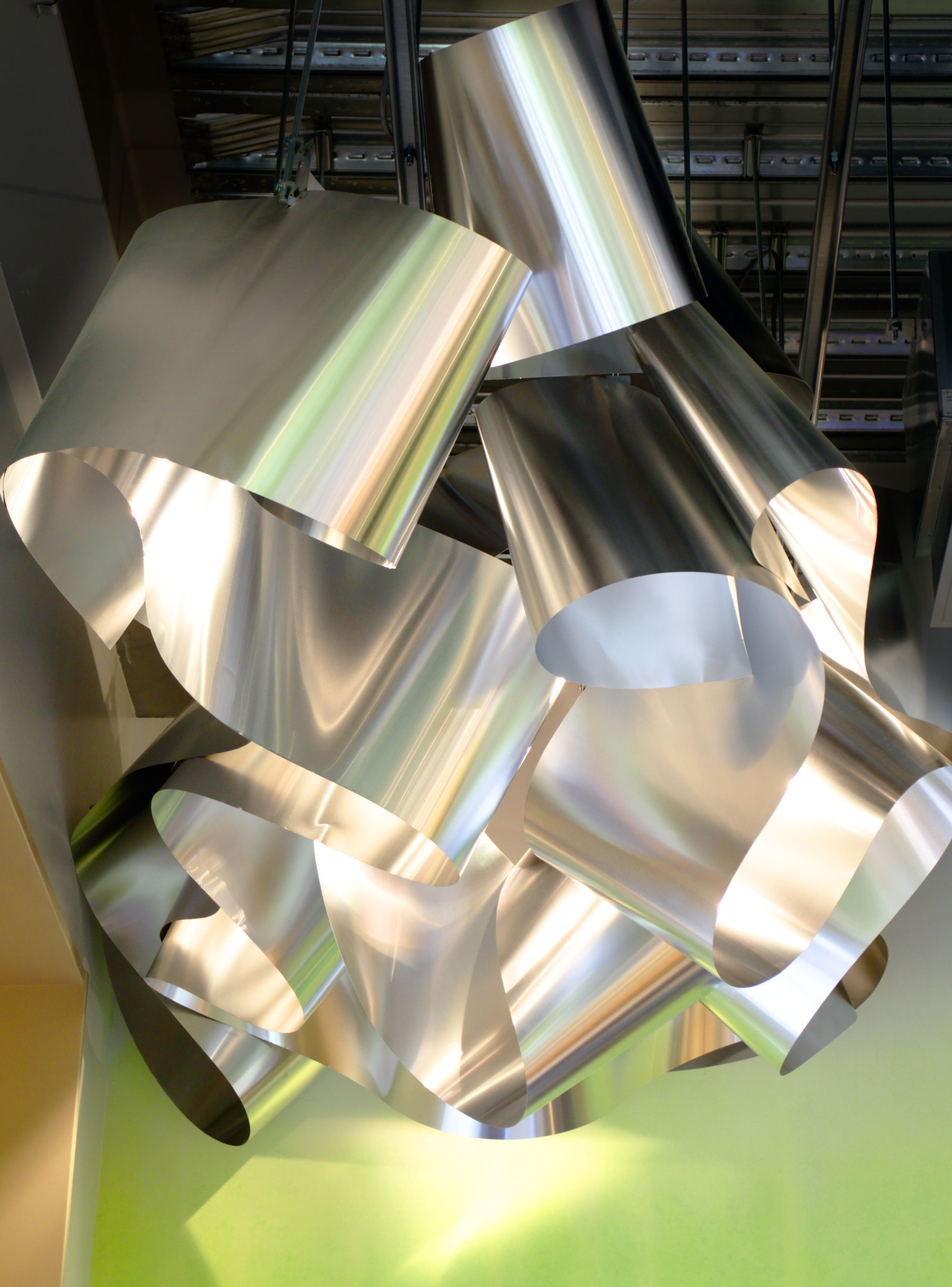 牧場を運営している企業の、新鮮な牛乳を原料とした乳製品の販売店舗のデザイン
商品は、牧場から製造される新鮮な牛乳が、すべてに使用されていることが特徴となっている。空間全体で原料であるミルクや牧場をイメージさせ、商品を魅力的に展示する空間を求められた。
商品の大切な価値であるミルクがオーラを放つような、牛舎の屋根にも使われる樹脂版を積層させた発光体を空間の中央に配置し、空間全体をミルクの光で満たしている。壁は牧場の森を思い起こさせるような緑色のグラデーション塗装が施され、空間全体を柔らかく包み込み、森の爽やかで瑞々しい印象を与えている。什器は有機的な曲線で造形し、ミルクの新鮮で瑞々しい生命力を感じさせるような形状となっている。
鑑賞者の位置や視線の角度により、層状のミルクの発光体は複雑な表情を見せ、移動するごとに多様な光のシャワーが降り注ぎ店内を散策する楽しみを演出する。
躍動感あるアルミの造形物が、ミルクの発光体に絡みつくように浮かび、ミルクの光や壁の色を反射・増幅し、空間の奥行きと広がりの体験をいっそう多様にする効果をもたらす。
空間全体が、ミルクのオーラの光のもとに、緑色のグラデーション、輝くアルミの造形物、有機的な曲線の什器、が統合されている。
すべての商品の源である牧場のミルクから、新鮮で良質な商品作りを追求する店舗として、明快なイメージを発信する空間である。
-Unity under the luminous aura of milk-
The following interior design was realized for a retail store of a company which runs its own dairy farm, featuring products, such as dairy products, sweets and bread, made using milk form said farm as the main ingredient.
Since the distinctive characteristic of their products is the fact that fresh milk produced at the dairy farm is used in each and all of their products, we were tasked with providing a space to attractively display said products by evoking the imagery associated with milk and the farm throughout the entire space.
Another important merit of these products is the aura that seems to emanate from the key ingredient, milk, which is why a pervasive milky light radiates from the luminous body made from layered resin boards (incidentally, a material also used in the roofs of cowsheds) placed at the center of the space.
Paint with a green color gradation suggestive of the forests surrounding the meadows was applied to the walls, gently enfolding the interior while conveying the impression of a fresh and invigorating woodland.
The milky layered luminous body reveals intricate expressions of light depending on where one is standing and looking to. An ever-changing shower of light follows the viewer, enabling a pleasant stroll through the interior of the shop.
Floating dynamic modeled aluminum objects appear to intertwine with the luminous body as they reflect and amplify the milky light and colors from the walls, thereby further diversifying one's experience of the space's depth and expanse.
The shape of store fixtures molded using organic curves expresses the freshness and vibrant vitality of milk.
The entire space brings unity to the green color gradation, the shiny molded aluminum objects and the fixtures with organic curves under the luminous aura of milk.
It is a space that sends a perspicuous image as a store seeking to make fresh and high quality products from dairy farm milk, which is at the base of all their products.
construction : aslego
photo : nacasa & partners (atsushi ishida)
construction : aslego
photo : nacasa & partners (atsushi ishida)
Award
Media