水面の色彩と光がもたらす奥行きや広がりを感じさせる美容院

A beauty salon filled with the colors and light of the beautiful and lively seawater surface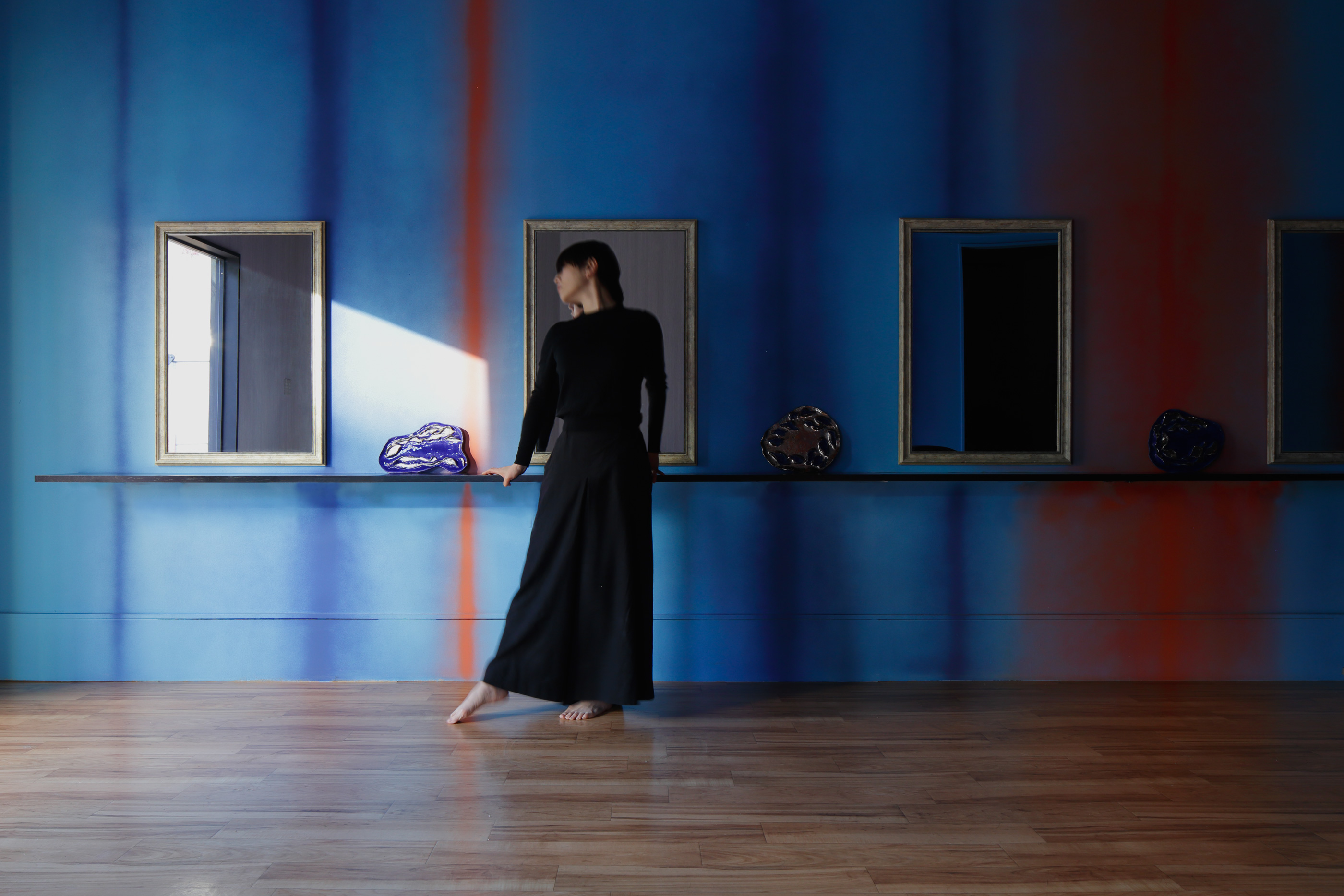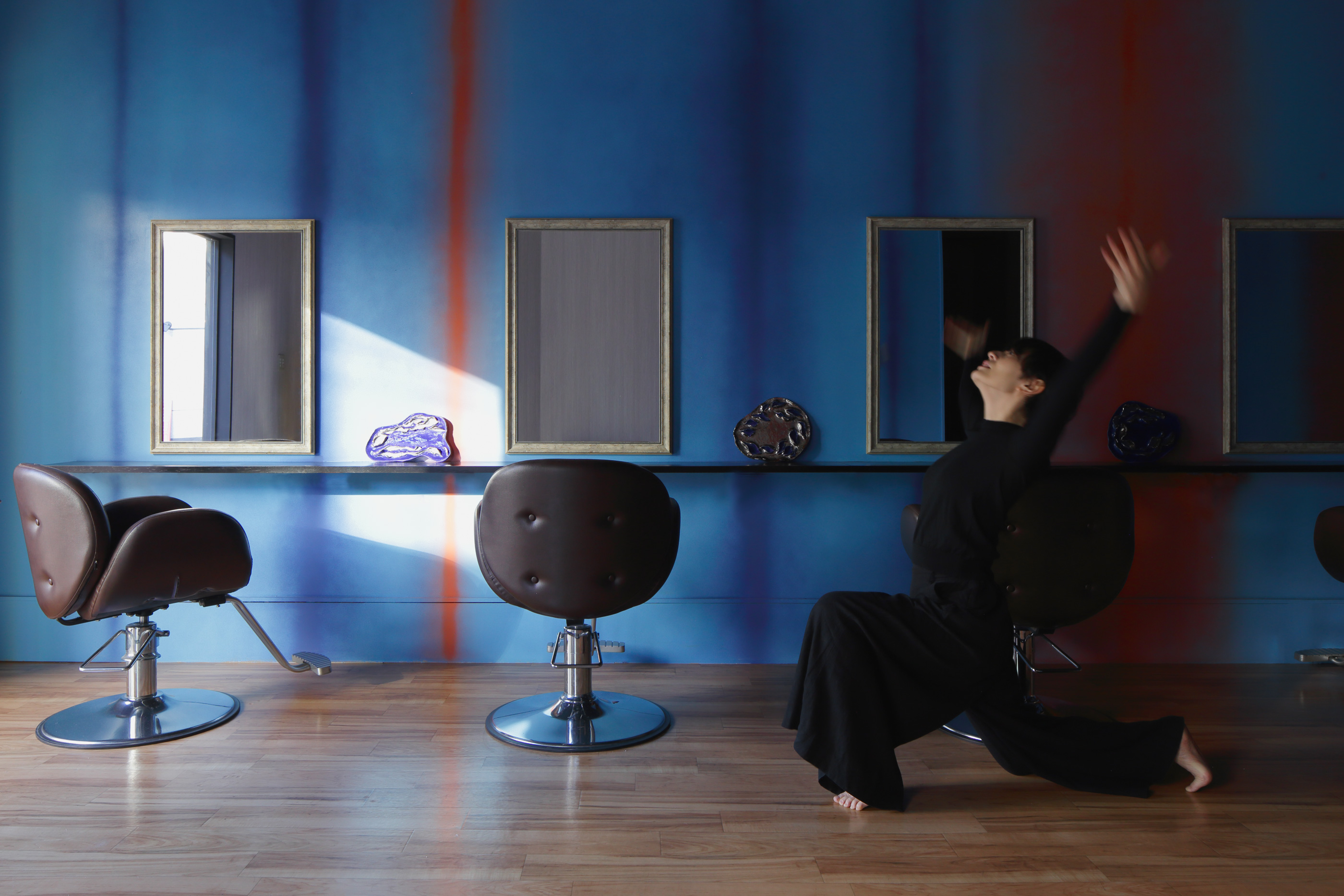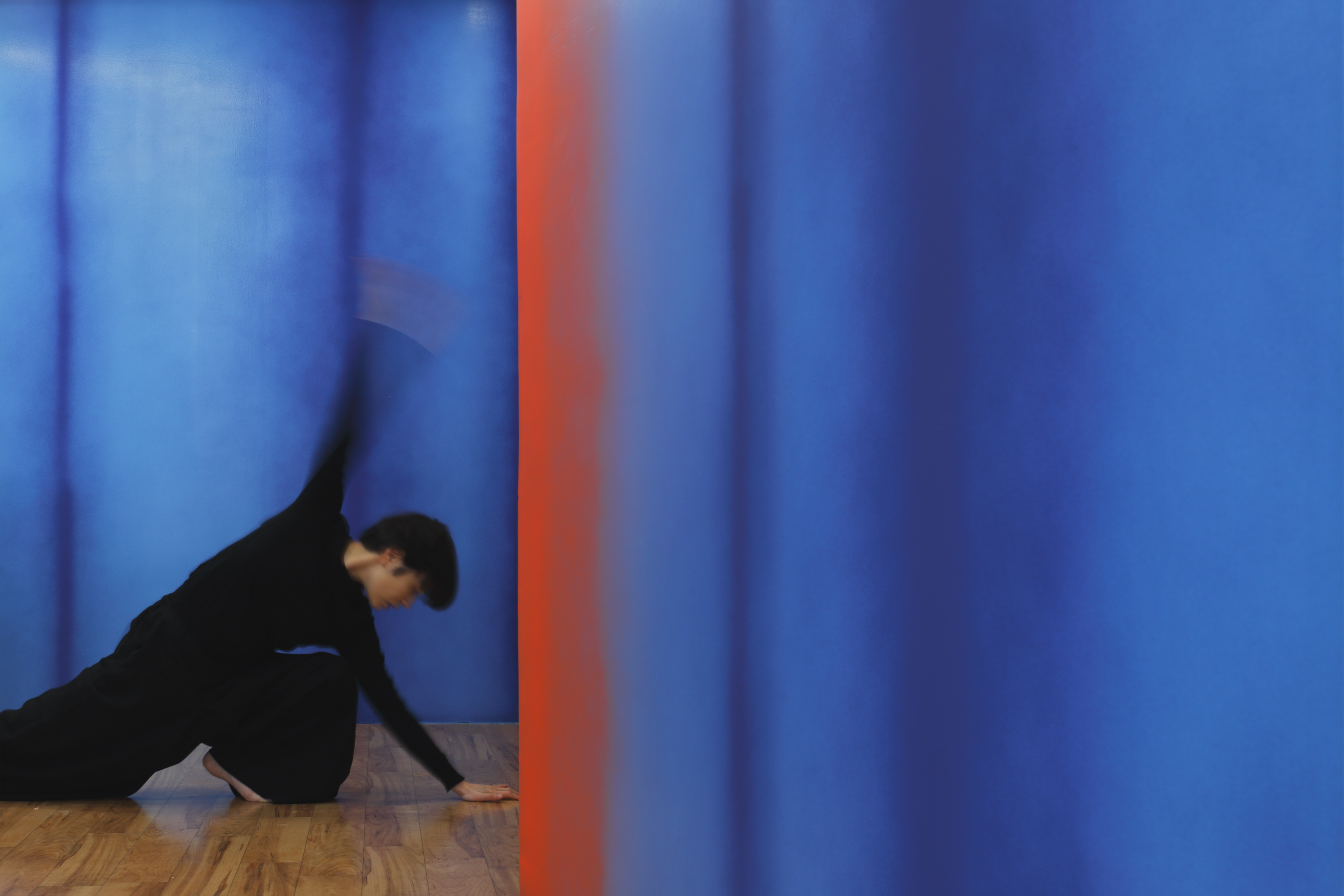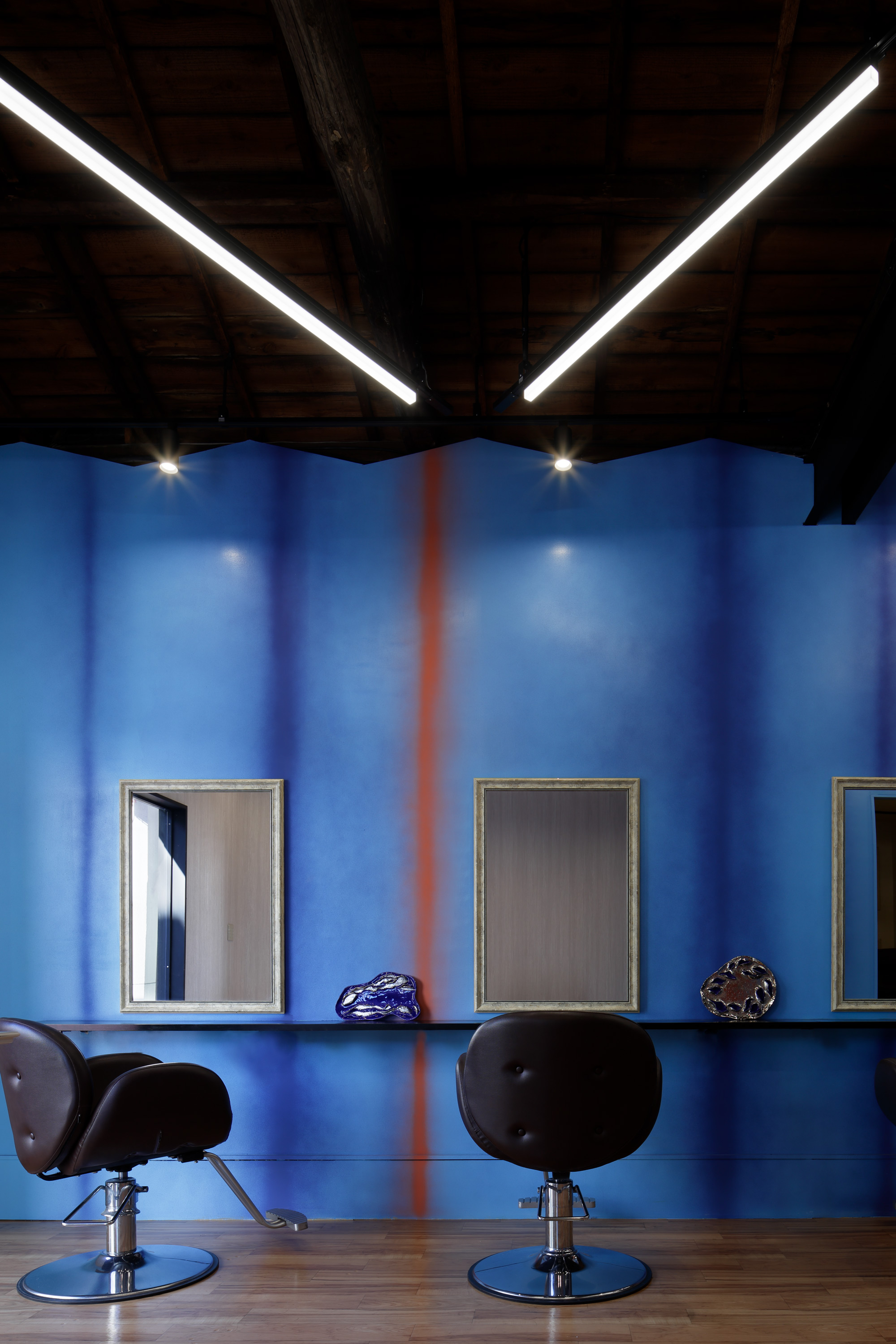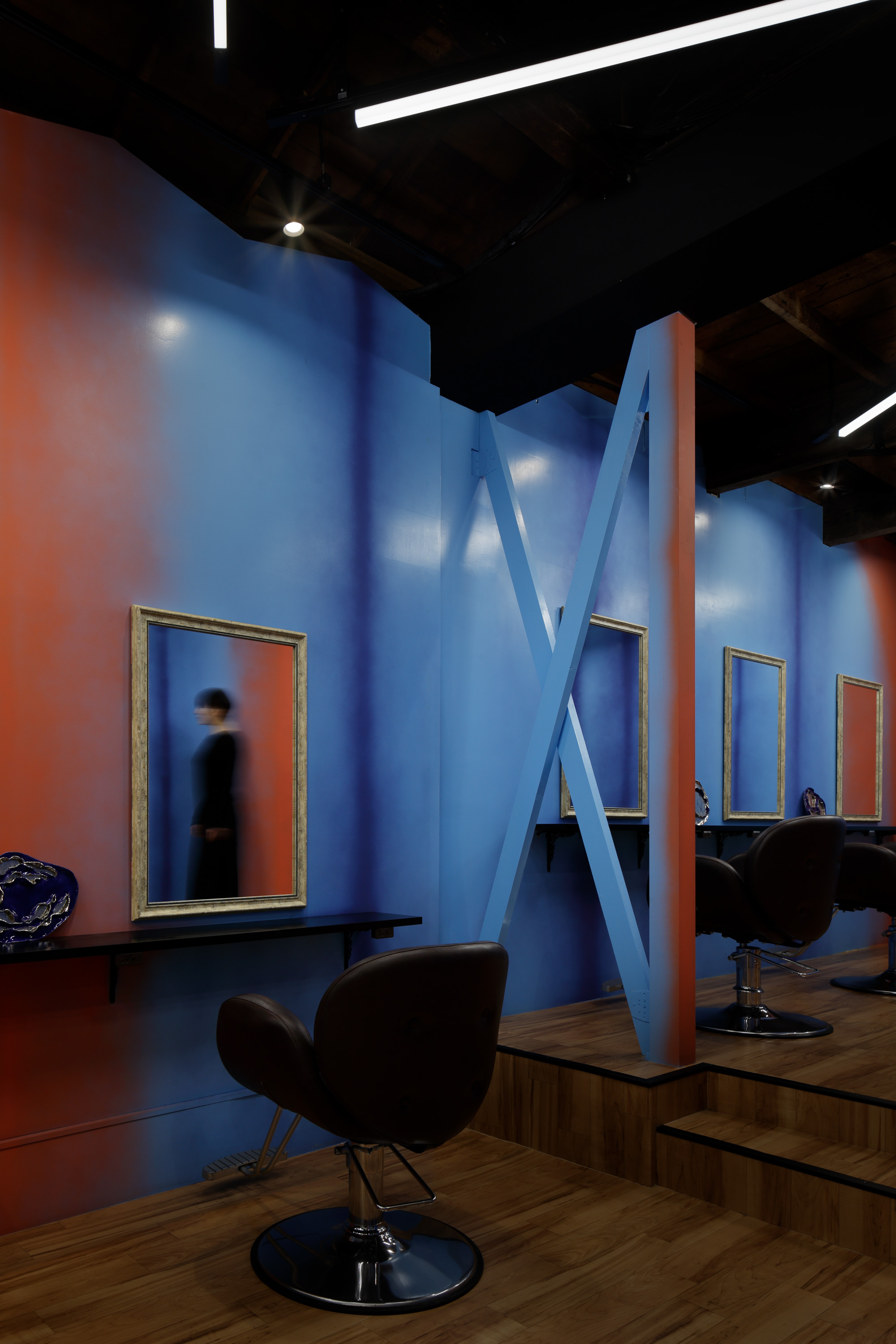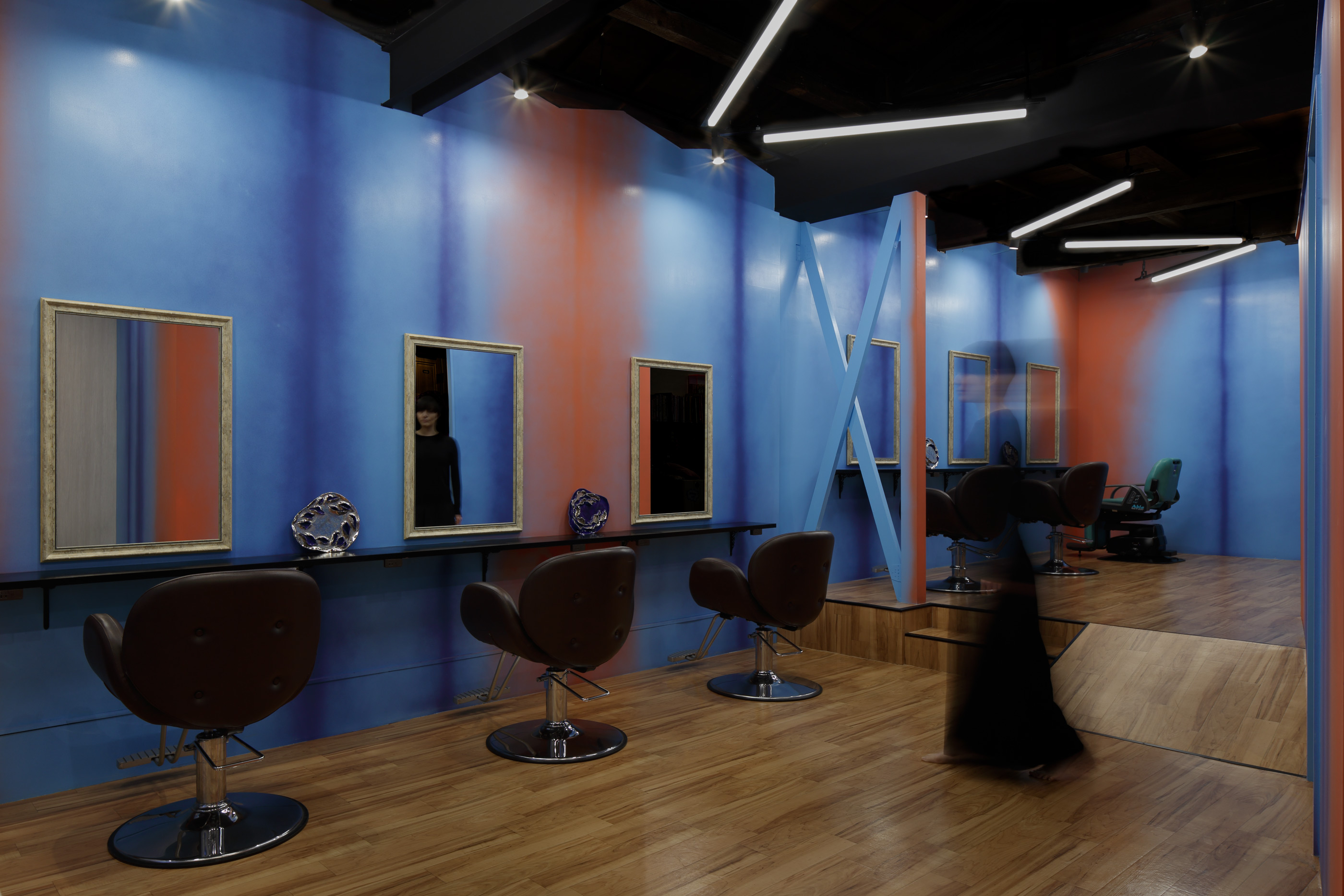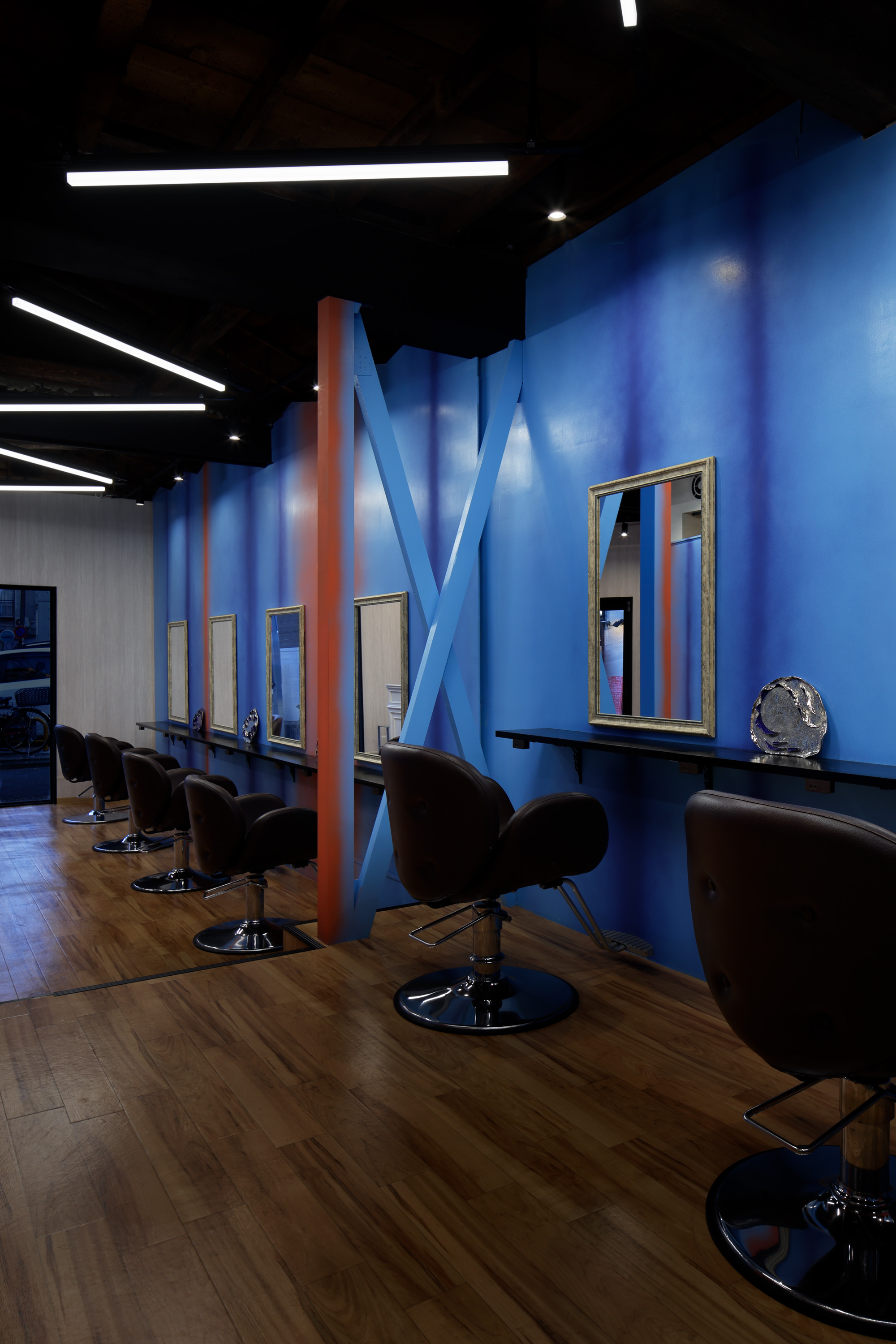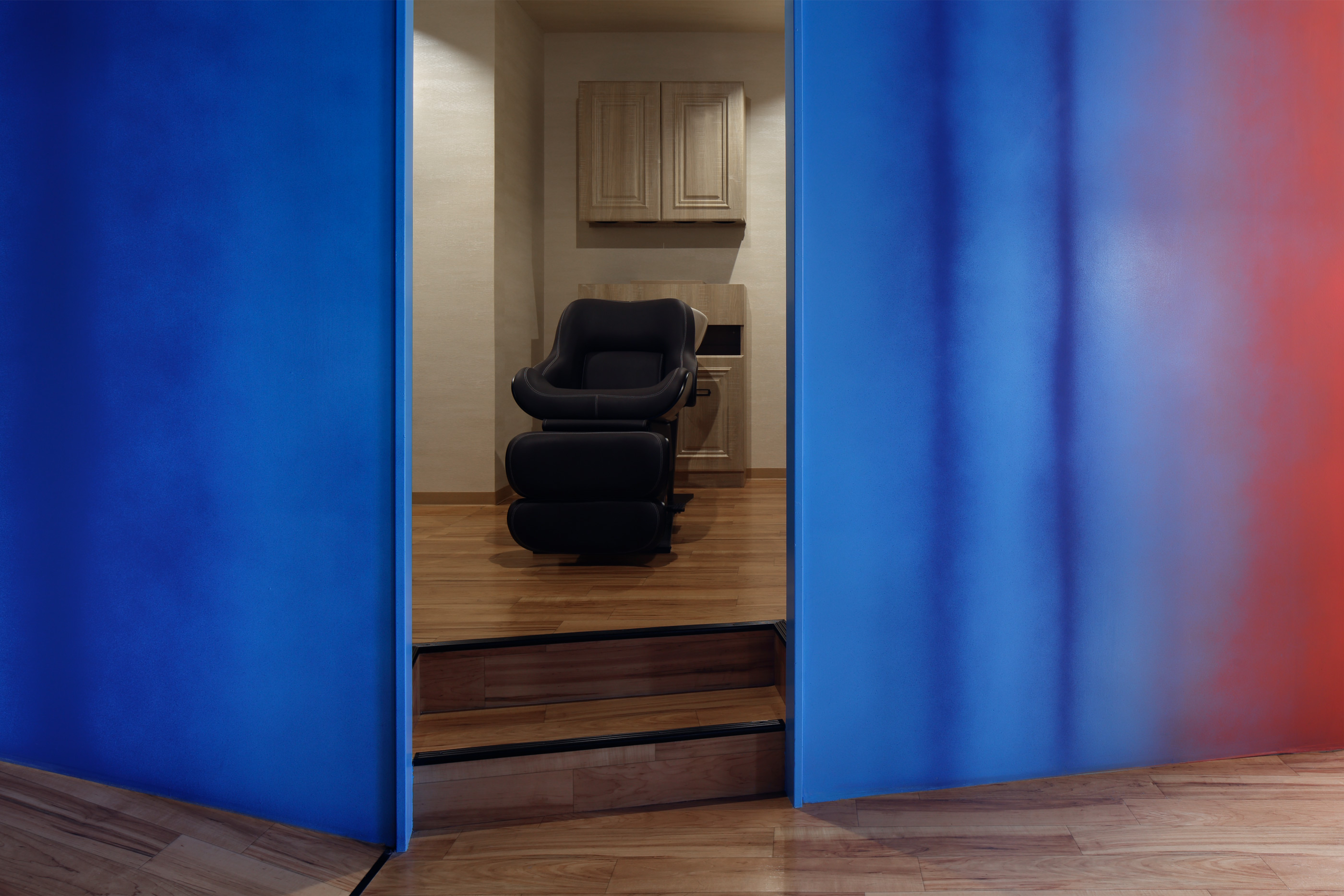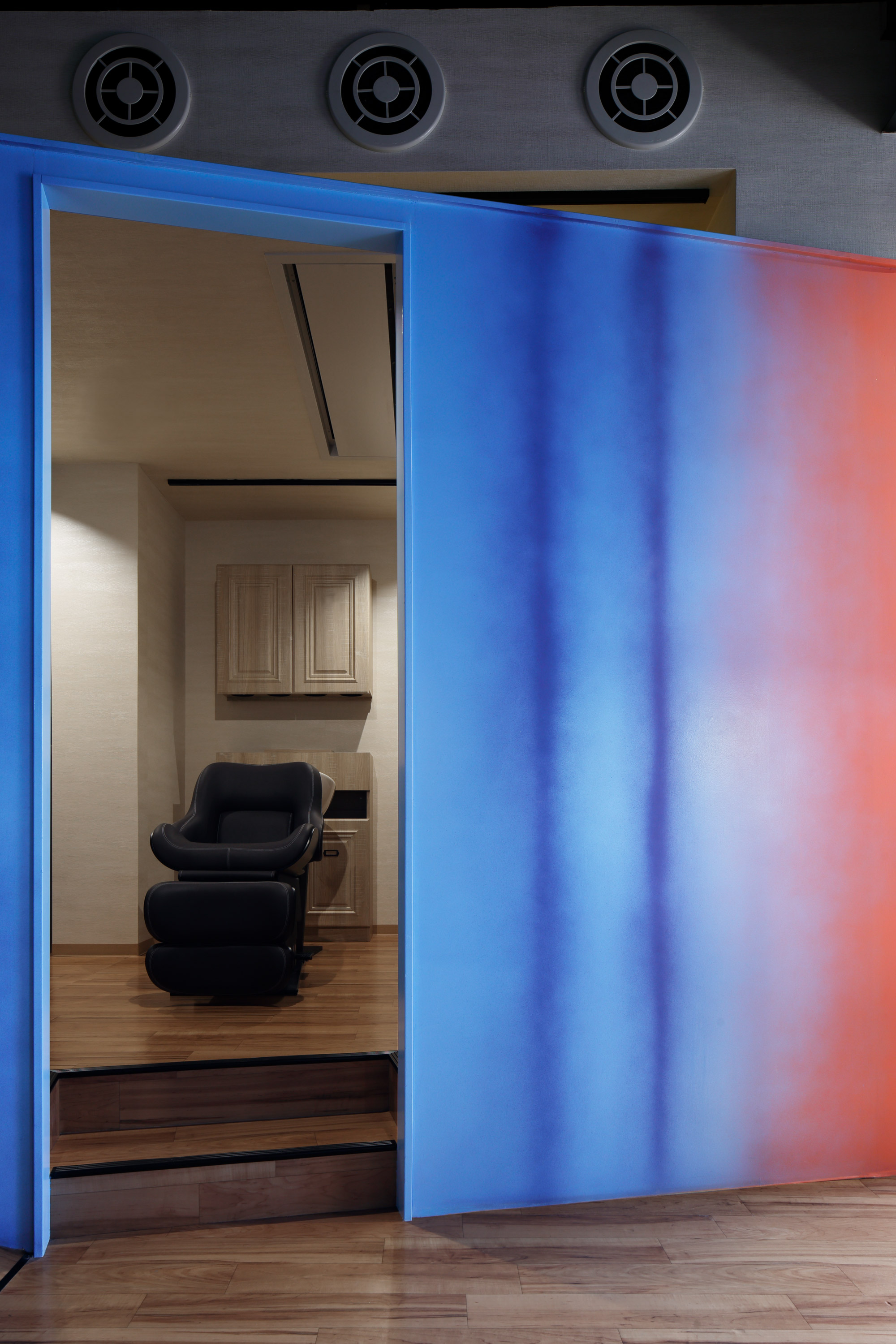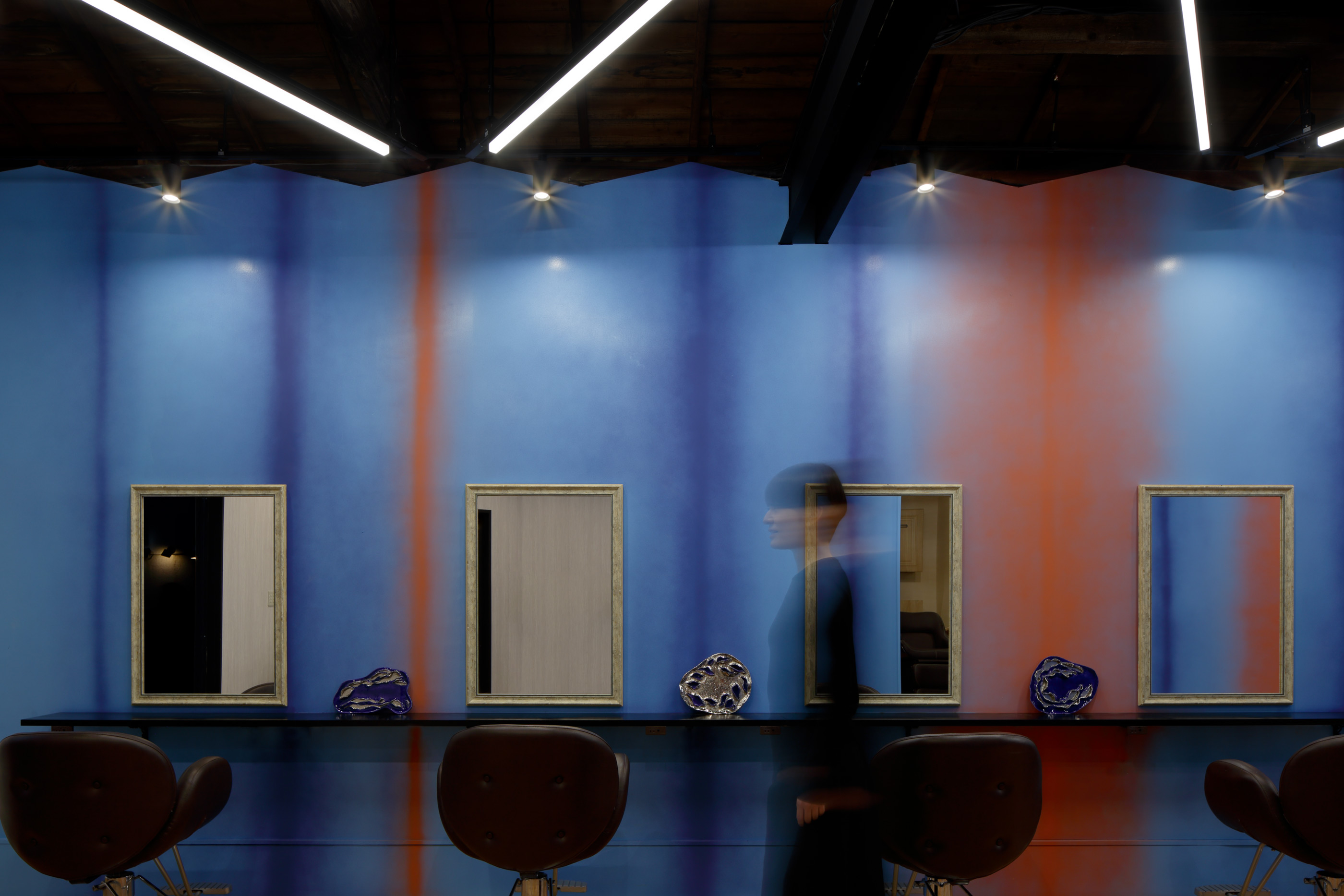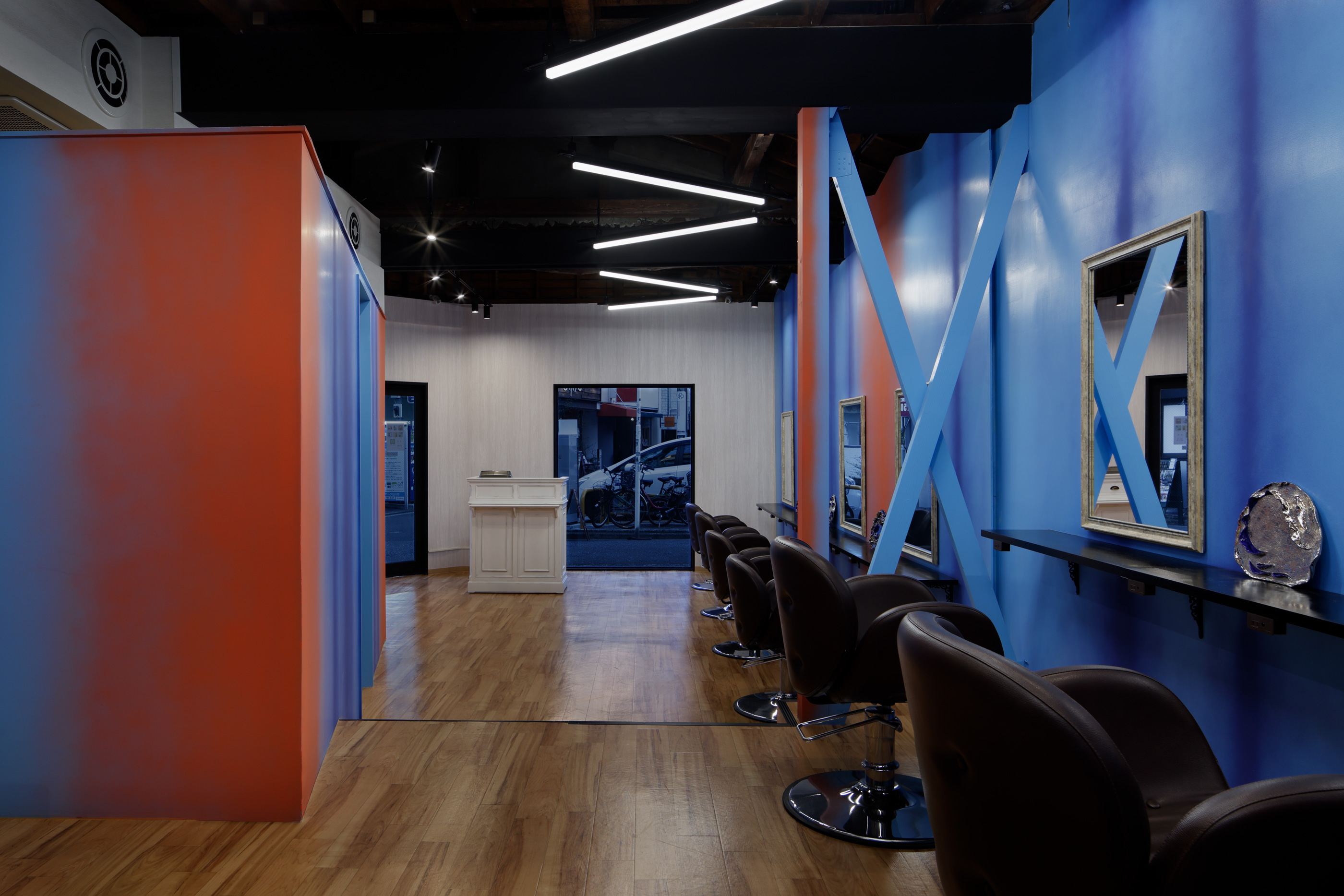 港町である横浜にある美容院の計画
古くから港町の横浜で複数の店舗を展開されていることから、美しい海をイメージさせるような空間が求められた。
そこで、美しく活き活きとした水面の色彩と光を空間全体に満たし、色彩の波に包まれるような空間を創出しようと考えた。
エントランスから左面はカットスペースが並び、右面にシャンンプールームを配置する。
天井は既存部分を取り払い小屋裏を現しとし、開放的な小屋の雰囲気と、海のイメージを重ね合わせていくものとした。
壁面の色彩は、青みのある朝日やオレンジ色の夕暮れなど一日の自然光の変化を意識し、水流が流れ変化するようなグラデーション状に溶け合うような色彩を施し、自然が生み出すダイナミックな美しさや、瑞々しい力を与えることを試みている。
また、壁面に水面の煌めきを想像させるアートオブジェを、天井照明には壁面の模様と呼応した軽快なリズムを帯びた線状の照明を配置した。
空間全体に溢れさせた水面の色彩と光がもたらす奥行きや広がりのある全体風景は、自然現象の驚きと神秘を感じさせ、居場所としての喜びを拡大する環境を創出している。
We designed a beauty salon located in the port city of Yokohama.
Deliverables included a space evoking the image of the beautiful sea of Yokohama, a port city where our client has been operating several well-established stores. Therefore, we created a space filled with the colors and light of the beautiful and lively seawater surface, where patrons are enveloped by waves of colors.
From the entrance, the left side of the beauty salon is lined with styling spaces, while a shampoo room can be found on the right side.
The existing ceiling was partially removed to reveal the rafters, thus creating an open atmosphere and a visual signature reminiscent of a seaside cabin layered onto the image of the sea.
The colors on the walls blend into a gradation, like the flow of water, reflecting the dynamic beauty and vibrant power of nature, with an awareness of the changes in natural light seen throughout the day, such as a bluish sunrise or an orange sunset.
Moreover, the disposition of the linear lighting equipment on the ceiling imparts a subtle rhythm to the light that corresponds to the patterns on the walls which are themselves adorned by art objects that evoke the shimmering surface of water.
The depth and breadth of the overall seascape, brought about by the colors and light of the seawater surface filling the entire space, evokes the wonder and mystery of natural phenomena, thus creating an environment that magnifies the pleasure experienced in their presence.
Title : SEASCAPE
Design Firm : Moriyuki Ochiai Architects
Project Team : Moriyuki Ochiai, Jun Ueda
Use: Beauty salon
Constructor: Aslego
Special Paint : Osamu Yamaguchi
Lighting : Kayo Yokoyama (Koizumi Lighting)
Photo: Fumio Araki
Title : SEASCAPE
Design Firm : Moriyuki Ochiai Architects
Project Team : Moriyuki Ochiai, Jun Ueda
Use: Beauty salon
Constructor: Aslego
Special Paint : Osamu Yamaguchi
Lighting : Kayo Yokoyama (Koizumi Lighting)
Photo: Fumio Araki
Award