層状に浮遊するルーバーと色彩の波が漂う
美容院と飲食店の複合店舗
A commercial space combining a beauty salon and a cafe lobby.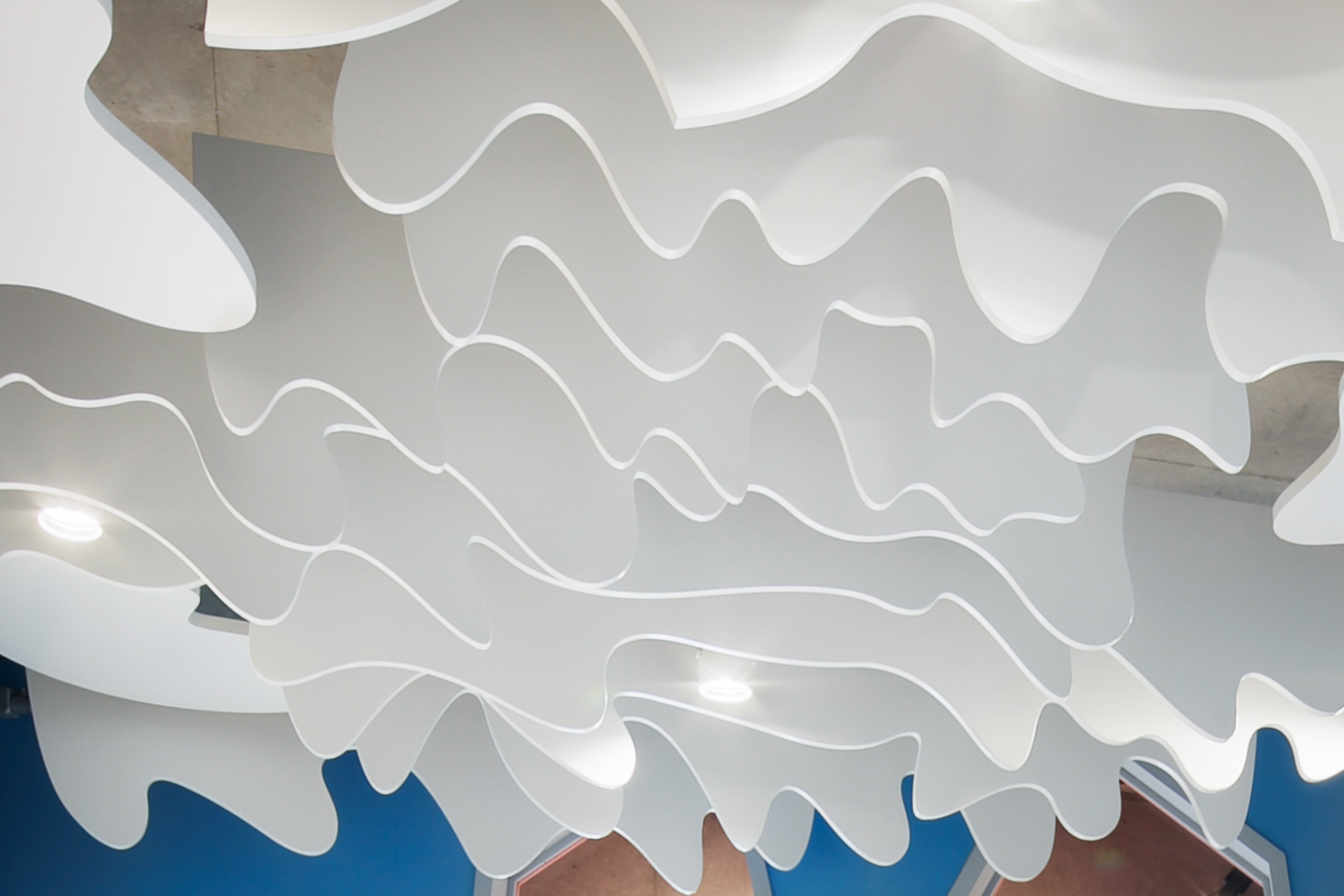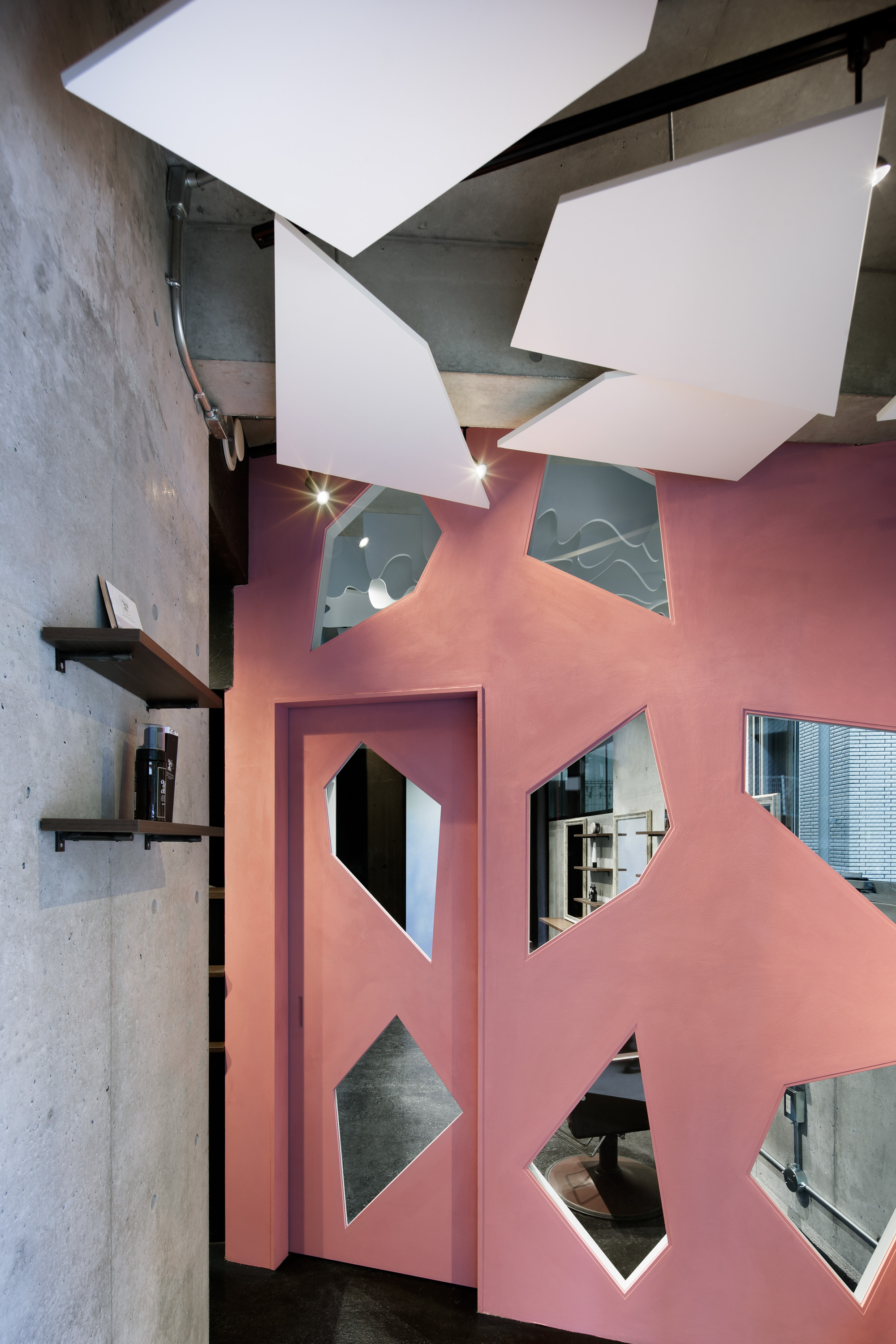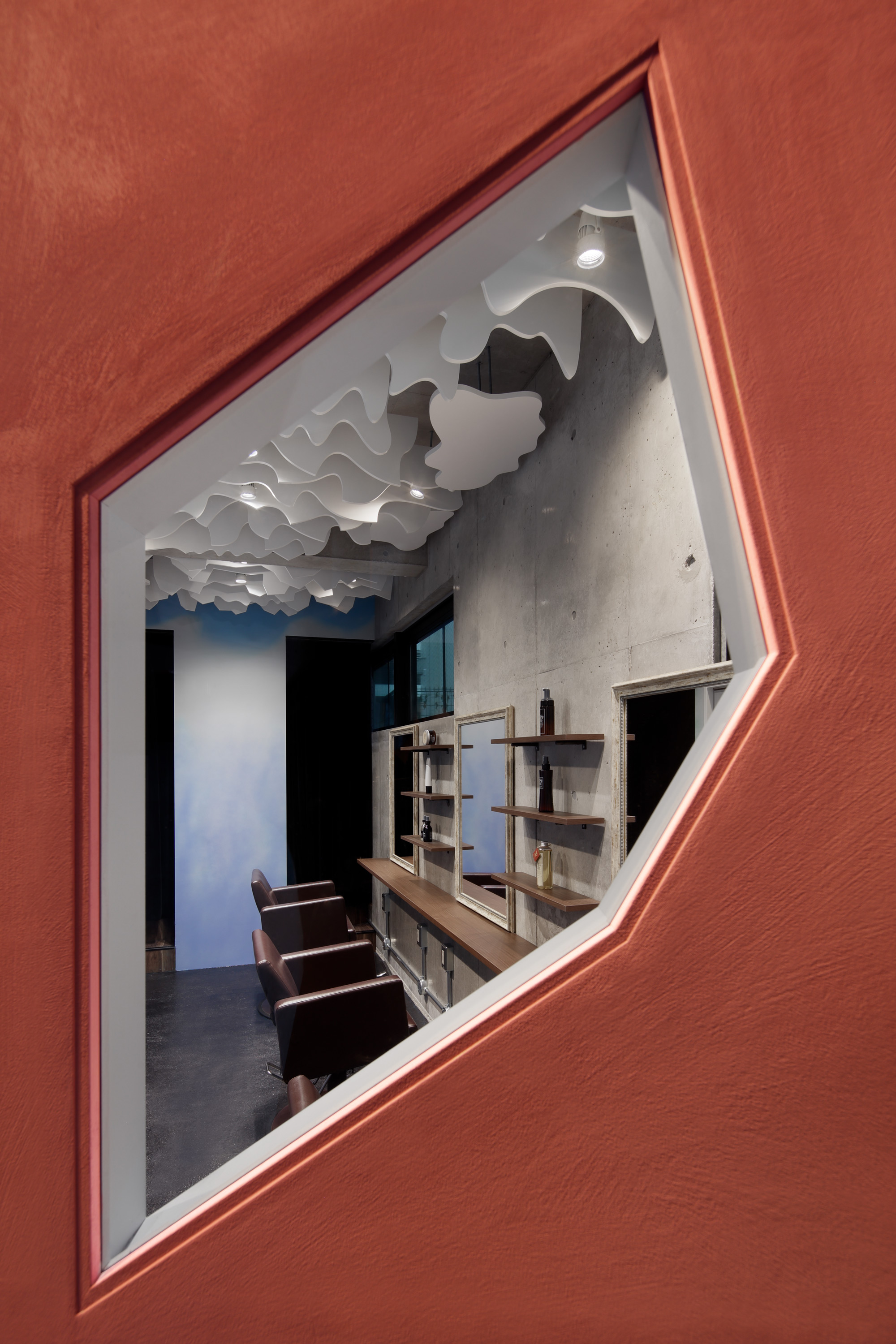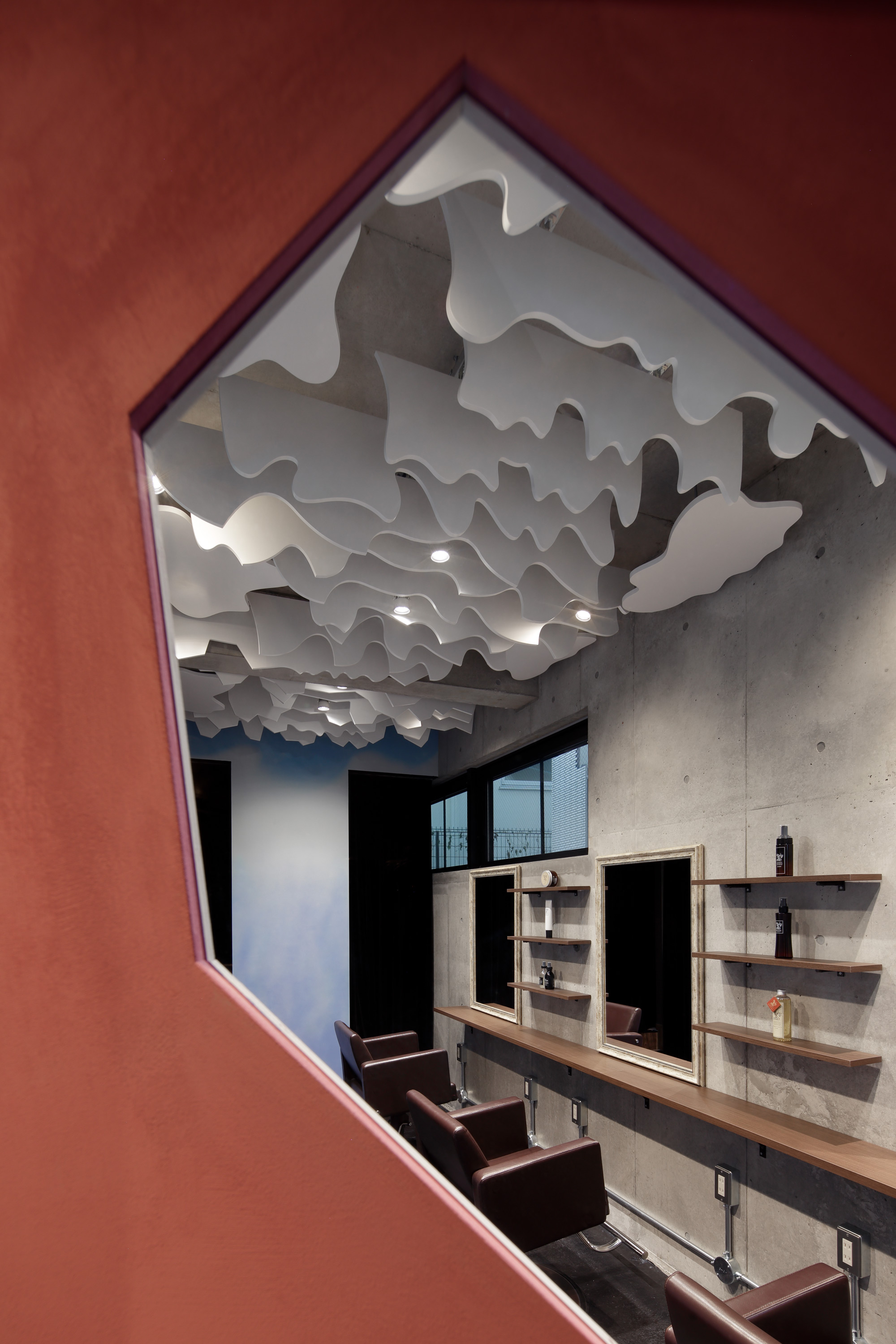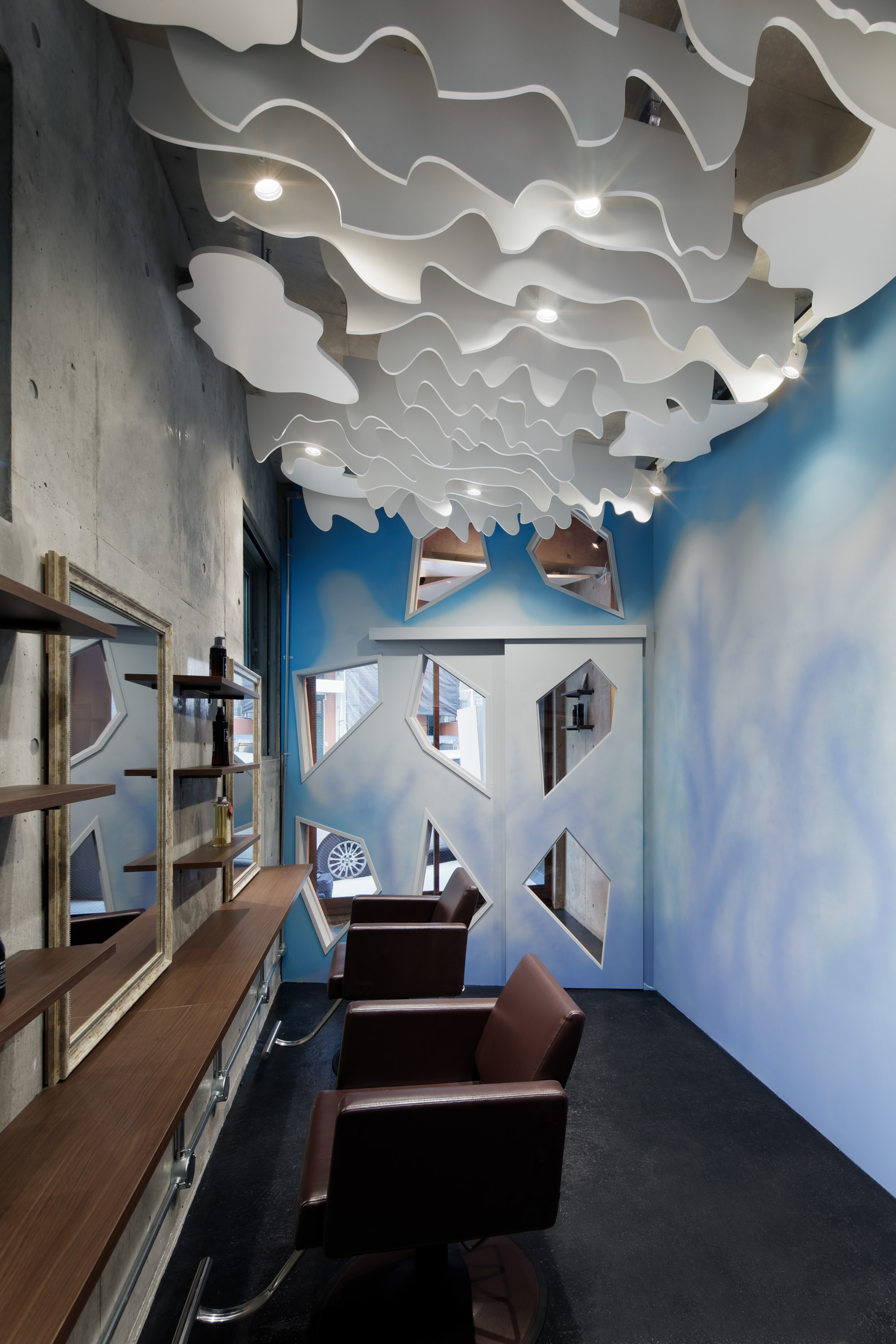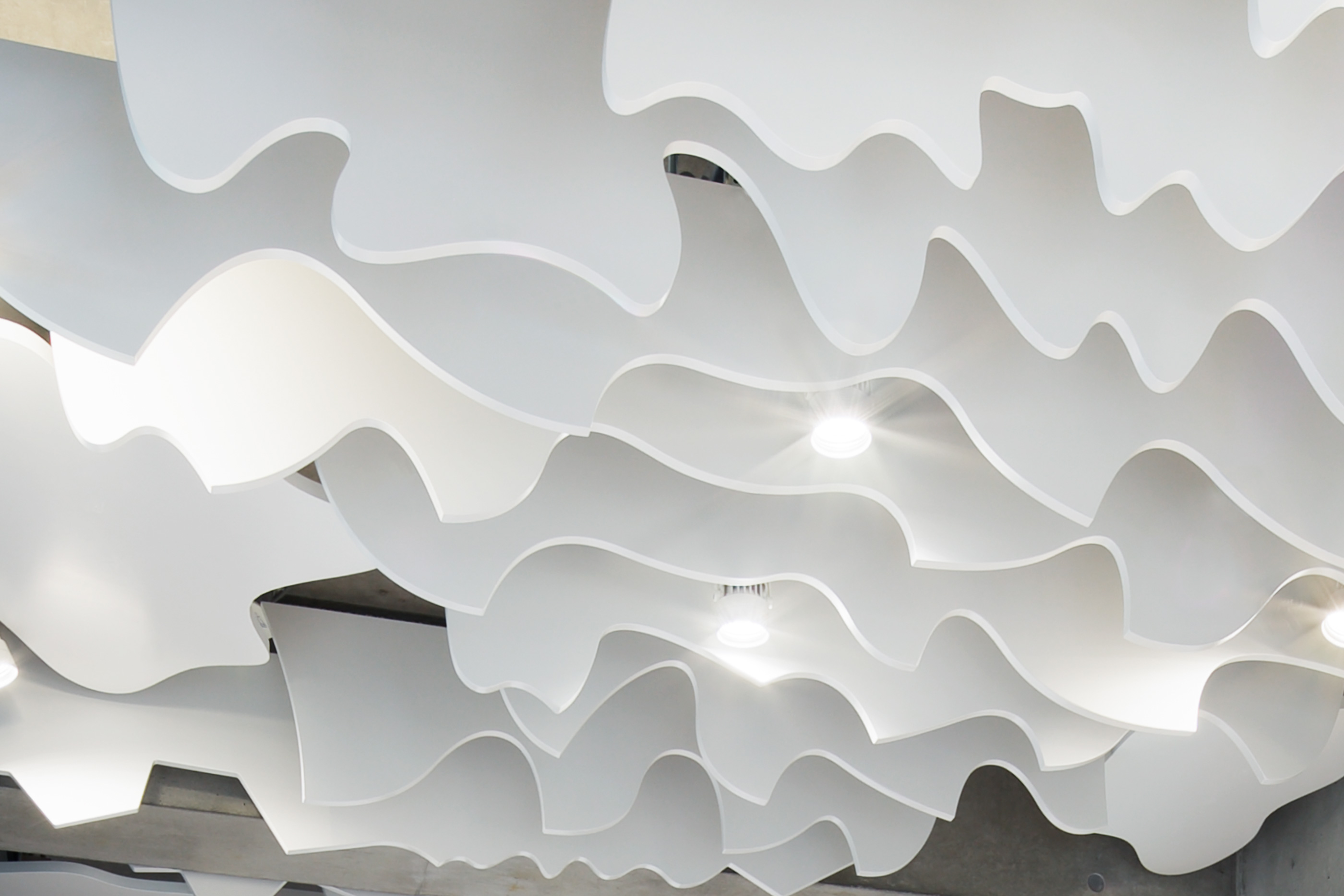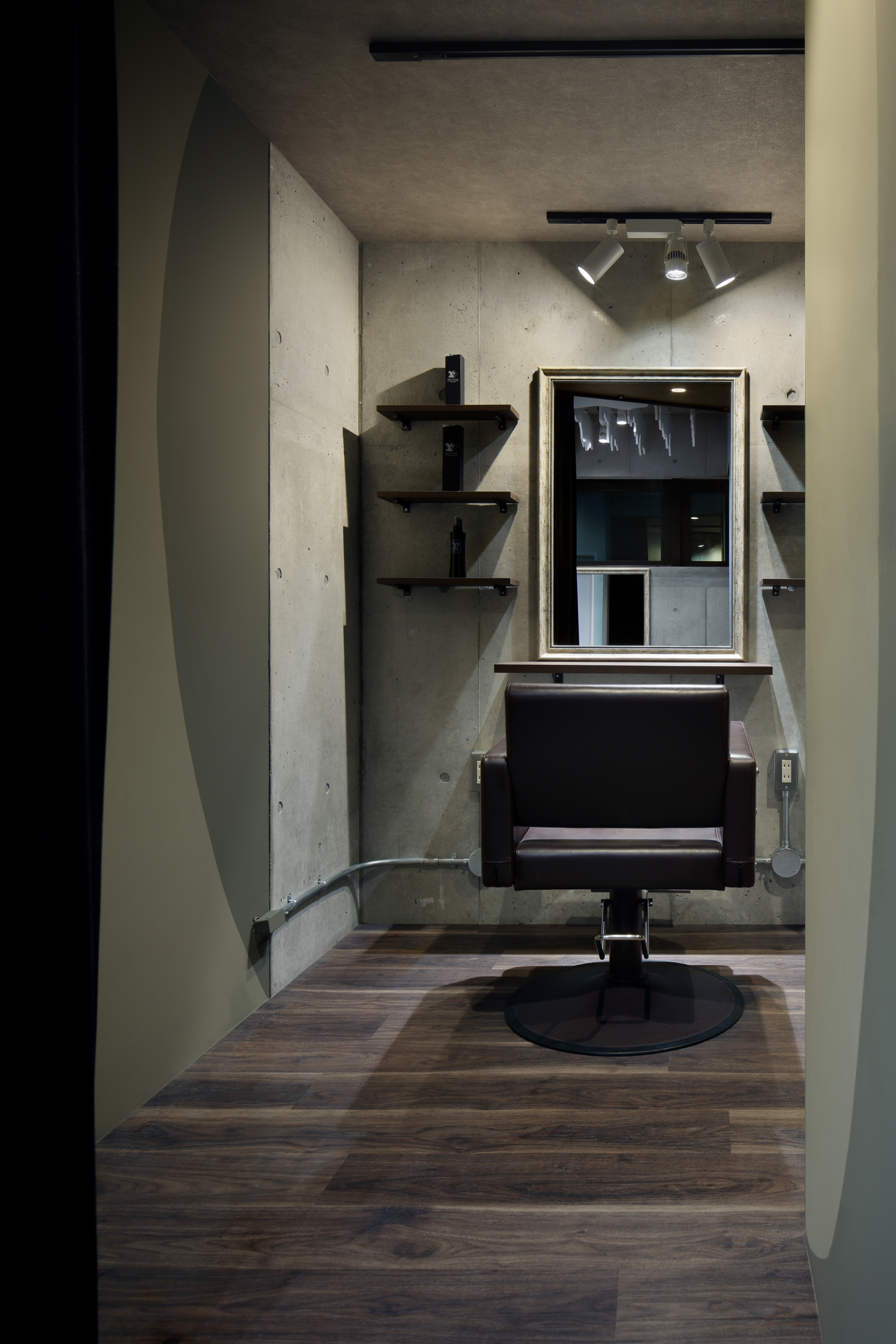 美容院と飲食店の複合店舗の計画
洞窟のような細長い空間に、求められた機能の部屋を、エントランスから順に、カフェエリア、カットエリア、シャンプーエリアとして配置する。空間全体に、層状に浮遊するルーバーと色彩の波を漂わせ、人々を柔らかく包み込んでいくような空間作りを目指した。
スタンディング仕様のカフェスペースでは、壁の多角形の開口部と天井造形が様々な方向へと舞い、共鳴し、この場に求められた活気のある雰囲気を演出。
奥の美容院のスペースでは、天井にルーバーが広がり、その形態は曲線から多角形へと複雑な表情を見せながら変化し、奥へ奥へと導いていく。壁面の躍動感溢れるブルーの色彩の波は、ルーバーと溶け合うように空間を漂う。
鑑賞者の位置や視線の角度に応じて、ルーバーの立体的な重なりは、角度によってはダイナミックに、あるいは微妙に変化し、そのレイヤーの変化が生み出す豊かな表情は、有機的な生のあるもののように響き渡り、空間全体に瑞々しいエネルギーを与えている。
浮遊するルーバーの響きが広がる洞窟のなか、奥へと進むにつれ空間全体が絶え間なく表情を変え、移ろいゆく深い奥行きを持った空間体験が実現している。
We designed a commercial space combining a beauty salon and a cafe.
Deliverables included three rooms functioning as a cafe, a hair cutting area, and a shampooing area, and arranged in that order from the entrance to the back of a long, slender, cavern-like space. The entire salon is decorated with layered floating louvers and waves of color, aiming to create a space that gently envelops people.
In the standing cafe area, the polygonal openings in the walls and the white ceiling formations dance and resonate in many different directions, creating the lively atmosphere that was required for this space.
In the hair salon area behind the sliding door, white louvers spread across the ceiling, their forms morphing from curves to polygons with intricate expressions, leading you deeper and deeper into the space. Waves of vibrant blue color on the wall drift through the space as if blending with the louvers.
Depending on the position and incidence of the viewer's gaze, the stereoscopic overlapping of the louvers changes dynamically or subtly depending on the angle, and the rich expressions created by the changing layers resonate like something organic and alive, giving the entire space a fresh energy.
In the cave, where the echoes of the floating louvers spread out, the entire space changes its expression continuously as you move further into it, creating a spatial experience with a deepening and shifting depth.
Title : Harmonia
Design Firm : Moriyuki Ochiai Architects
Project Team : Moriyuki Ochiai, Jun Ueda, Amit Arunabh
Use: Beauty salon / Cafe
Constructor: Aslego
Special Paint : Osamu Yamaguchi
Lighting : Kayo Yokoyama (Koizumi Lighting)
Photo: Fumio Araki
Title : Harmonia
Design Firm : Moriyuki Ochiai Architects
Project Team : Moriyuki Ochiai, Jun Ueda, Amit Arunabh
Use: Beauty salon / Cafe
Constructor: Aslego
Special Paint : Osamu Yamaguchi
Lighting : Kayo Yokoyama (Koizumi Lighting)
Photo: Fumio Araki
Award