幼稚園のプロジェクト
子供達が自然の中で工夫しながら自由に遊びを創造してくように
山・丘・湖のような地形を構築し、多様な使い方を喚起する居場所
Landscape with Lakes, Hills and Mountains.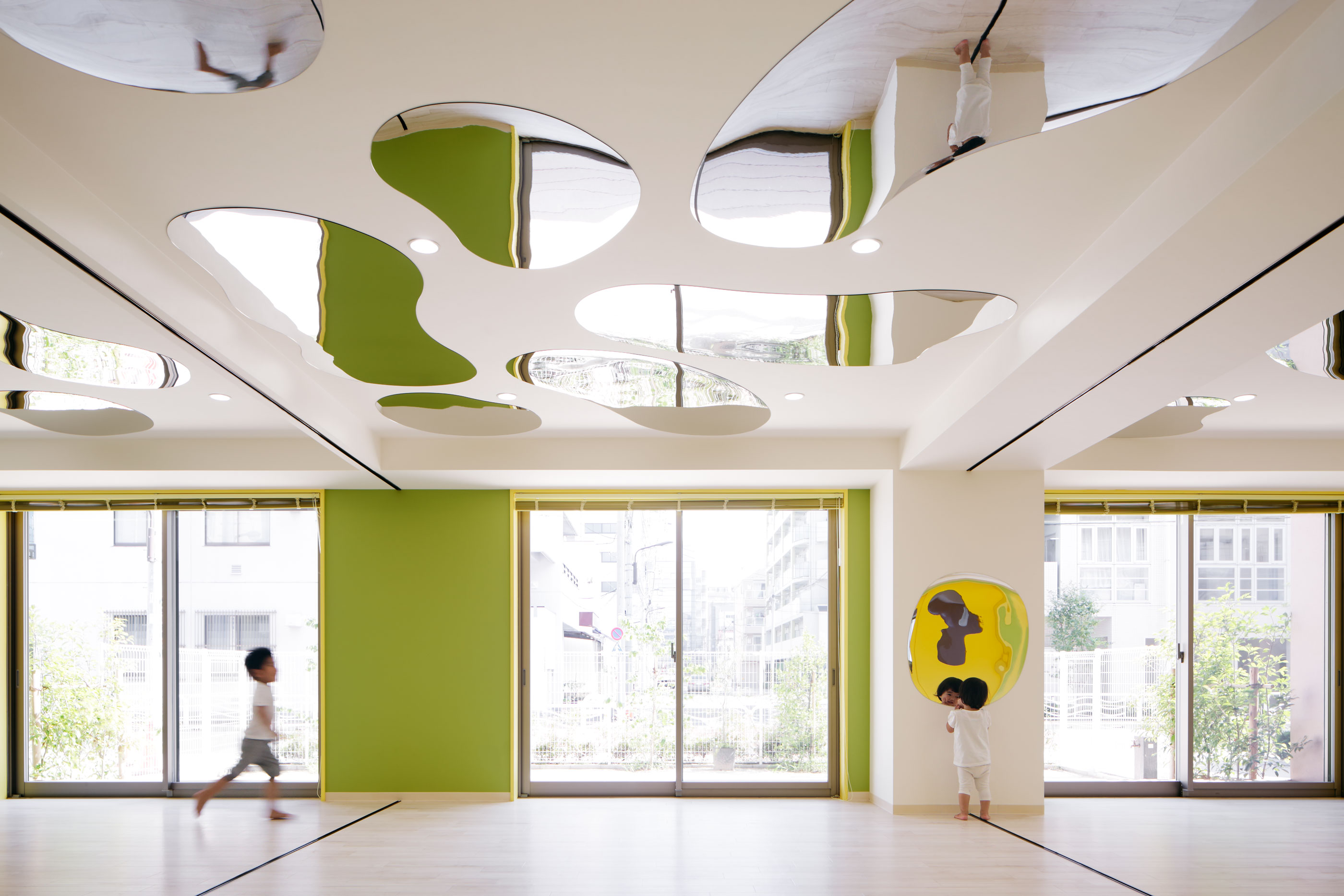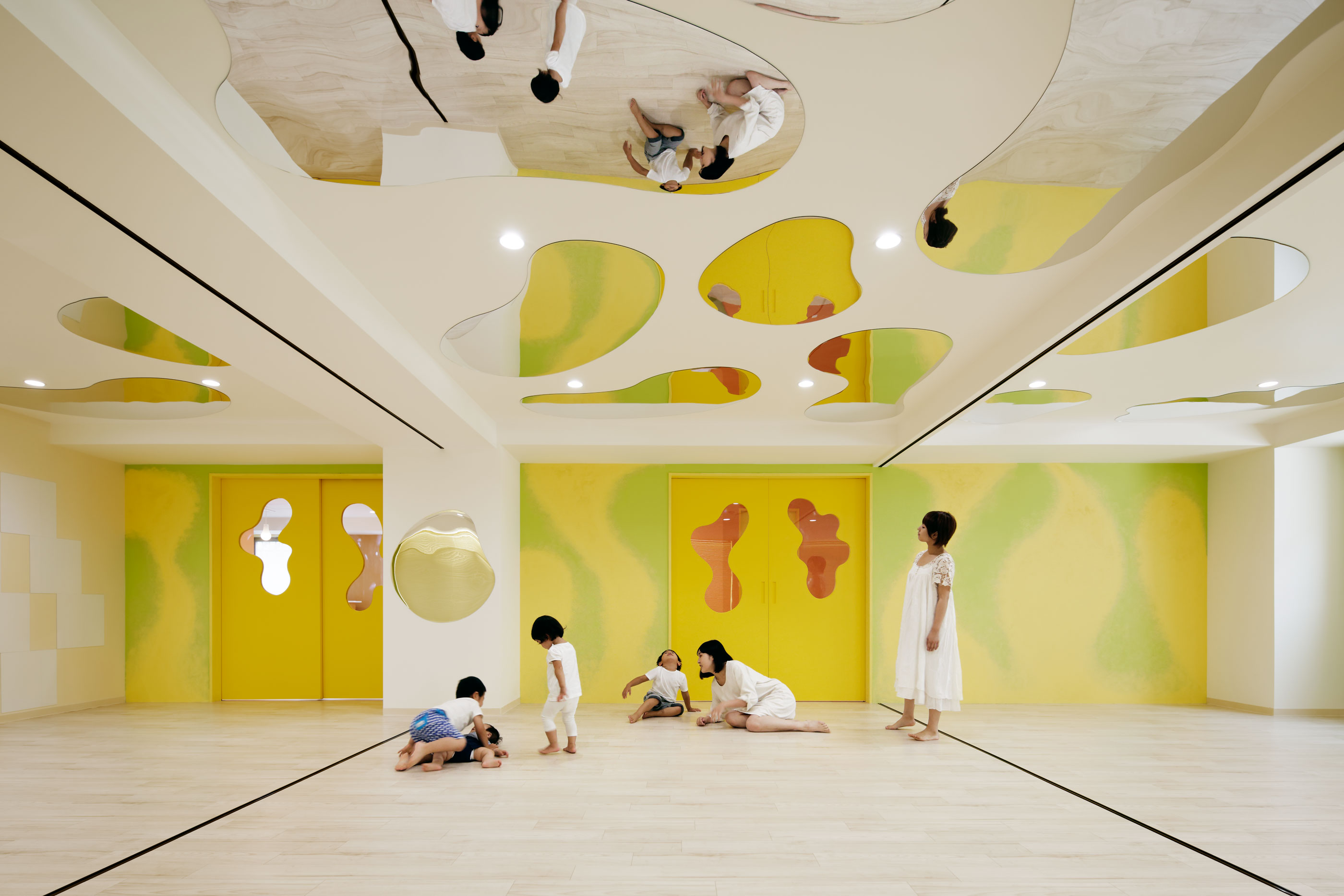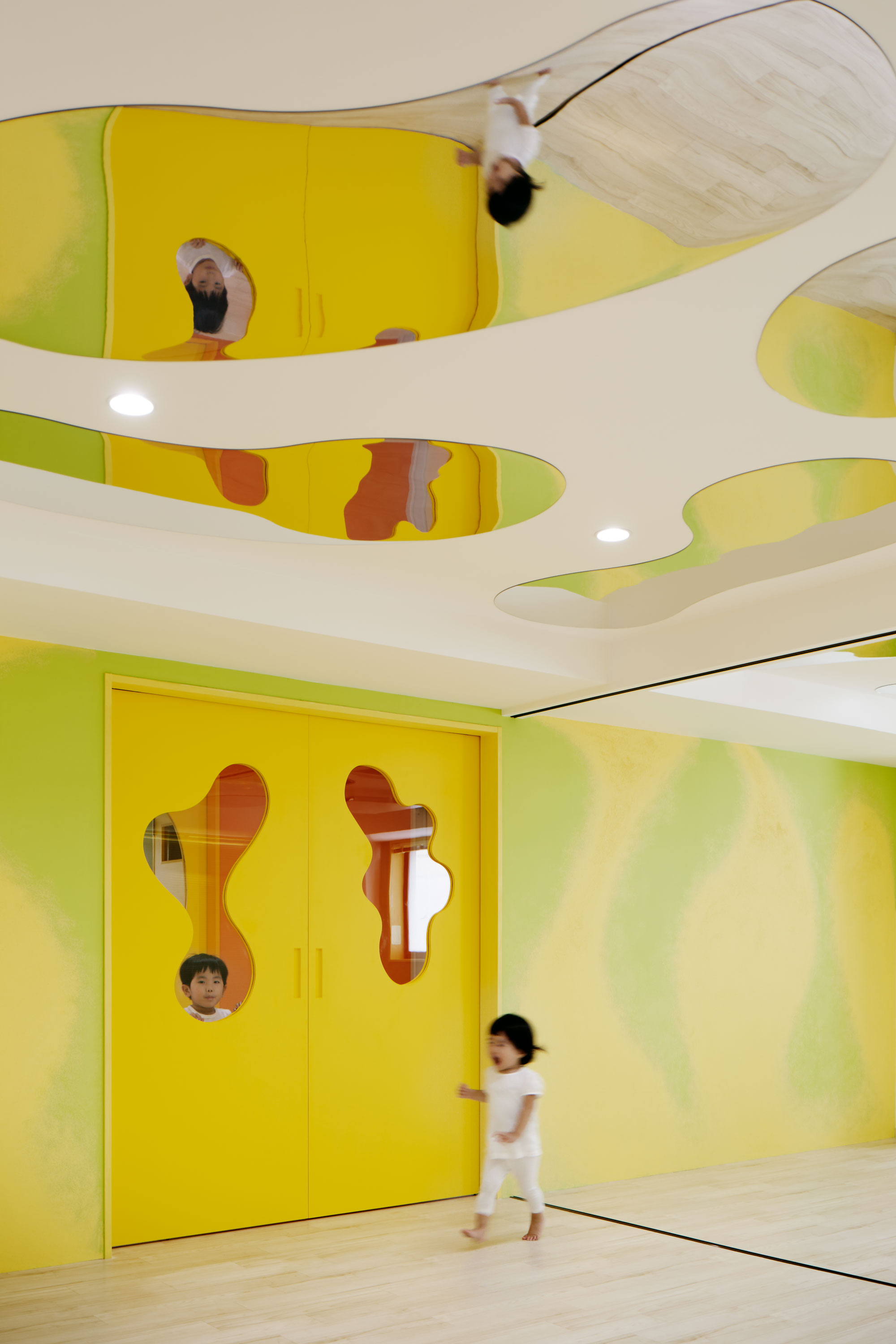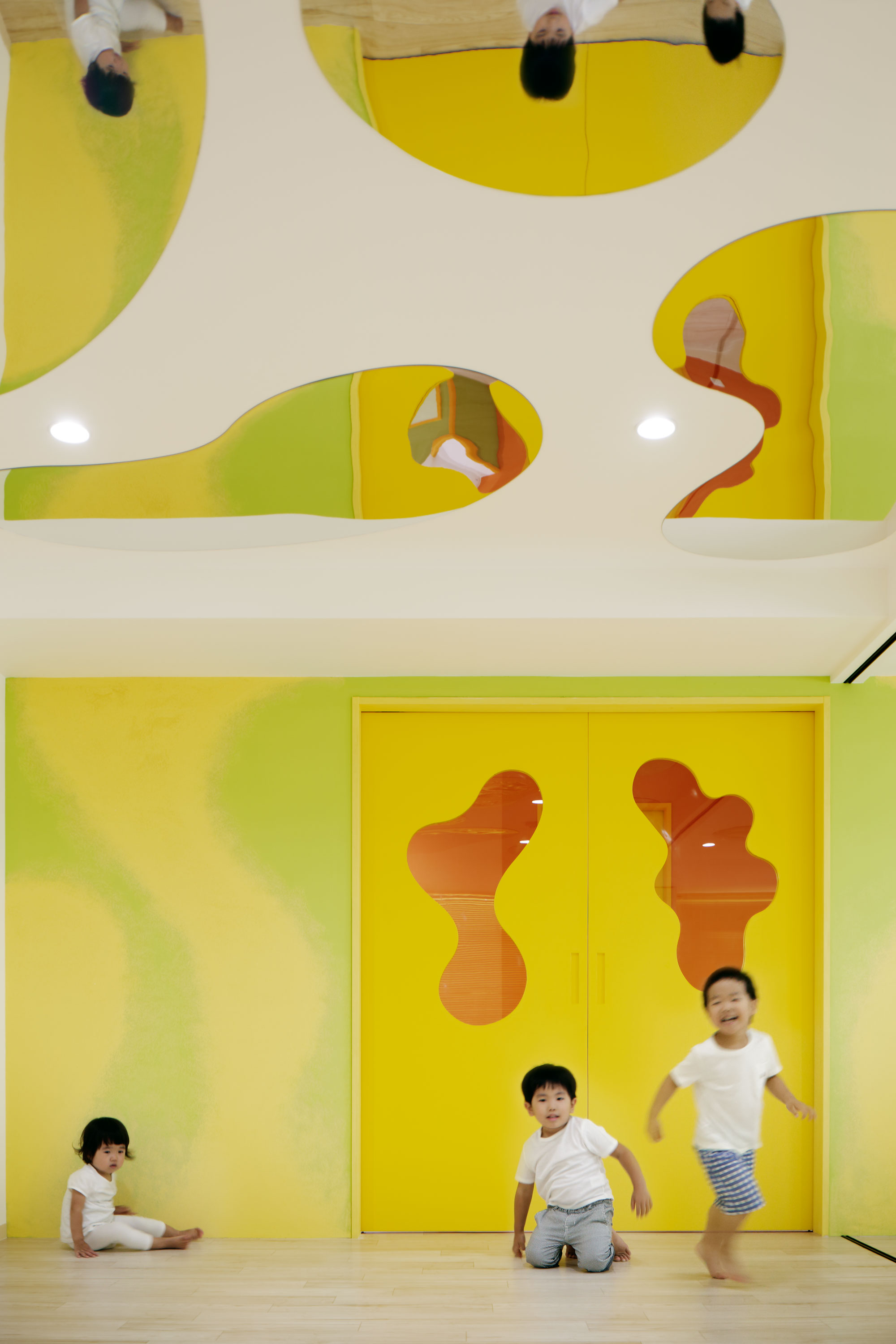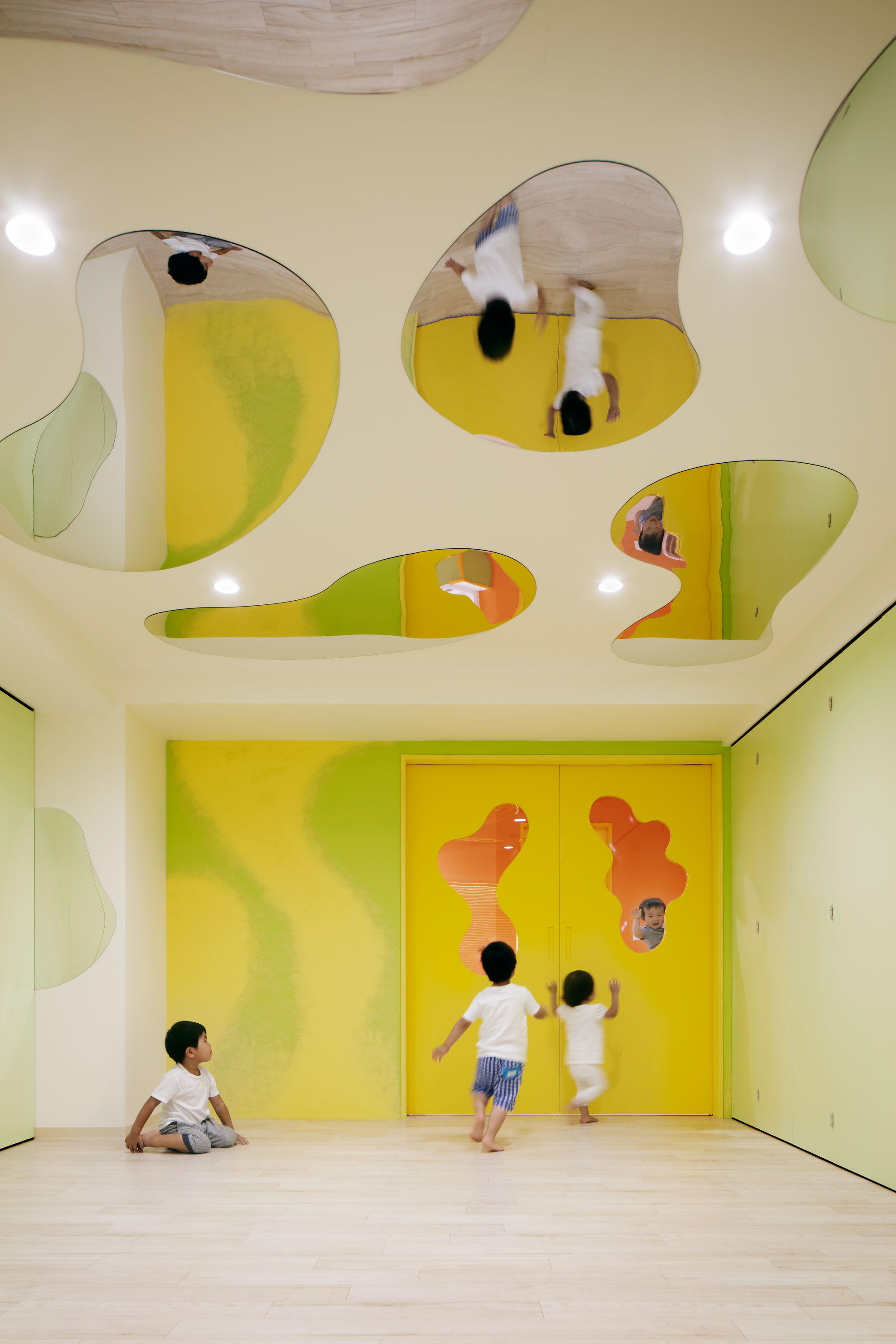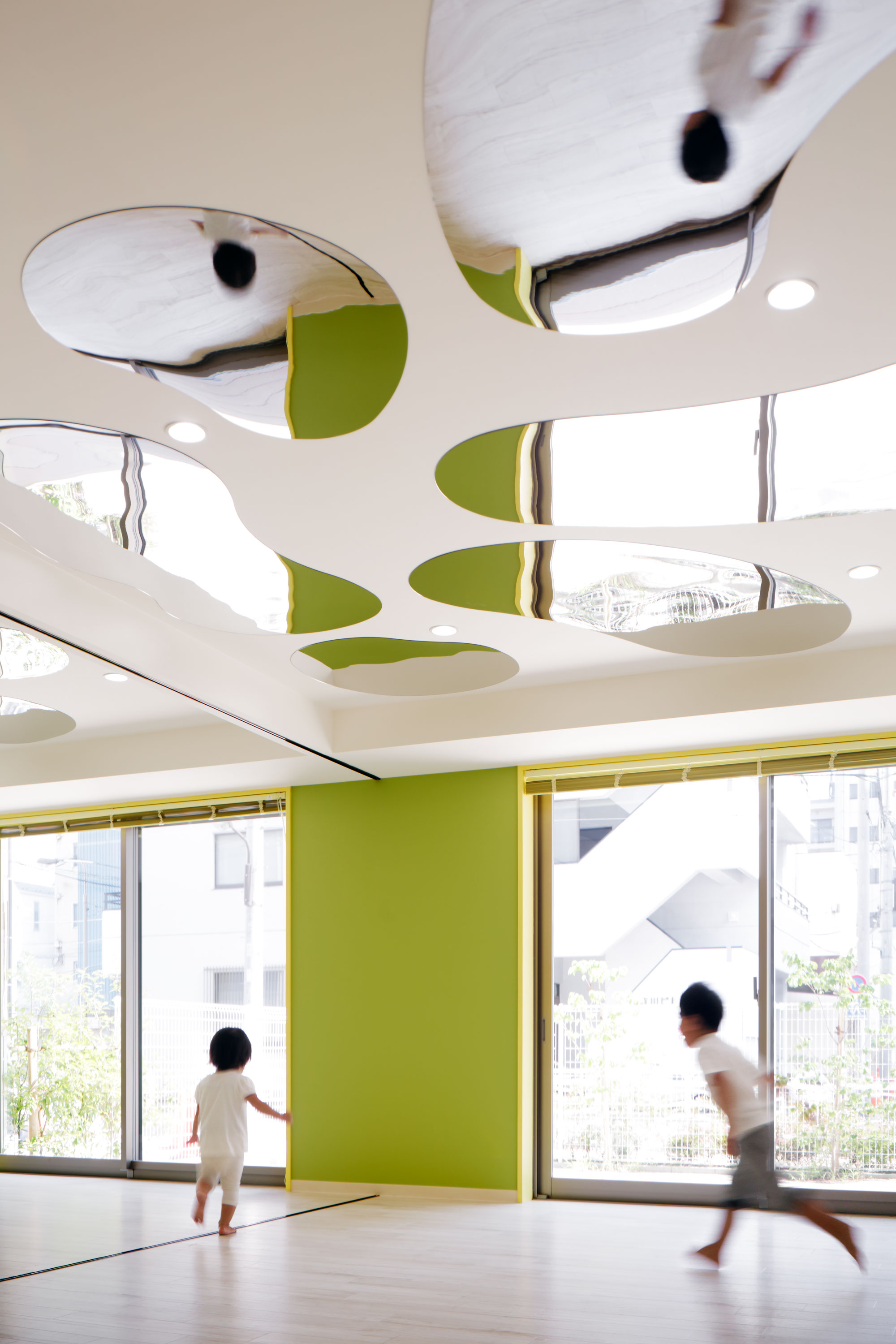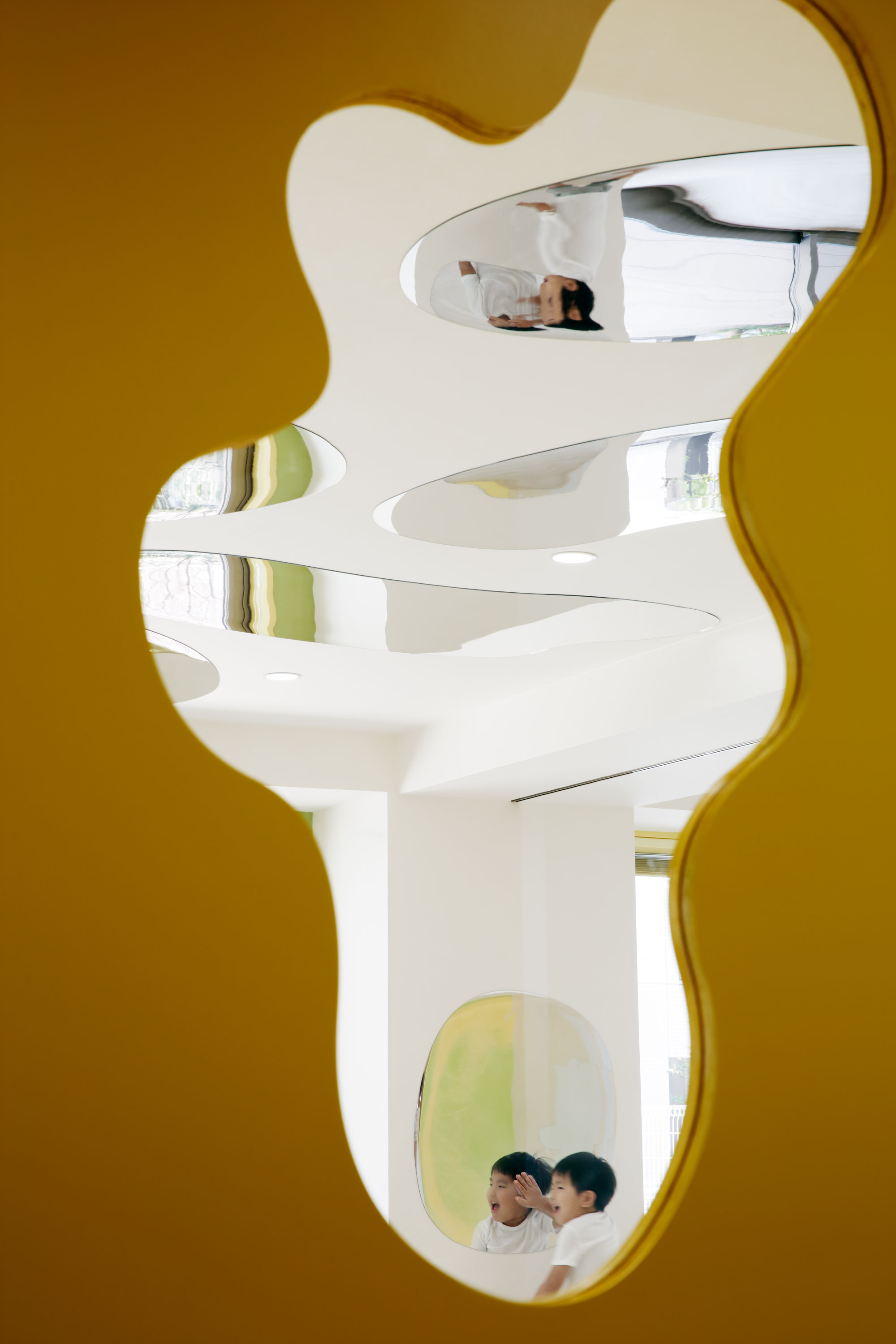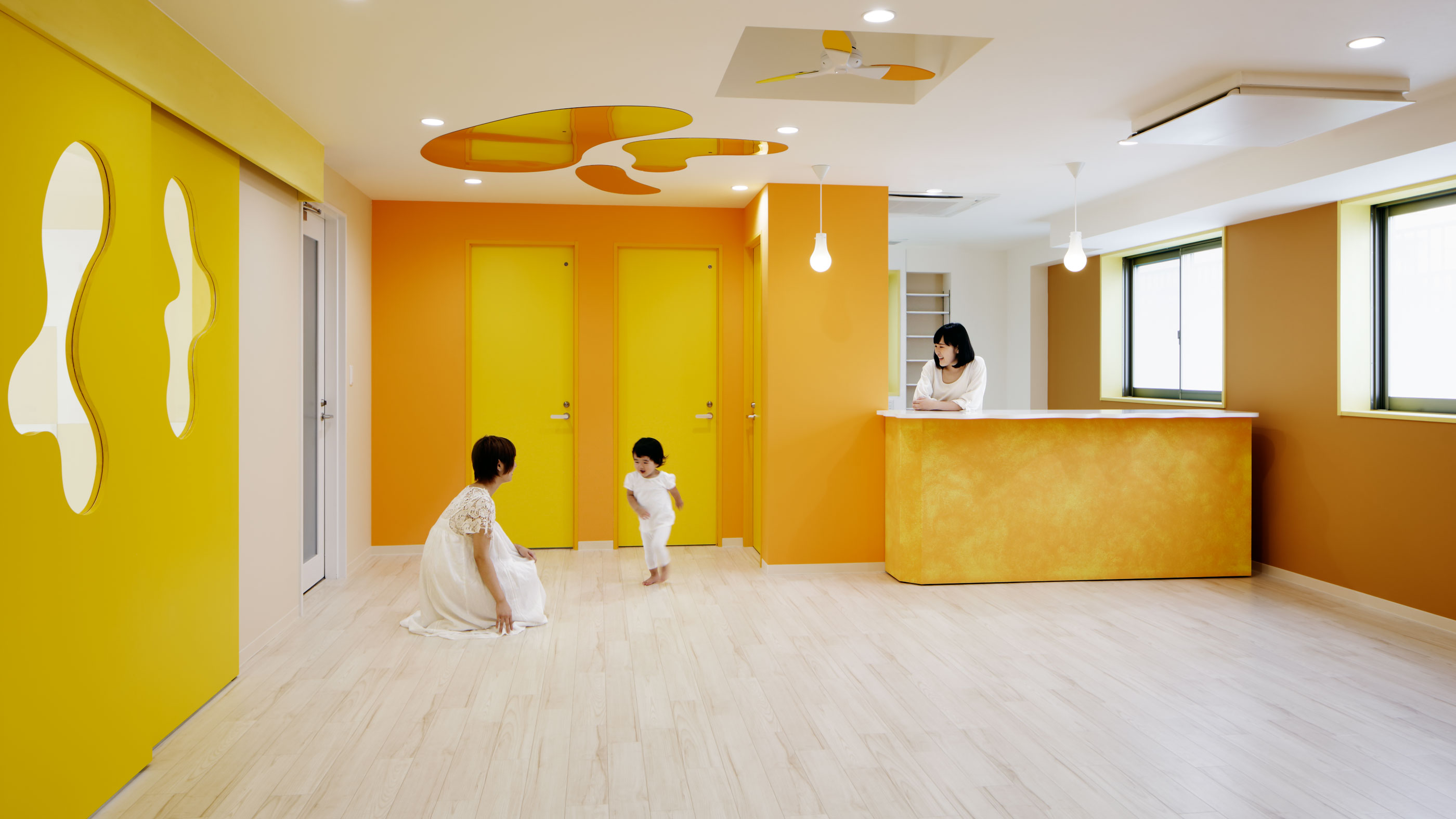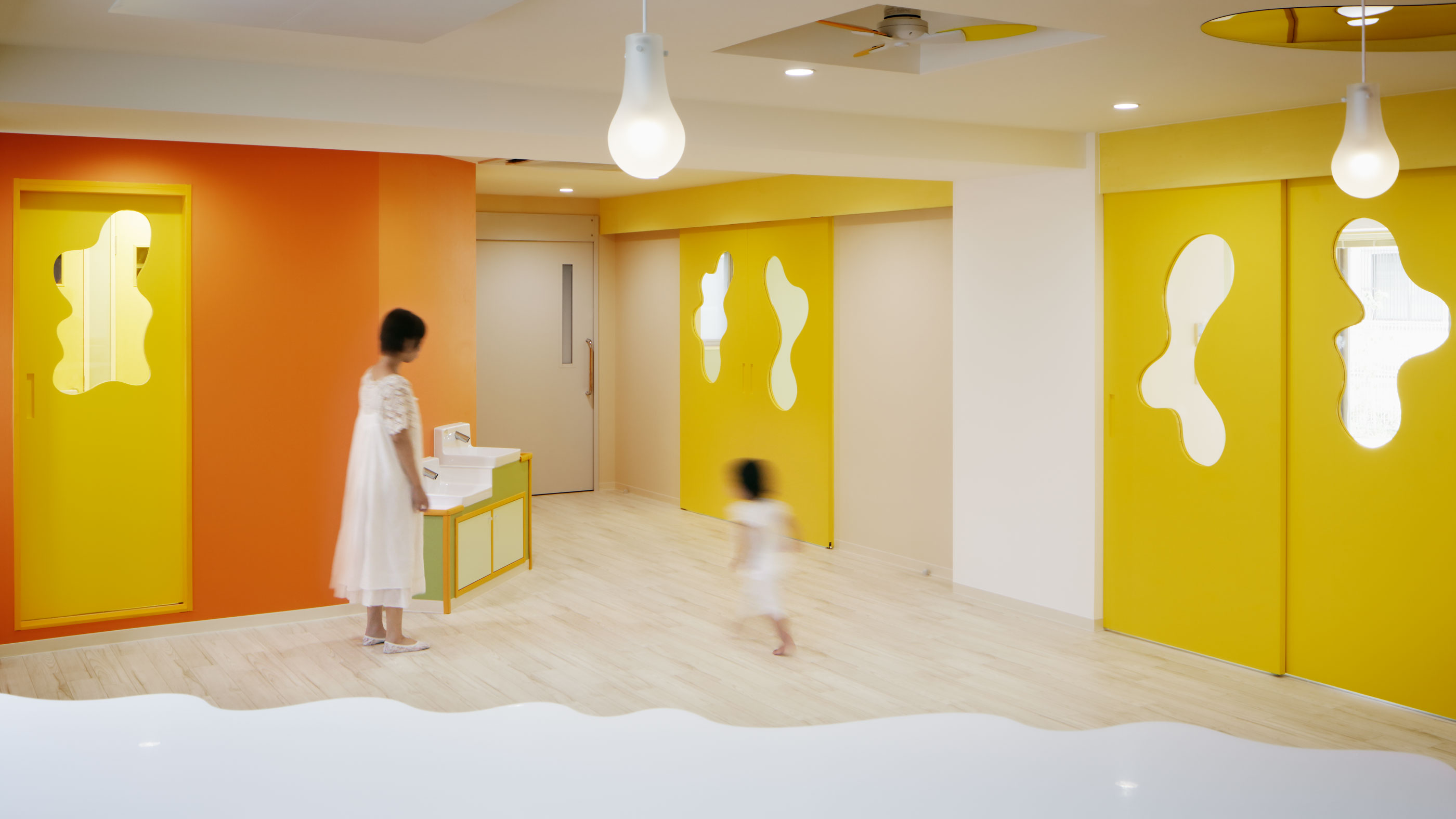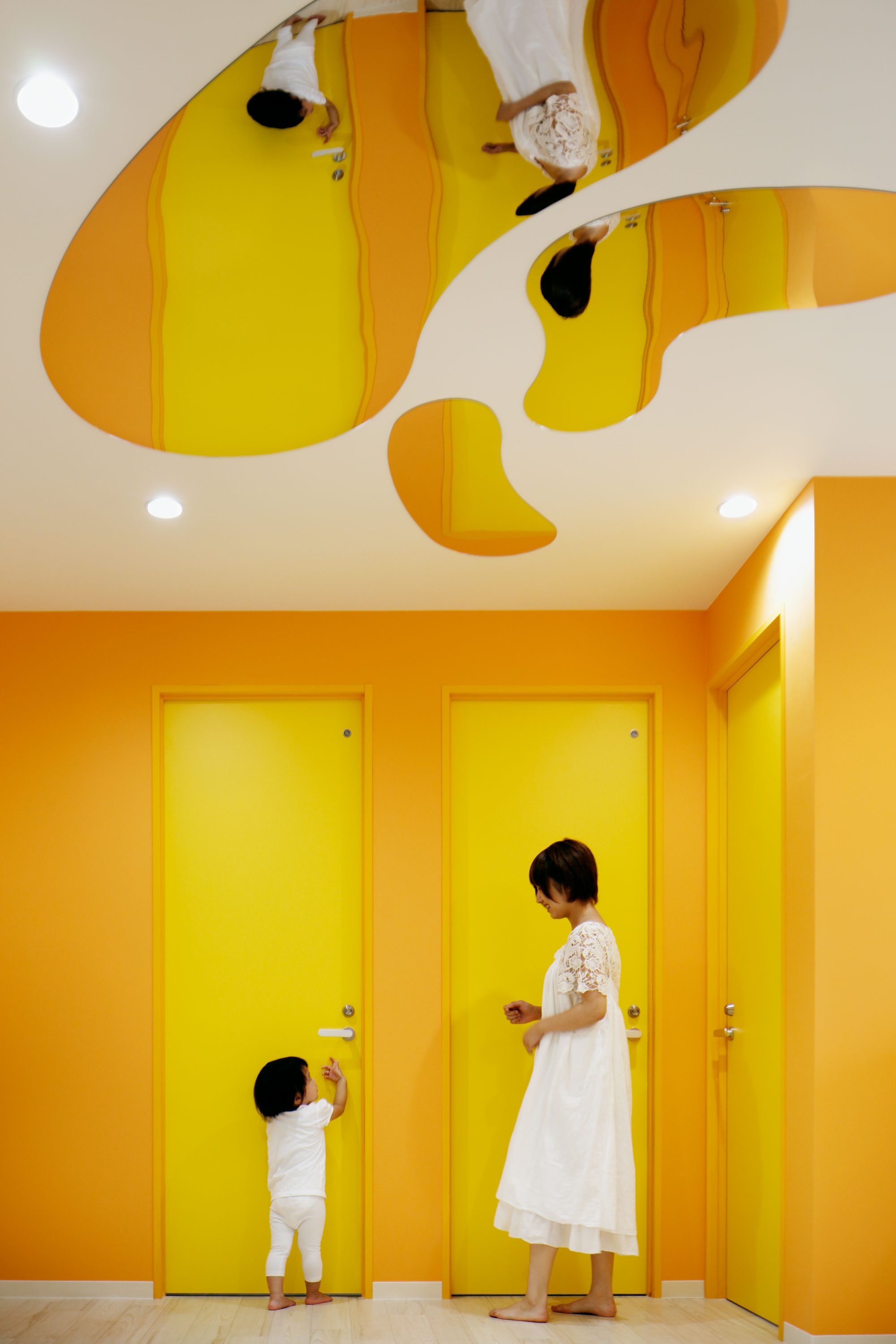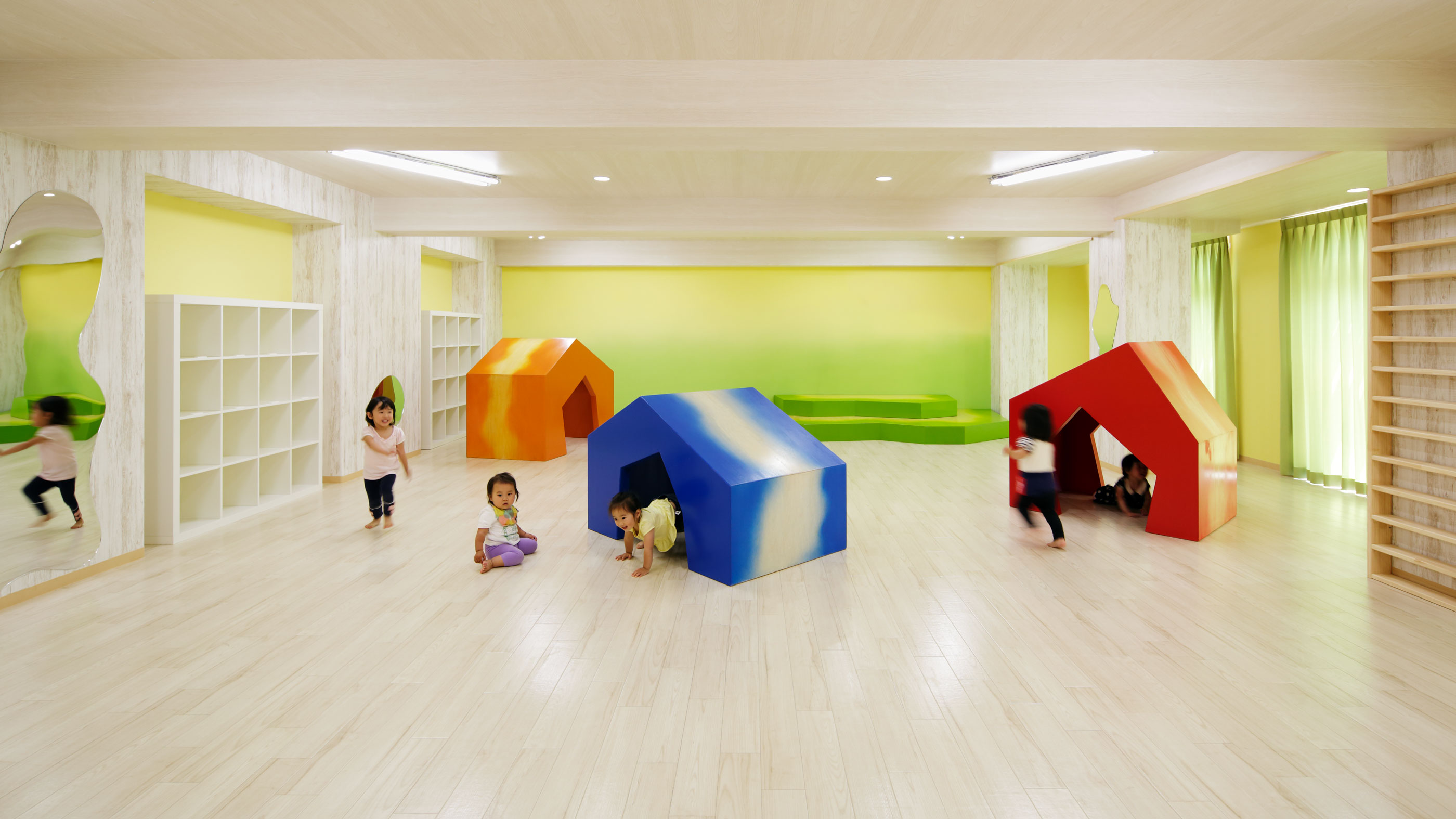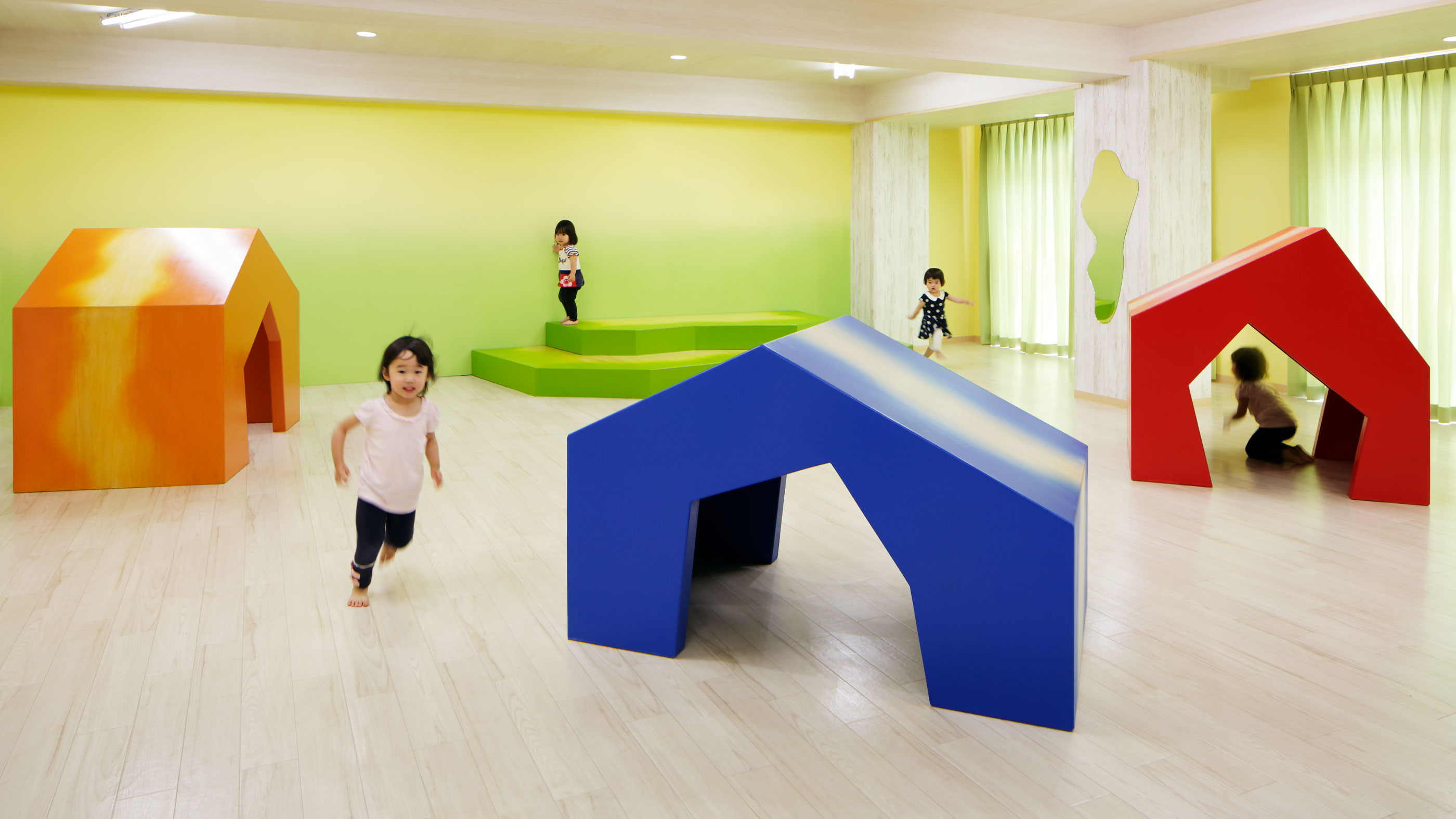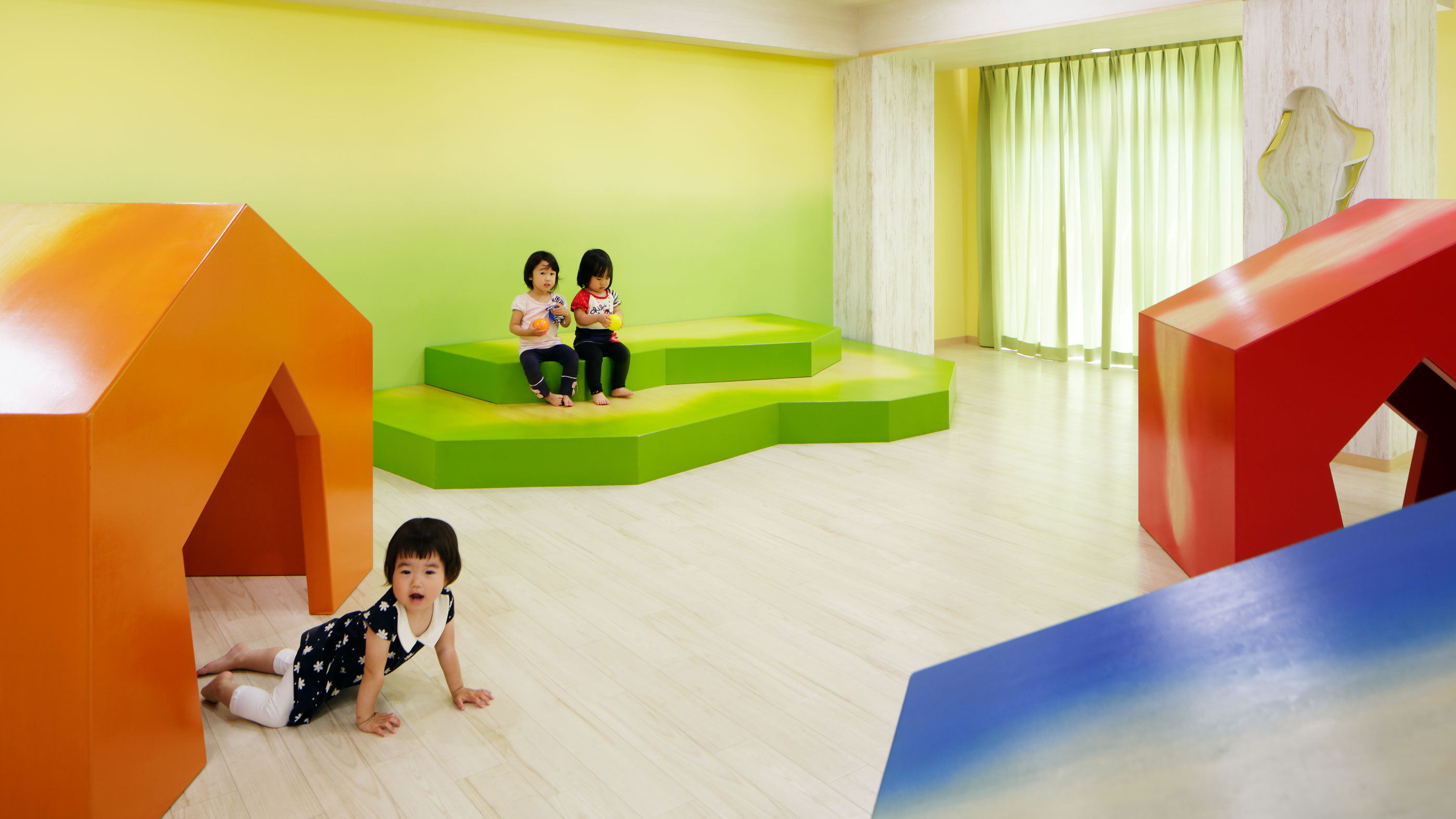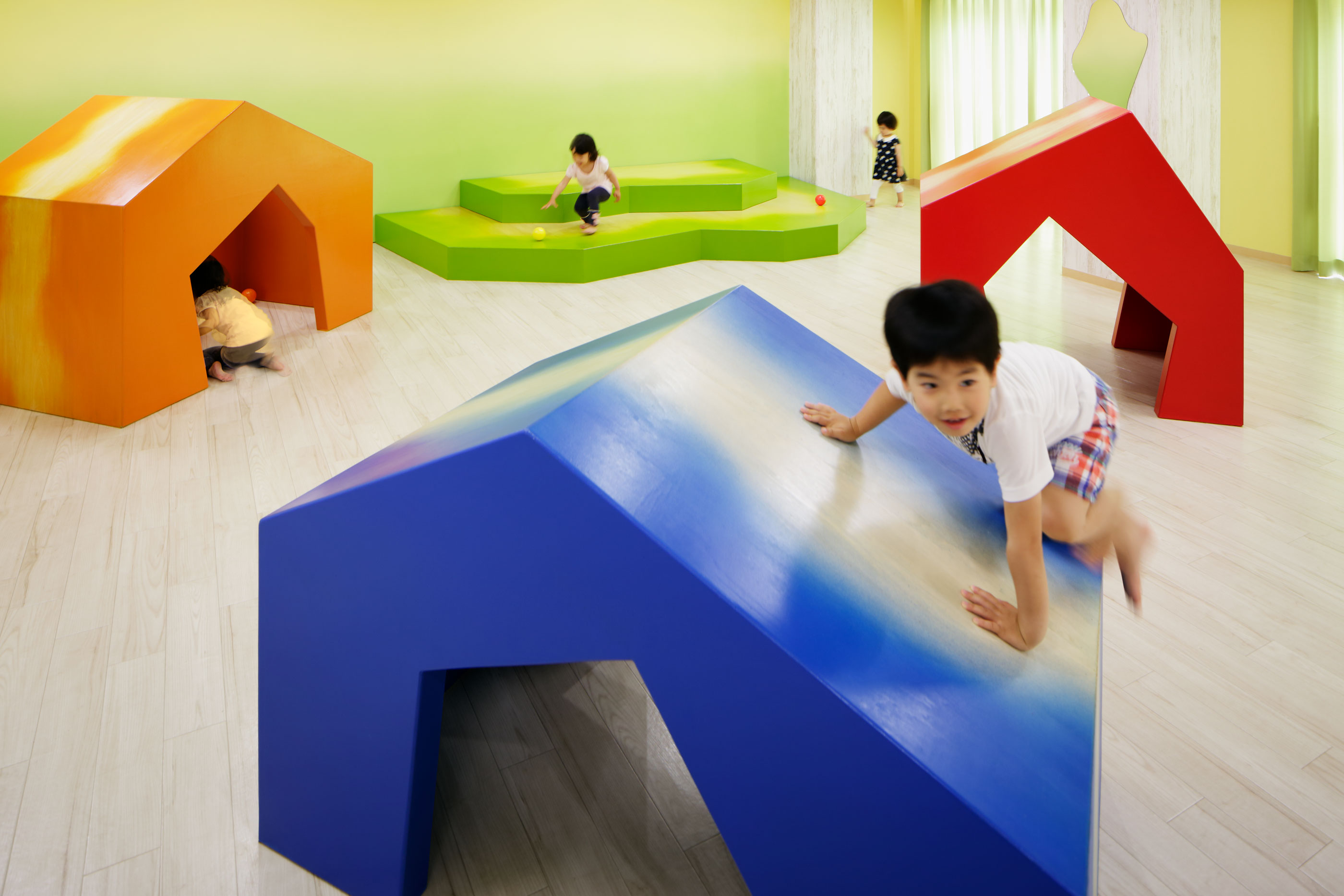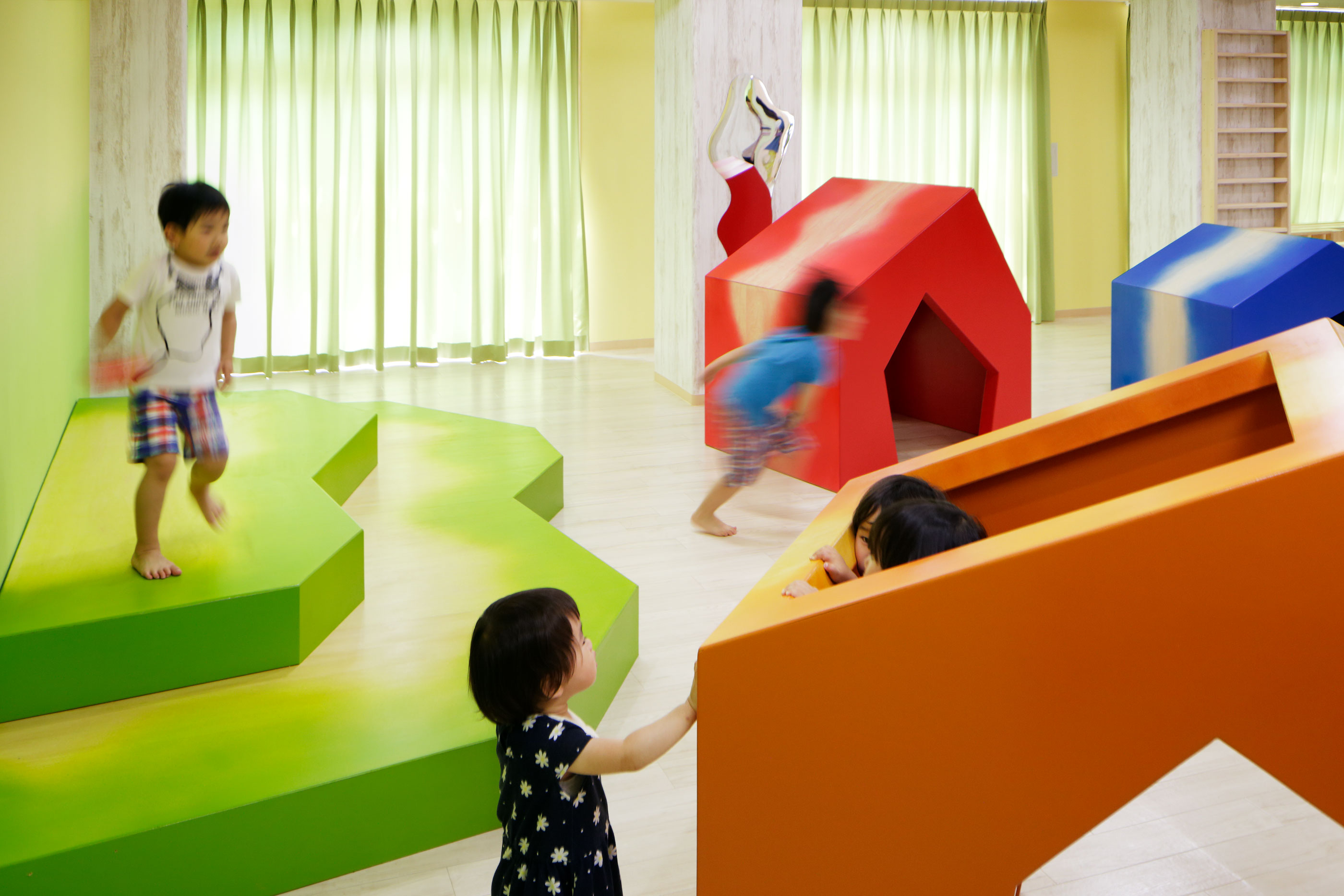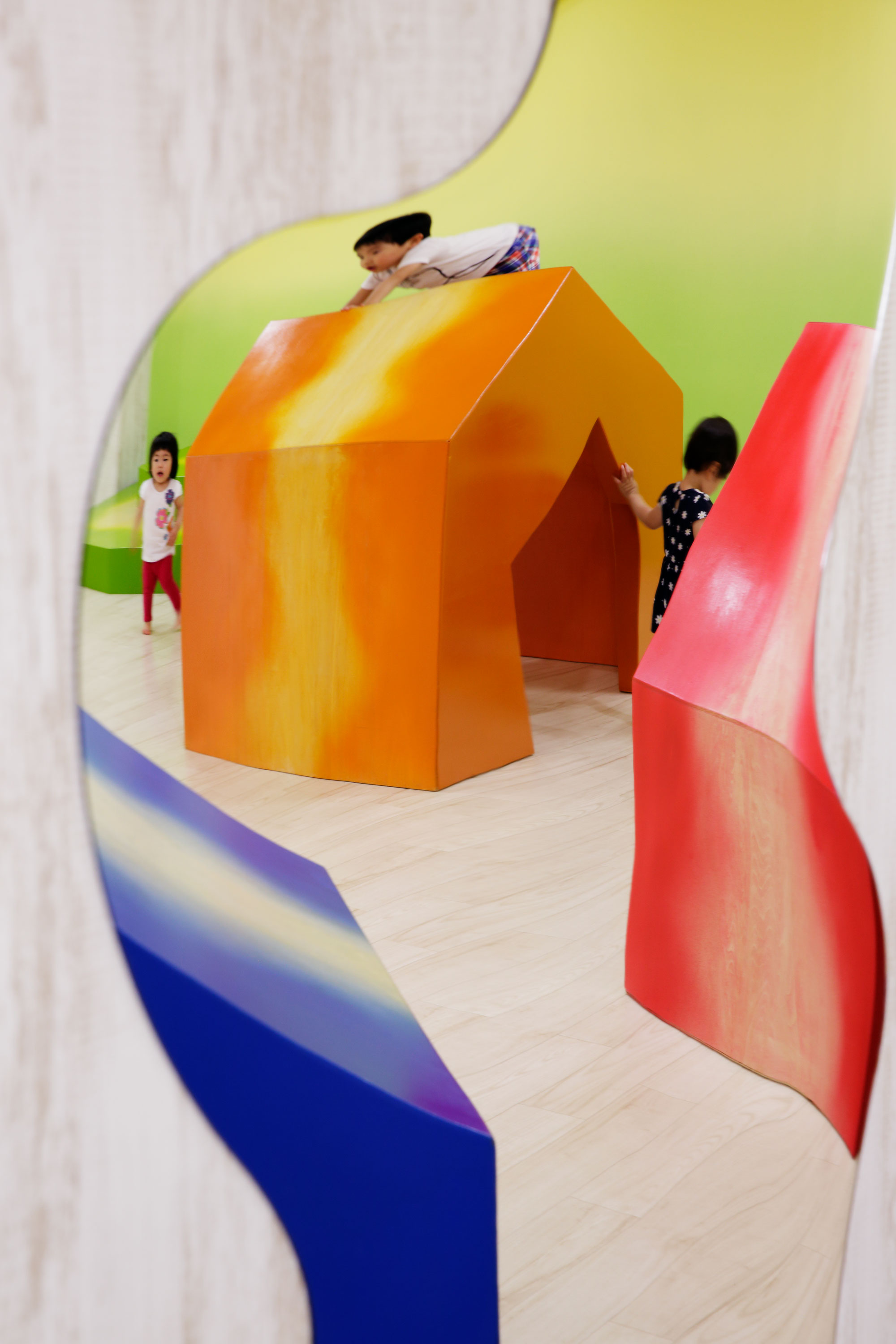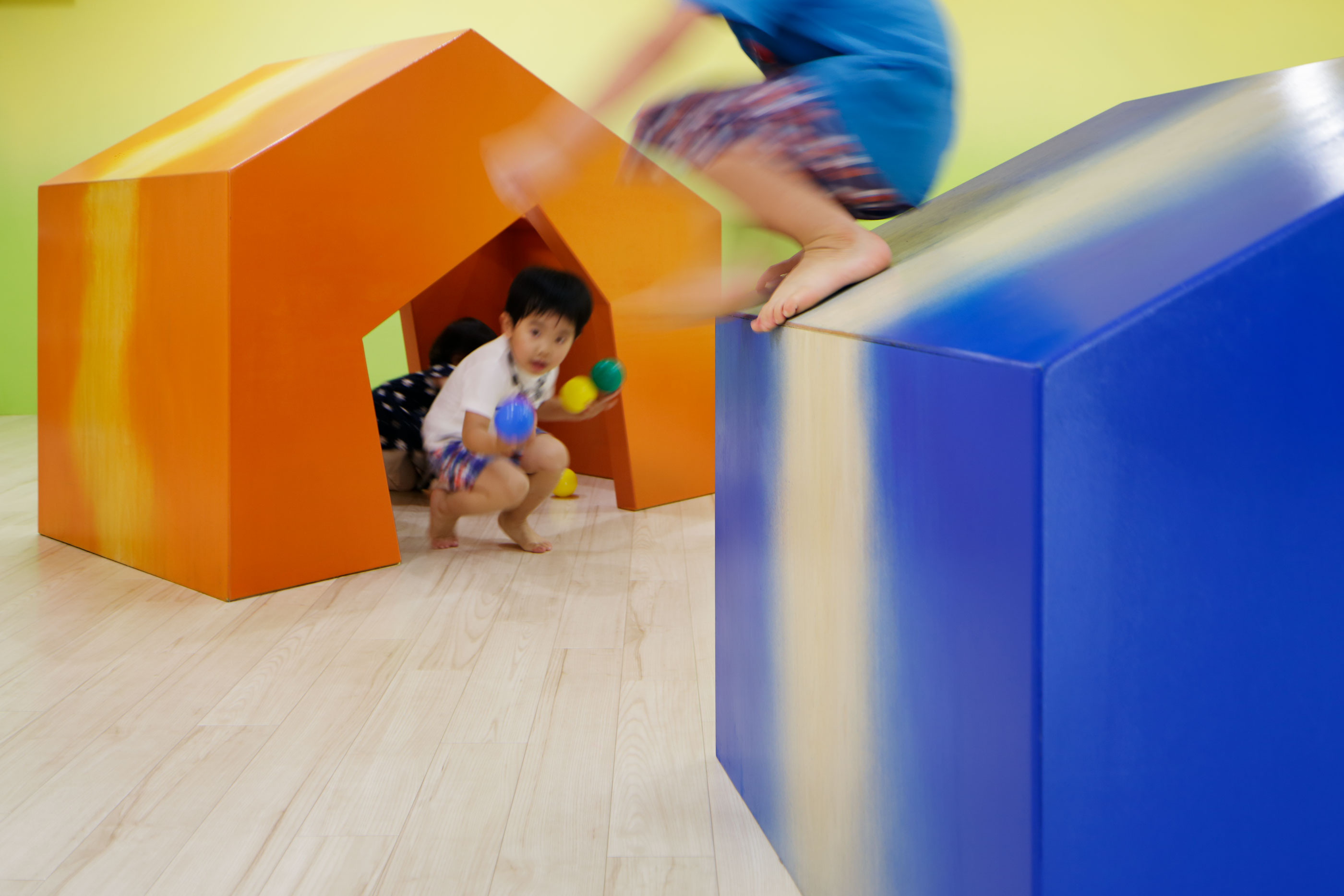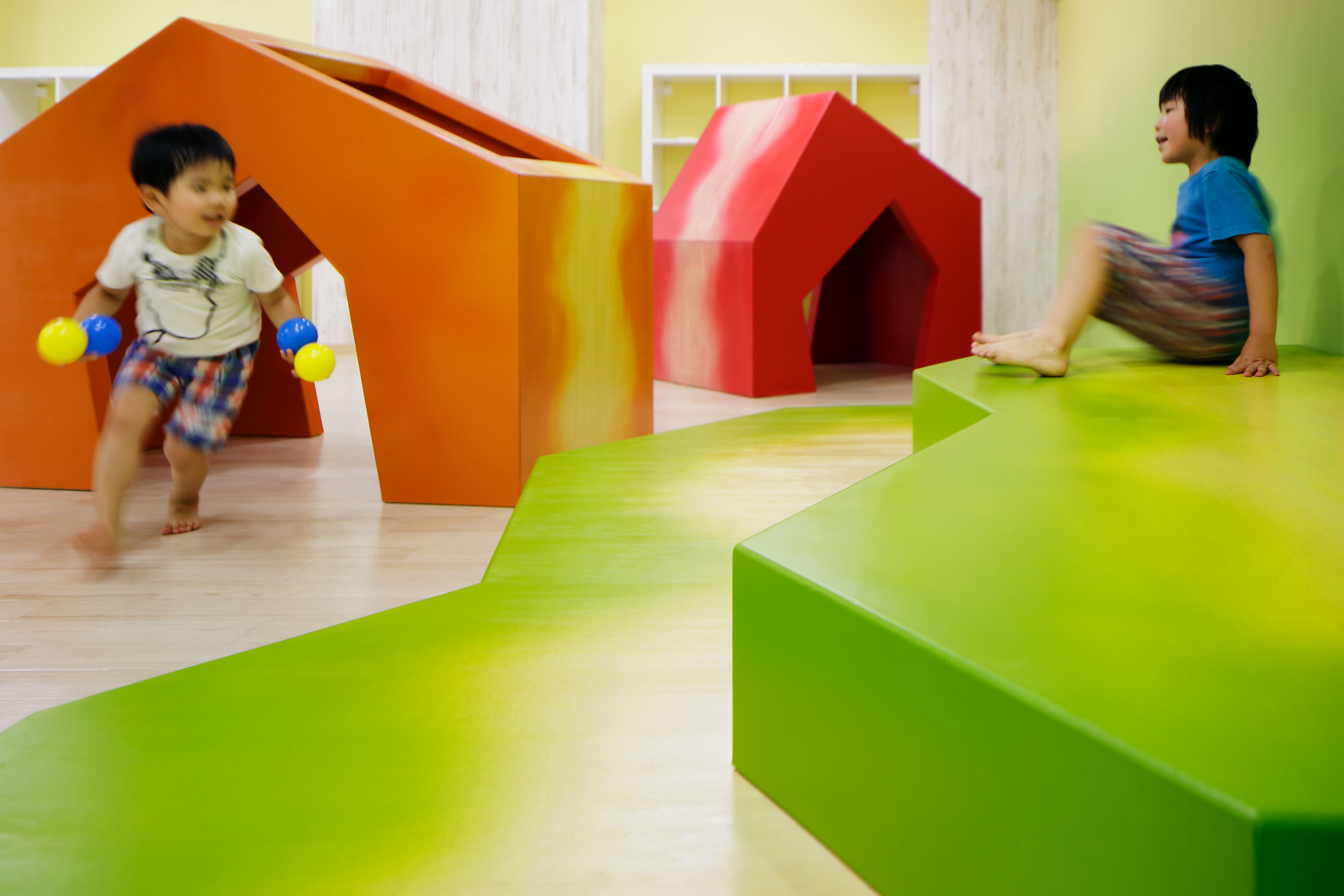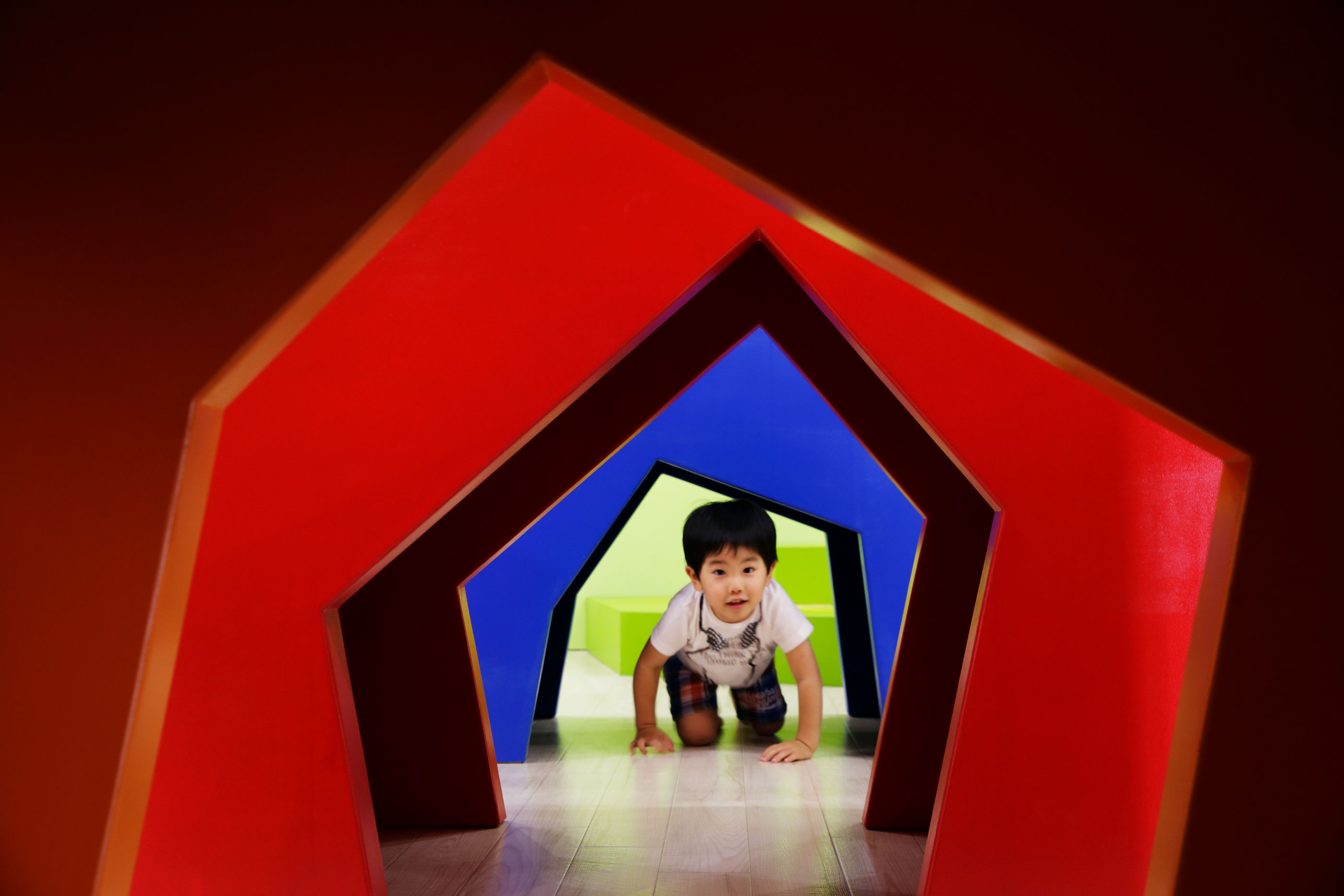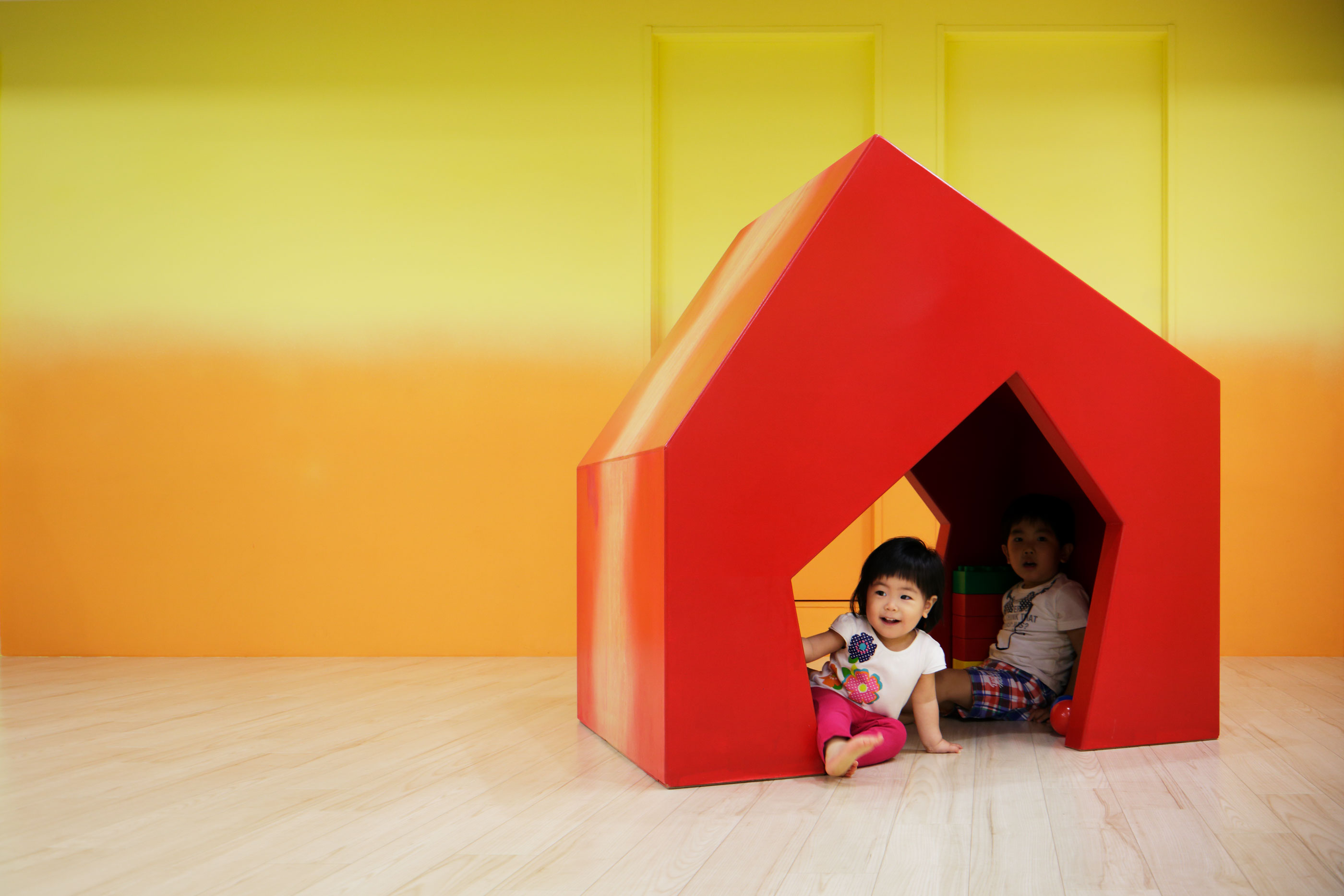 - Landscape with Lakes, Hills and Mountains -
子供達が自然の中で工夫しながら自由に遊びを創造してくように、山・丘・湖のような地形を構築し、多様な使い方を喚起する幼稚園
幼稚園の教育方針は、自発的に考え、学び、行動ができる子どもを育てることであり、そのような教育に相応しい環境をつくることが望まれていた。また、ガラス窓に面して外庭があり、屋外の自然環境を積極的に内部に引き込み、季節の変化を豊かに感じられる空間創りが求められた。
そこで、子供達が自然の中で工夫しながら自由に遊びを創造してくように、山・丘・湖のような地形を構築し、多様な使い方を喚起する場所を創り出すことを試みた。
「湖」の空間では天井に湖のような形のミラーが広がり、晴天や曇り空の光、朝日や夕暮れの光など、季節や一日の自然光の変化を繊細に感知して移ろいゆく瑞々しい空間を提供する。また、子供達の活動を写し出すことで活気を増幅していく。反射した像が伸びやかに広がる全体の風景は、子供達に自然現象の驚きや日々の活動の楽しさを拡大する環境を生み出す。
「丘と、山/洞窟/小屋」の空間では、グリーンの「丘」が音楽会では座席、演劇では舞台場、作品発表会では展示台など、多目的な場として機能するようにした。
赤・青・橙色の「山/洞窟/小屋」は、山として上に登ったり椅子として利用することができ、また洞窟や小屋として内部で読書やかくれんぼをしたり、自分だけの空間としても楽しむことができる。
壁面や遊具表面には、橙色と黄色の夕日のようなグラデーションや森の緑のグラデーション、山型遊具の滝のようなグラデーションなど、自然現象の多様な色彩を意識した躍動感溢れる色が広がっている。子供達は、色彩のリズムに包まれ、心地よい居場所を探し、思い思いの遊びを展開していく。
自然風景から発展させた要素を空間に点在させ、多様な使い方や様々な行為を誘発する地形のような遊び場を創り出す。子どもたちの創造力を喚起し、様々な能力を開花させる空間の実現を目指した。
- Landscape with Lakes, Hills and Mountains -
We designed a playful and exciting environment suitable for implementing this kindergarten's educational policy, which focuses on bringing up children that can think, learn and act independently. In doing so, we created a space in which seasonal changes can be experienced to the fullest by taking advantage of the glass windows facing a garden outside of the building to usher the great outdoors into the kindergarten.
We experimented with a landscape design populated with lakes, hills and mountains that would inspire children a variety of uses and fun ways to play by stimulating their imagination.
Here, the scenery and relief associated with nature is echoed throughout the space by a cleverly designed stage resembling a hill, furniture representing small mountains, caves or cabins and mirrors reminiscent of the surface of a body of water, while the color gradations of the walls feature a palette evoking the beauty of nature.
The lake-shaped mirrors covering the ceiling in the "Lake" room help create a space in which minute changes in natural light, such as that from the morning or evening sun or that of a sunny or cloudy sky, can be experienced throughout the day and the seasons, while also adding to the bustle by reflecting the children at play. As the reflected imagery adds to the liveliness of the entire scenery, it helps create an environment that brings children to approach natural phenomena and their daily activities with an increased sense of wonder and playfulness.
Over at the "Hill and Mountain" room, the green hill allows for a variety of uses for activities intended to boost the creativity of children, such as seating for a concert, a stage for a play or a stand for a exhibition.
Moreover, children can climb over the red, blue and orange pieces of furniture like a small mountain ridge, sit on them like chairs, crawl through them like a cave or enjoy them as their own private space by holing up inside them like a cabin to enjoy a book or even play hide-and-seek.
The orange and yellow tones of the setting sun, the green forest hues and the waterfall motifs on the mountain-shaped play structures all come together in a signature gradation that spreads throughout the whole space like a wave of color filled with lively movement. This enables the children to cheerfully evolve in an environment bathed in the rhythm of colors where they can find their space and decide how to spend their time each in their own way.
Furthermore, by placing elements inspired by natural settings throughout the space and creating a landscape that allows for a variety of uses and actions, we aim to create a kindergarten that offers children an unlimited number of opportunities to stimulate their creativity and develop their skills to the fullest.
category : kindergarten
location : japan
construction : aslego
special paint : osamu yamaguchi
photo: atsushi ishida
category : kindergarten
location : japan
construction : aslego
special paint : osamu yamaguchi
photo: atsushi ishida
Award
Media