丘陵地帯にある100住戸の集合住宅
起伏に富んだ丘陵地帯の風景と共鳴し、幾重にも絡み合う地層に潜む自然のエネルギーに呼応した集合住宅の実現
A residential architecture located in a hilly area
-Permeated by the Energy of Hills, Strata and Rivers-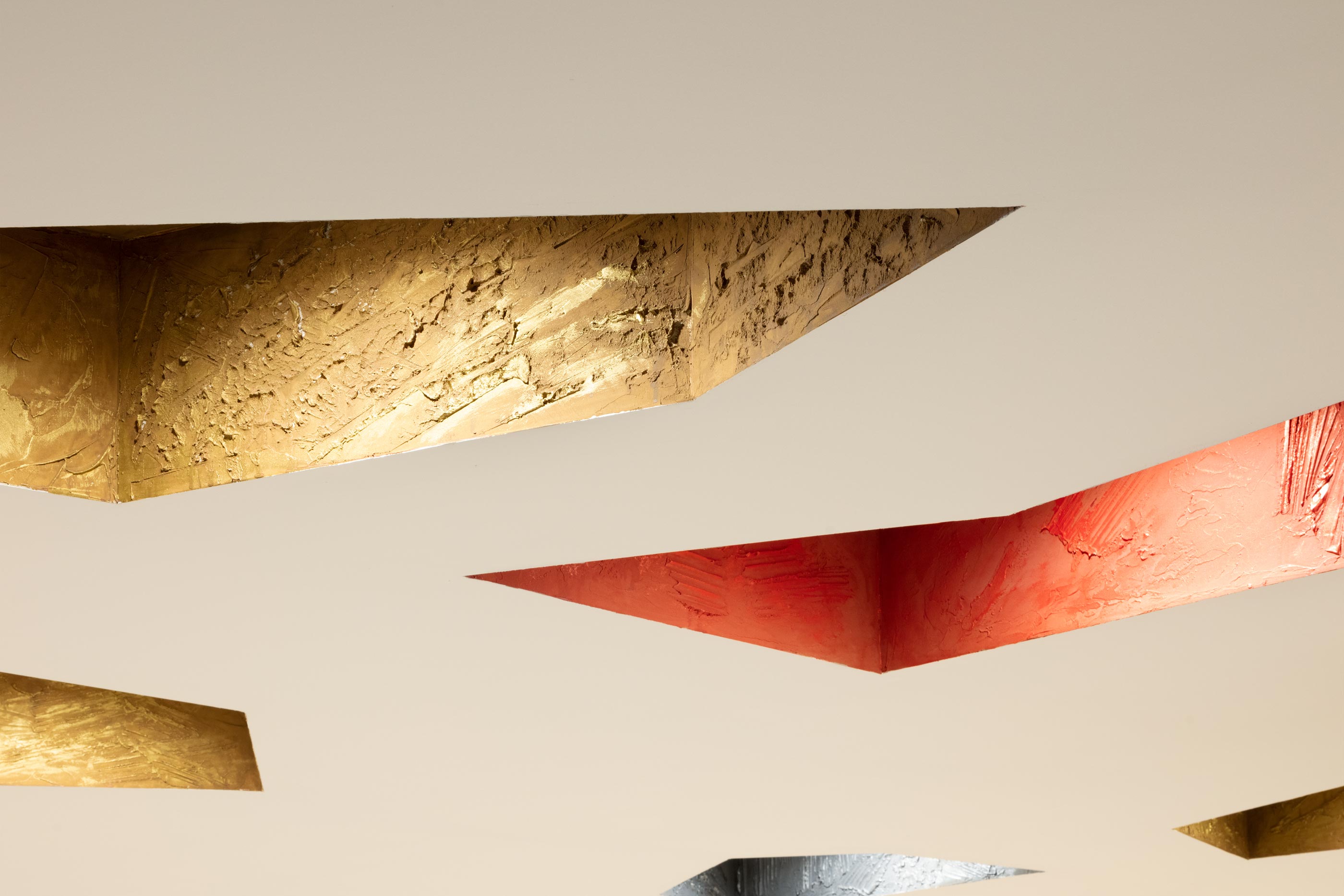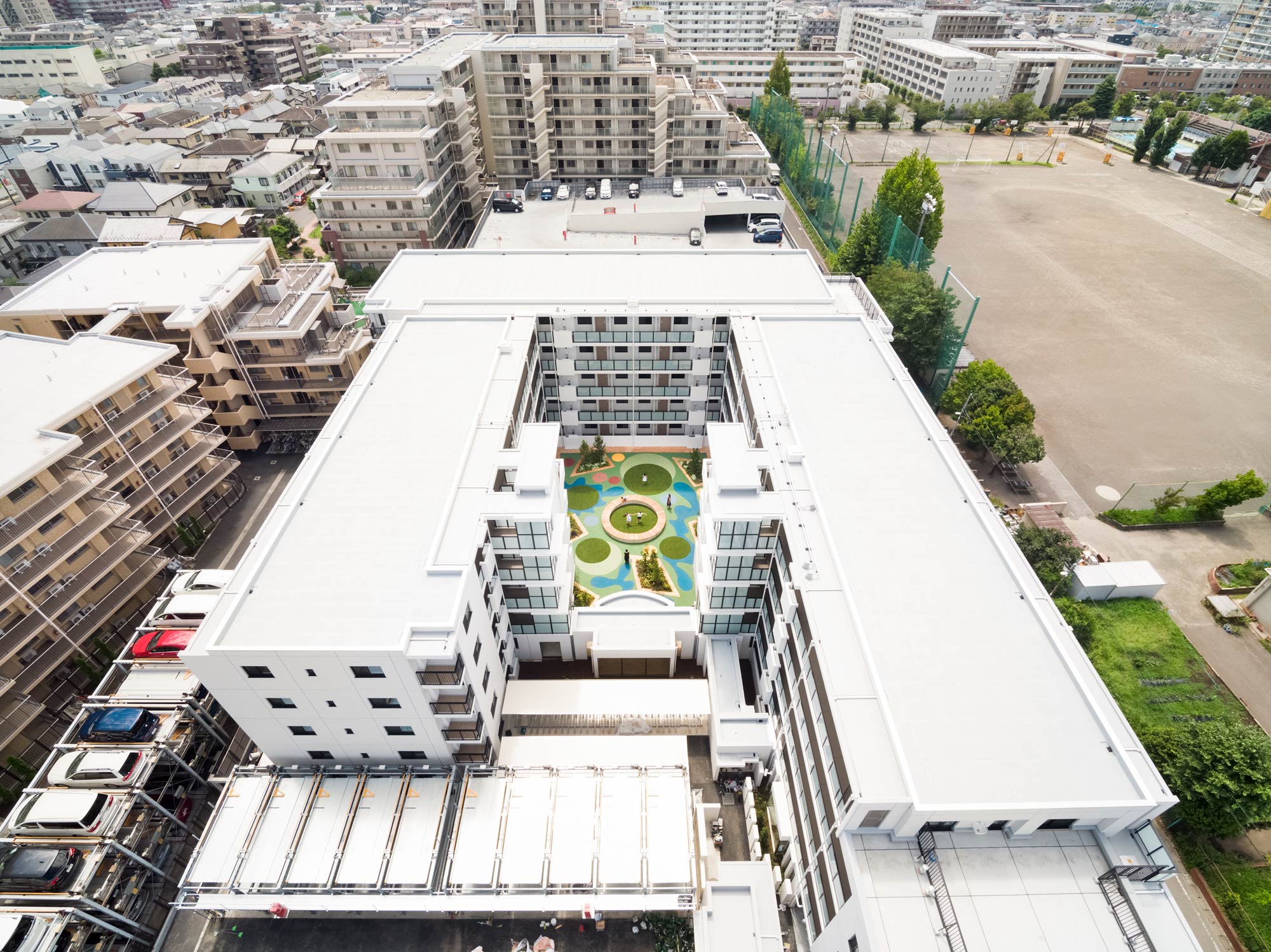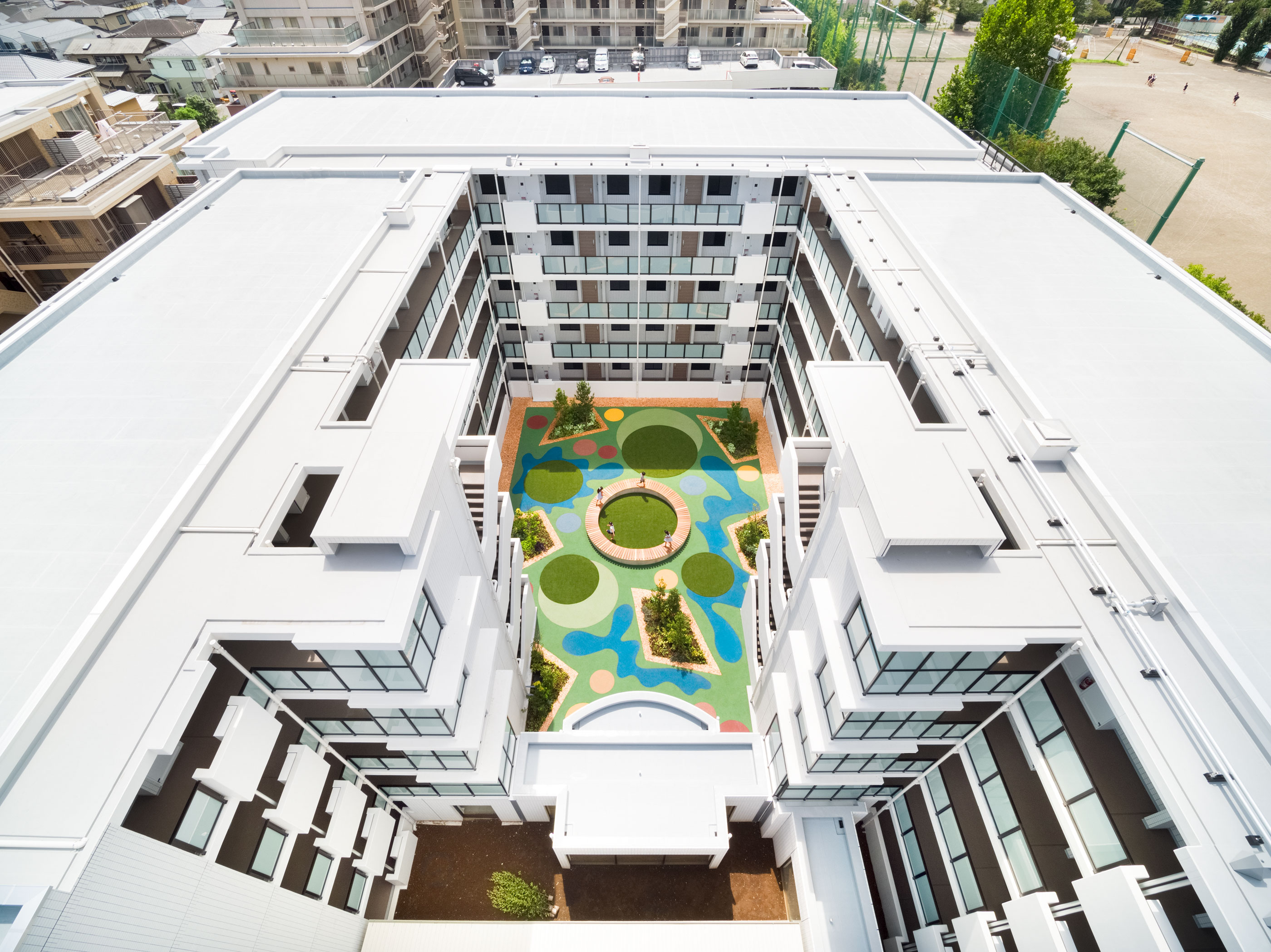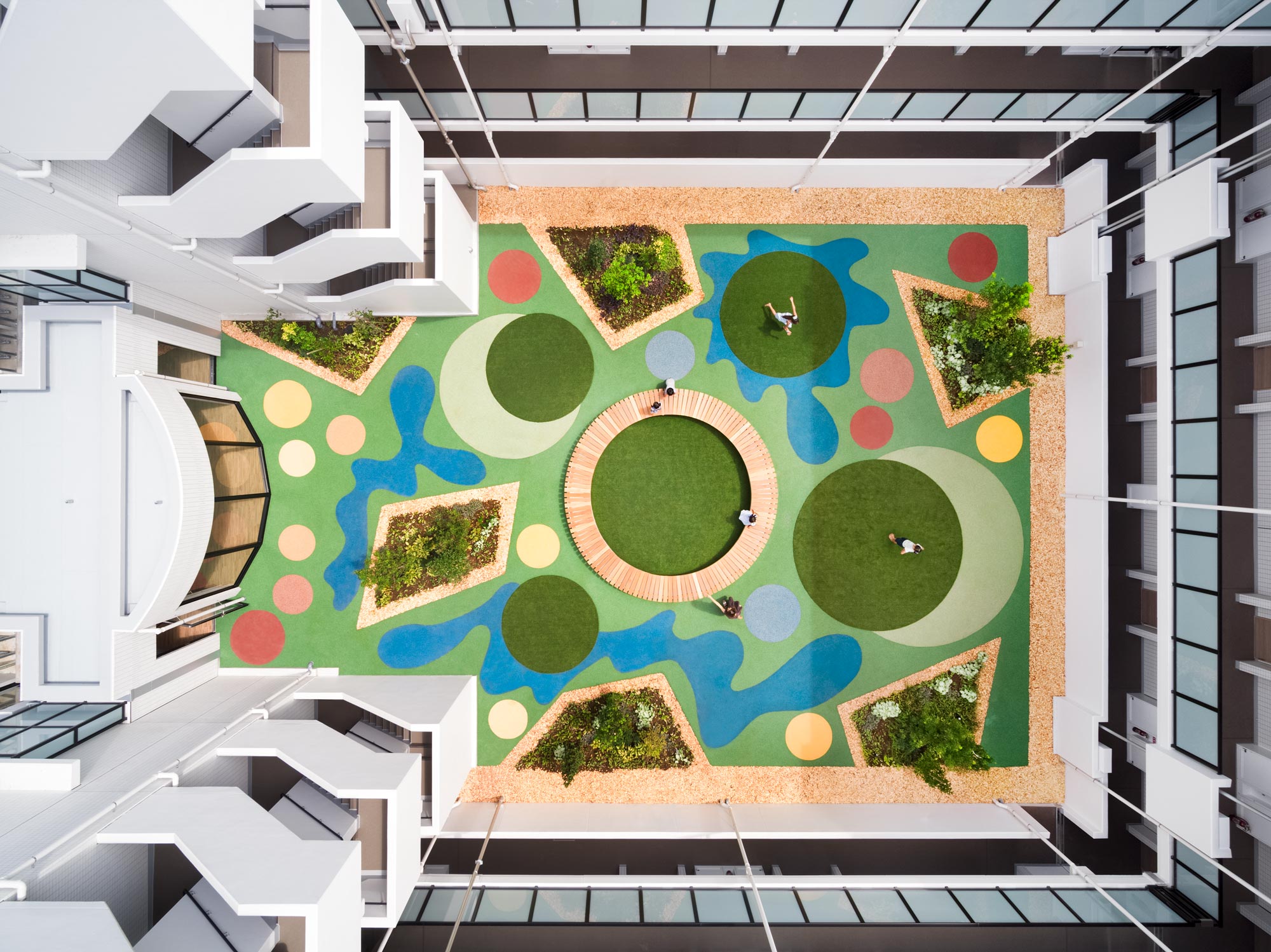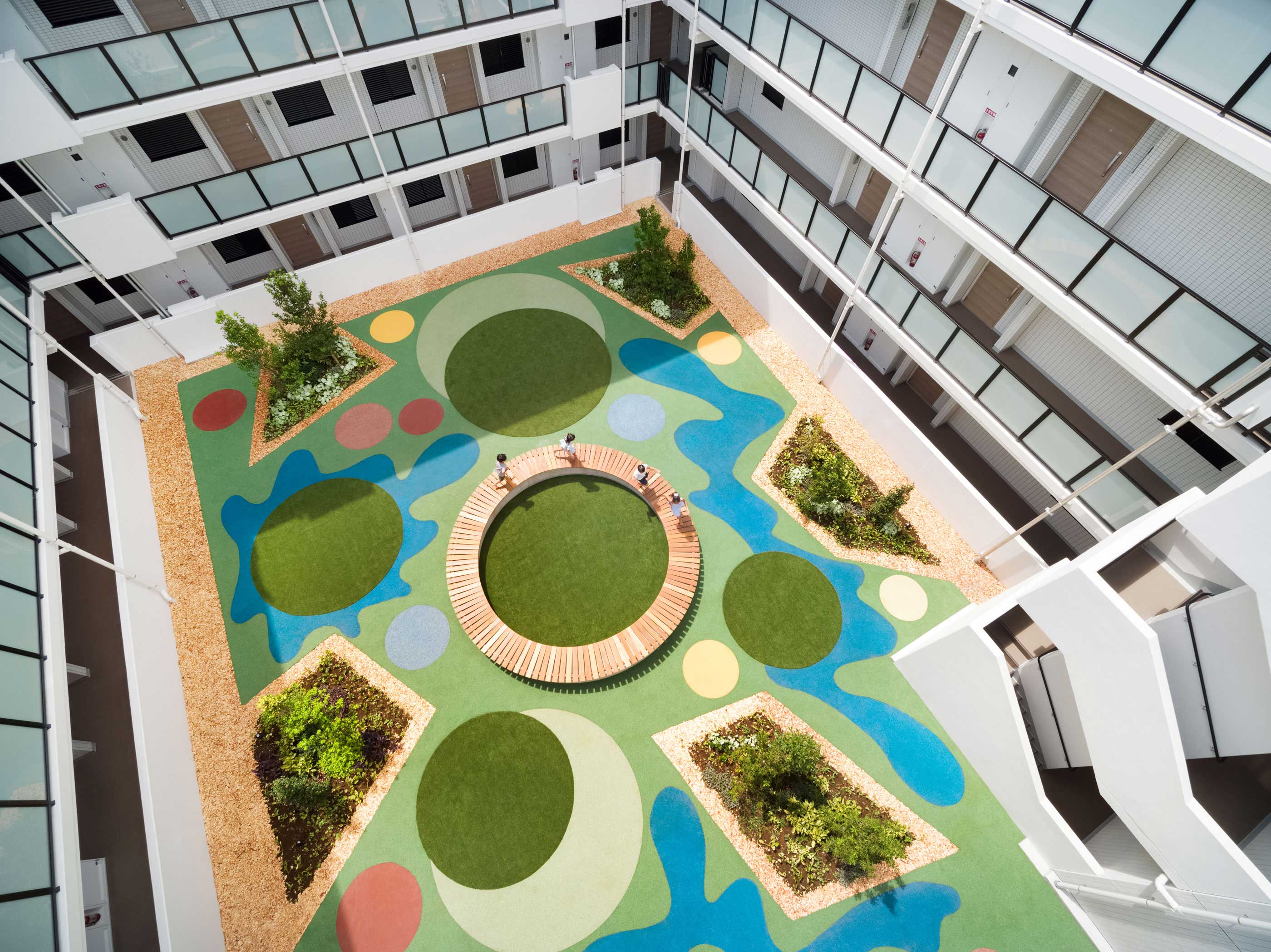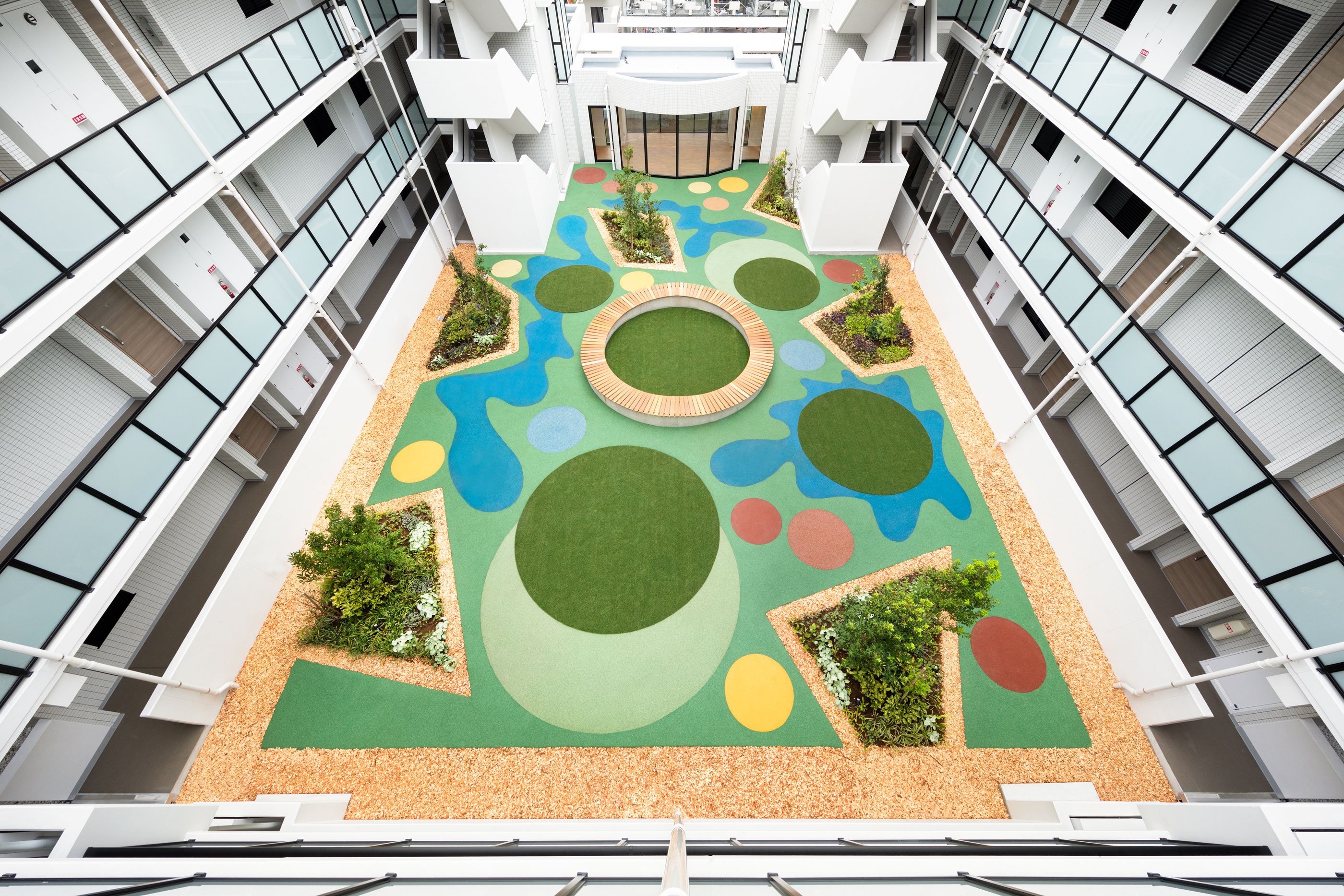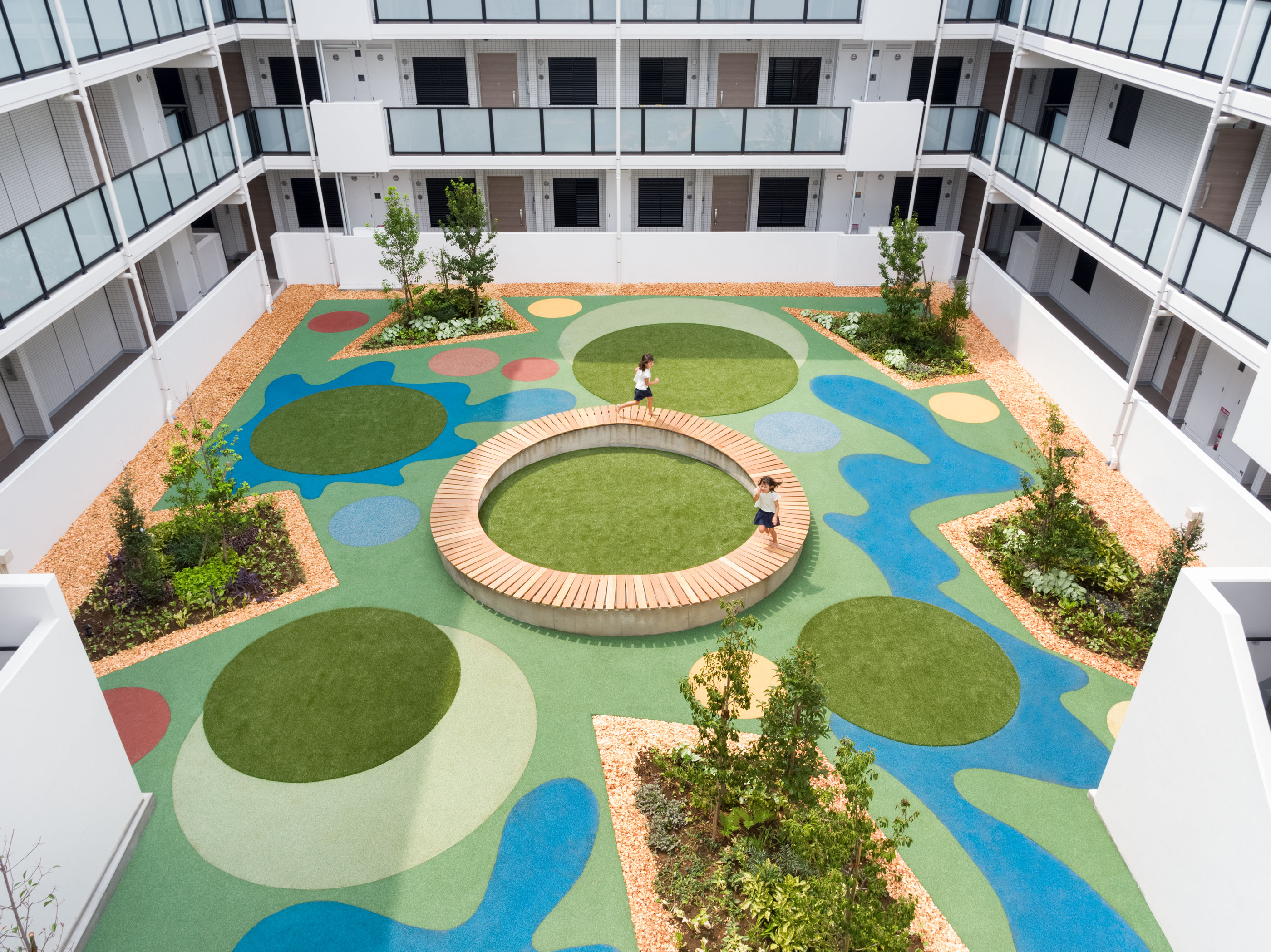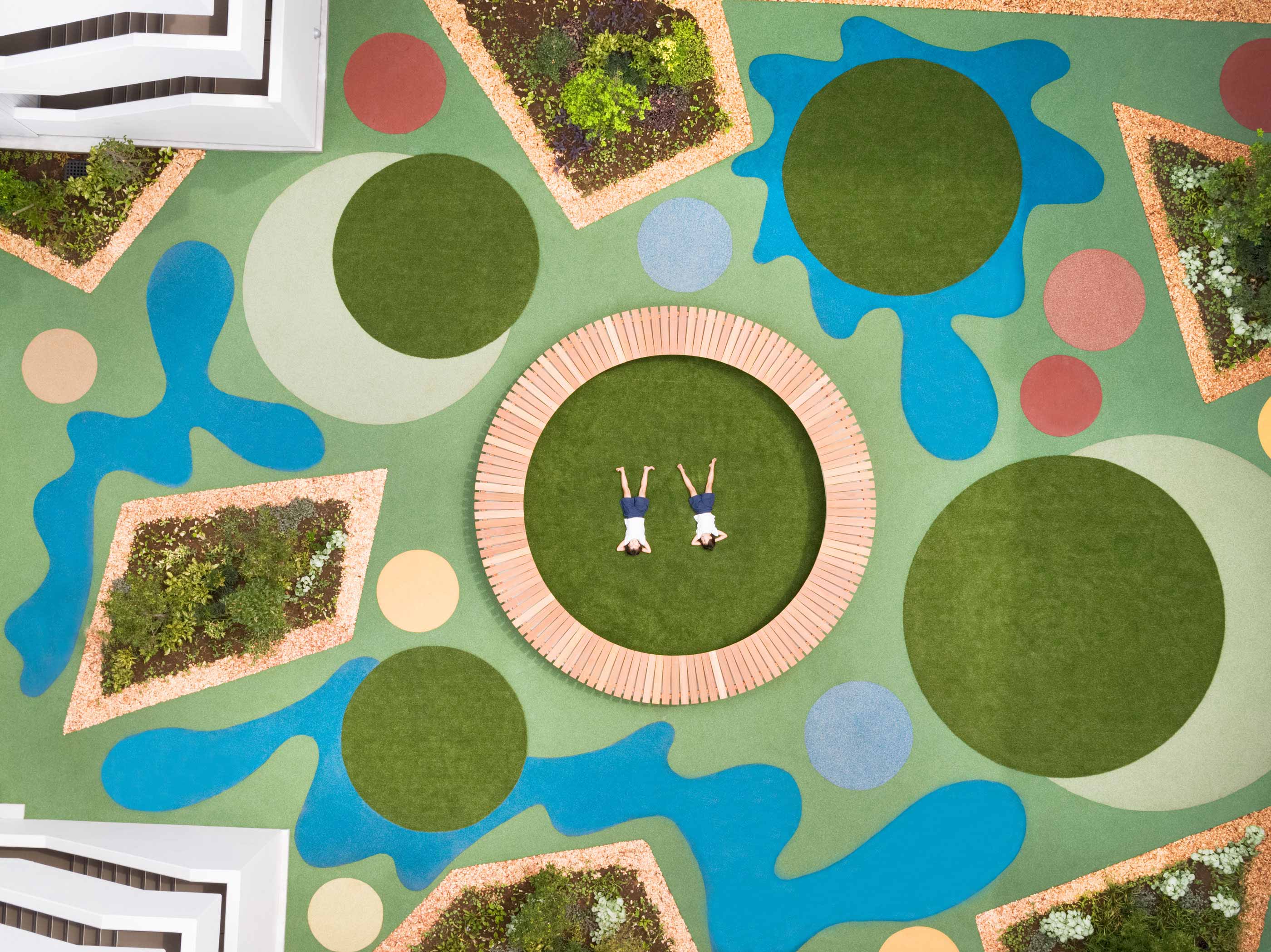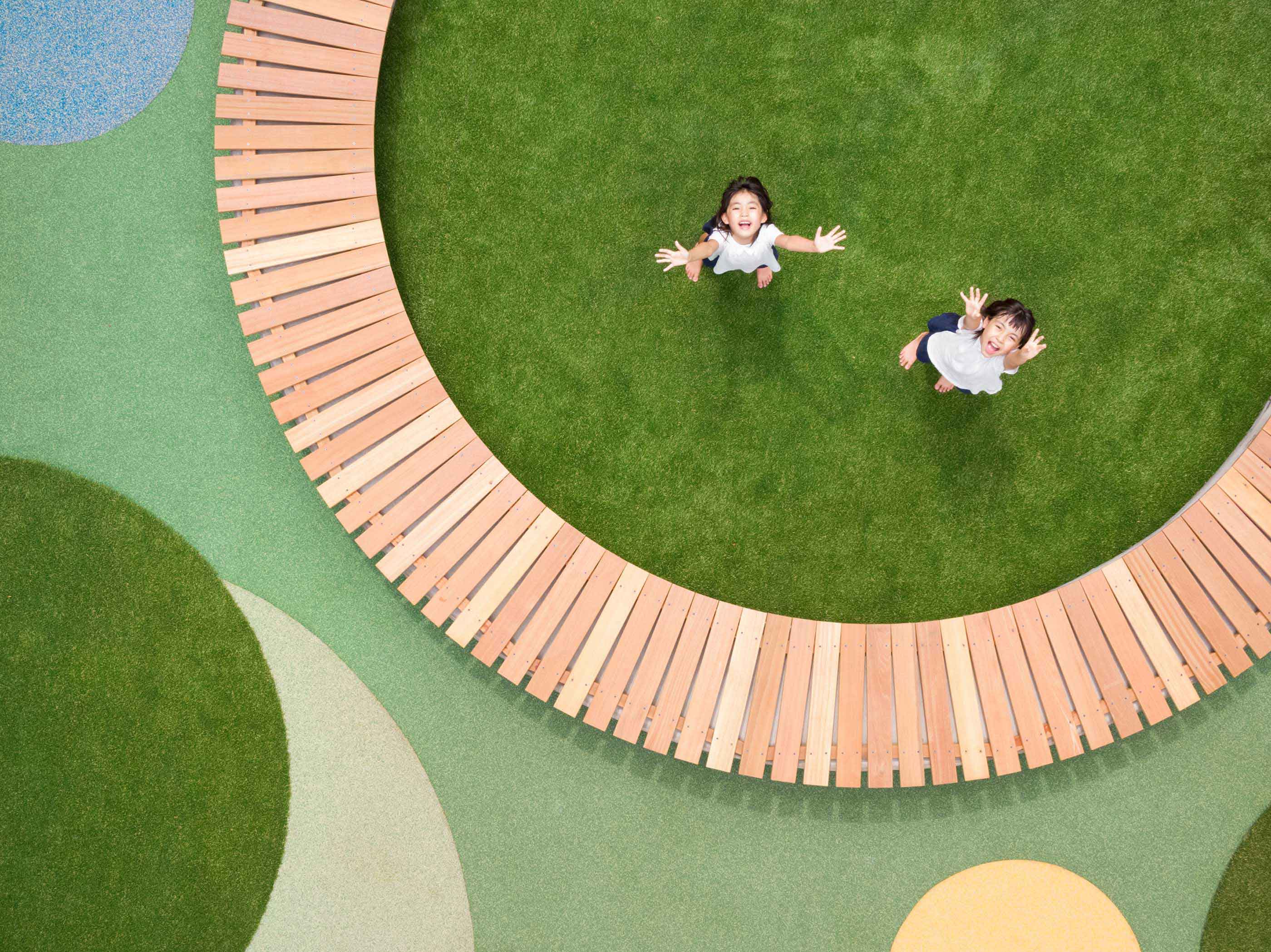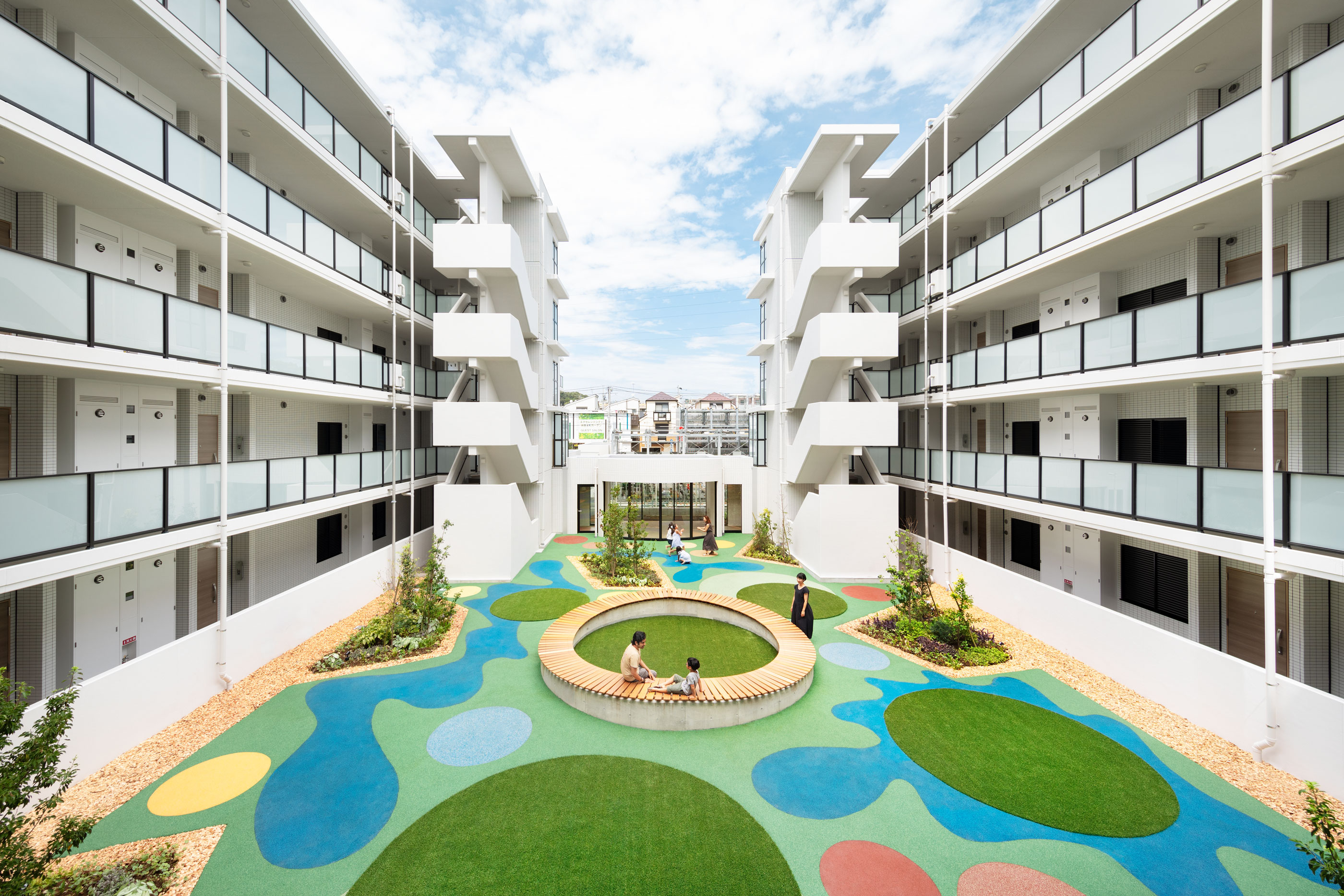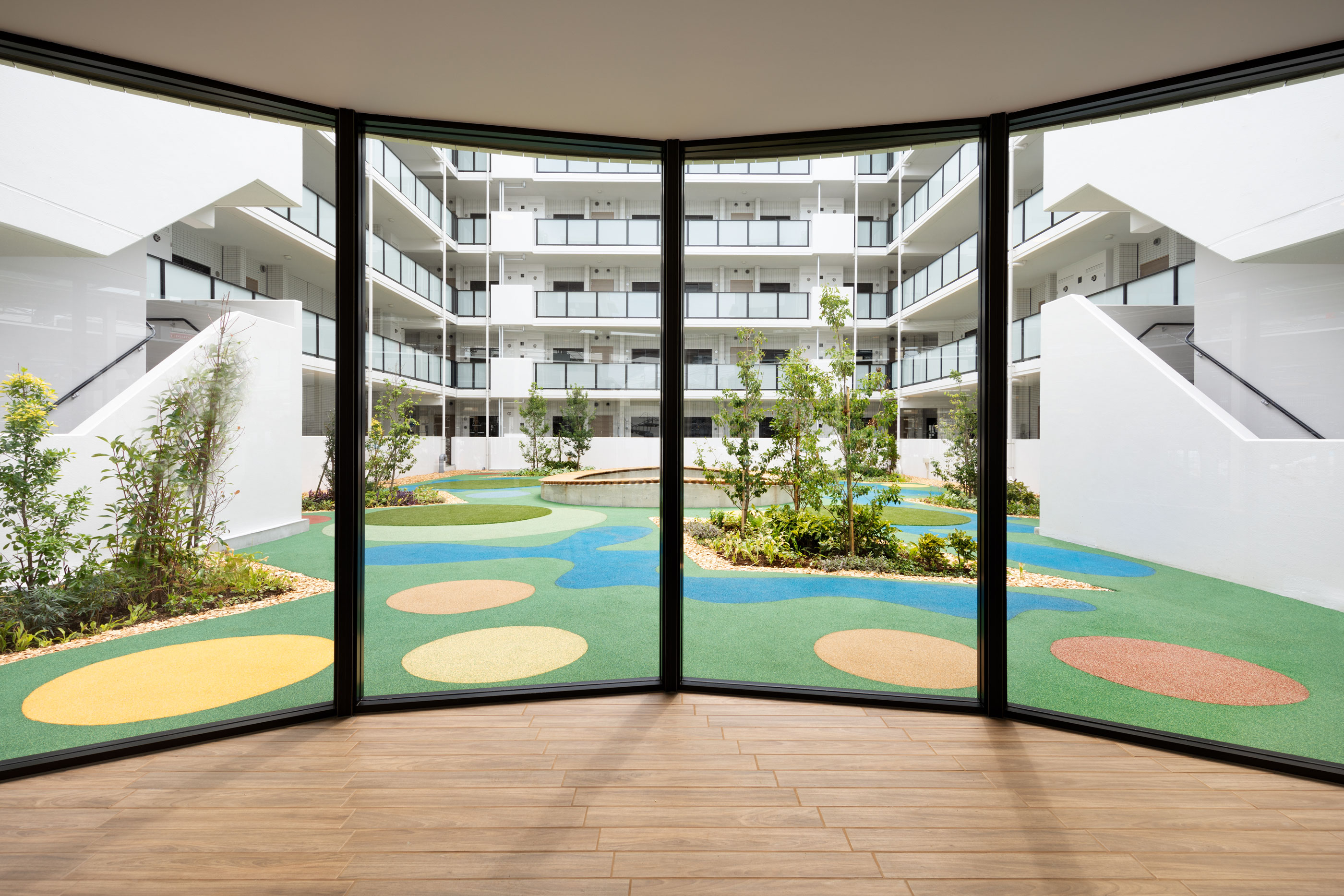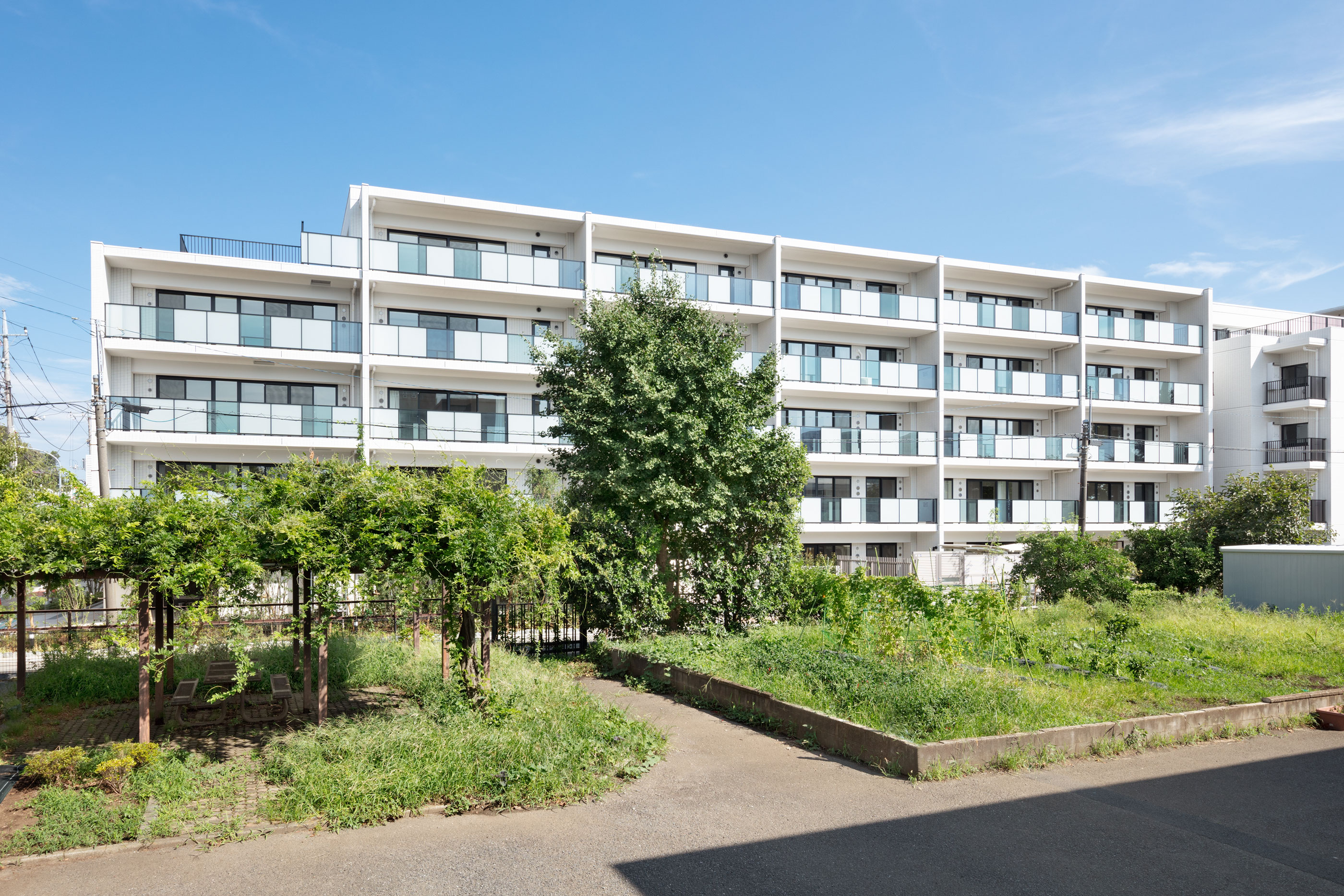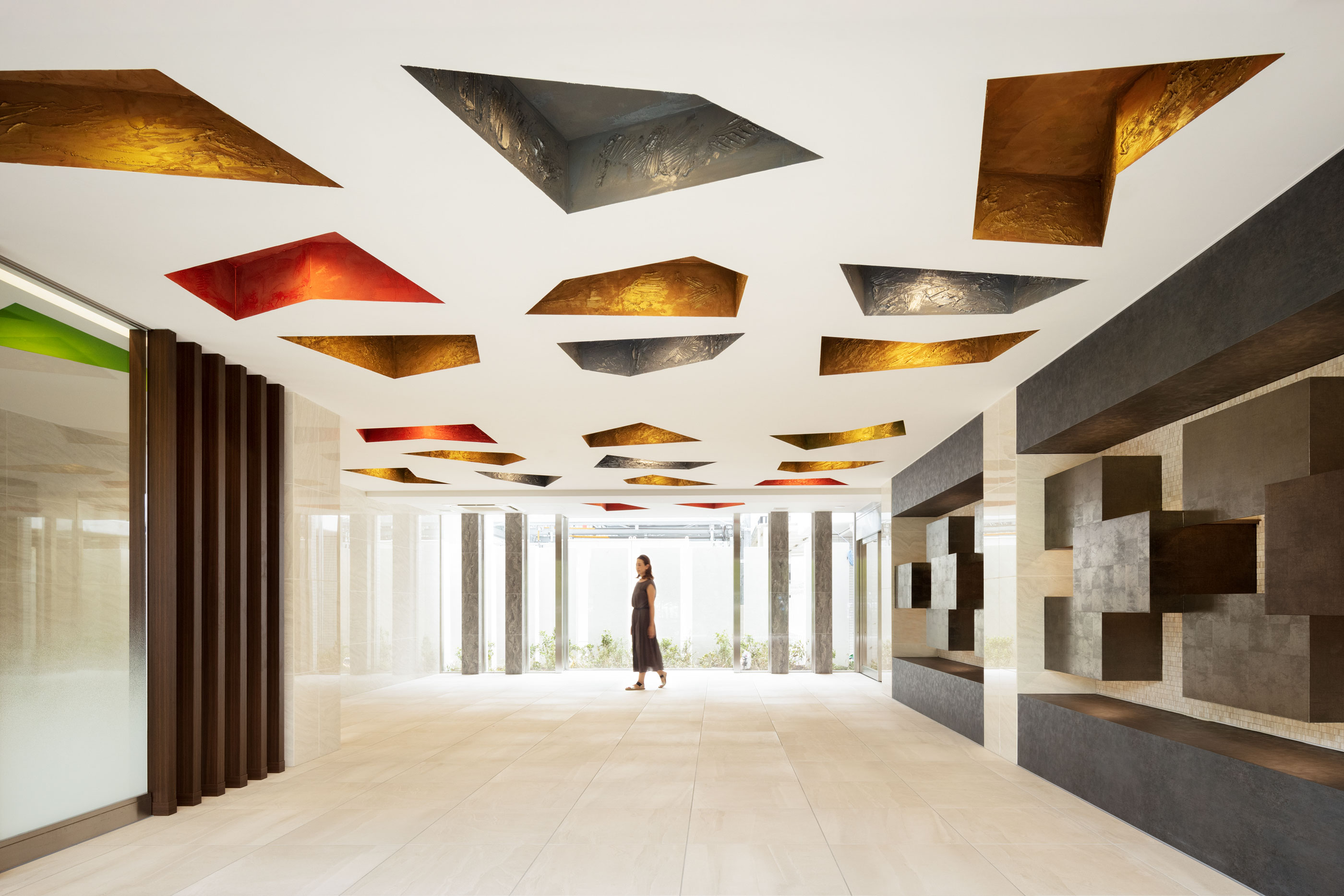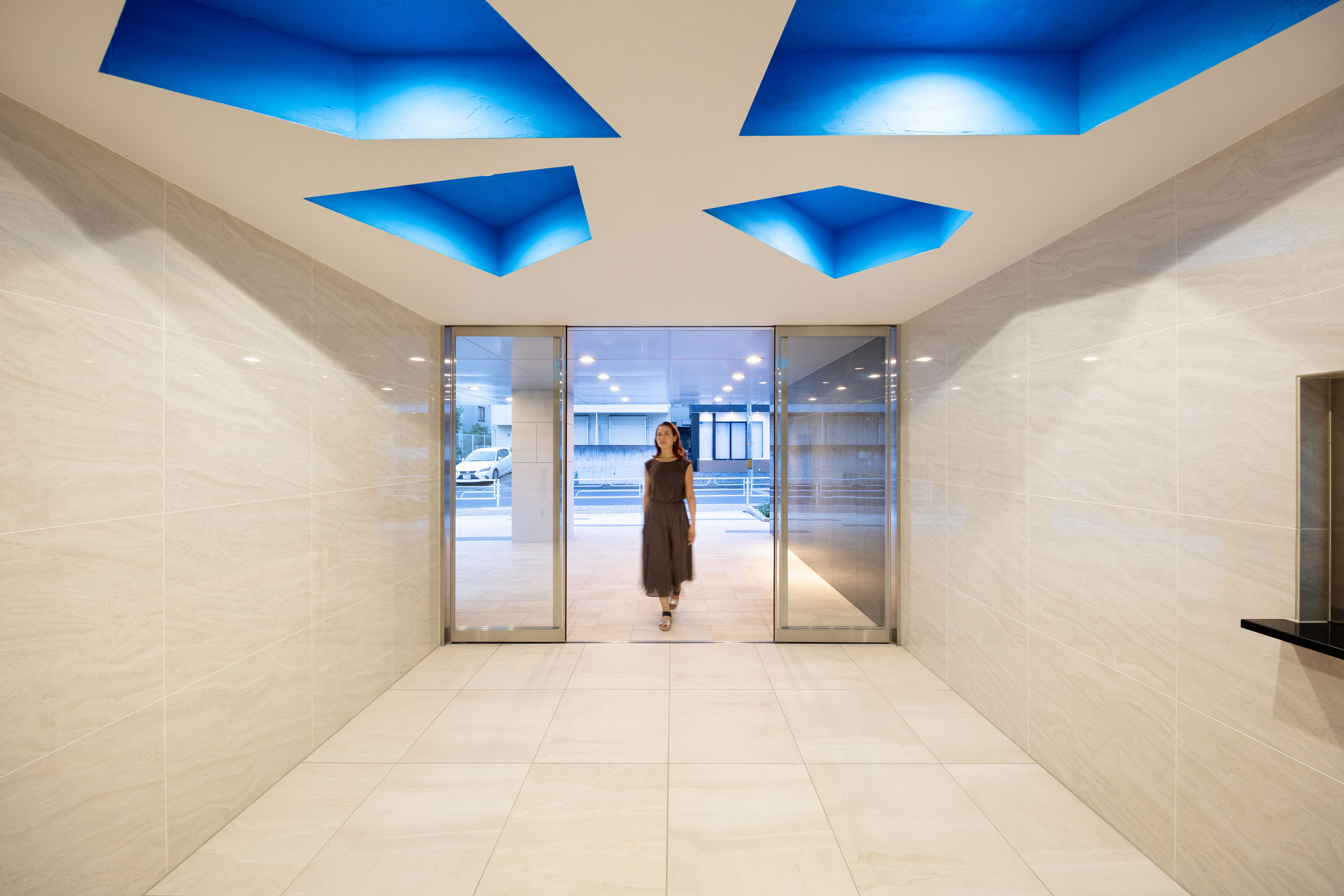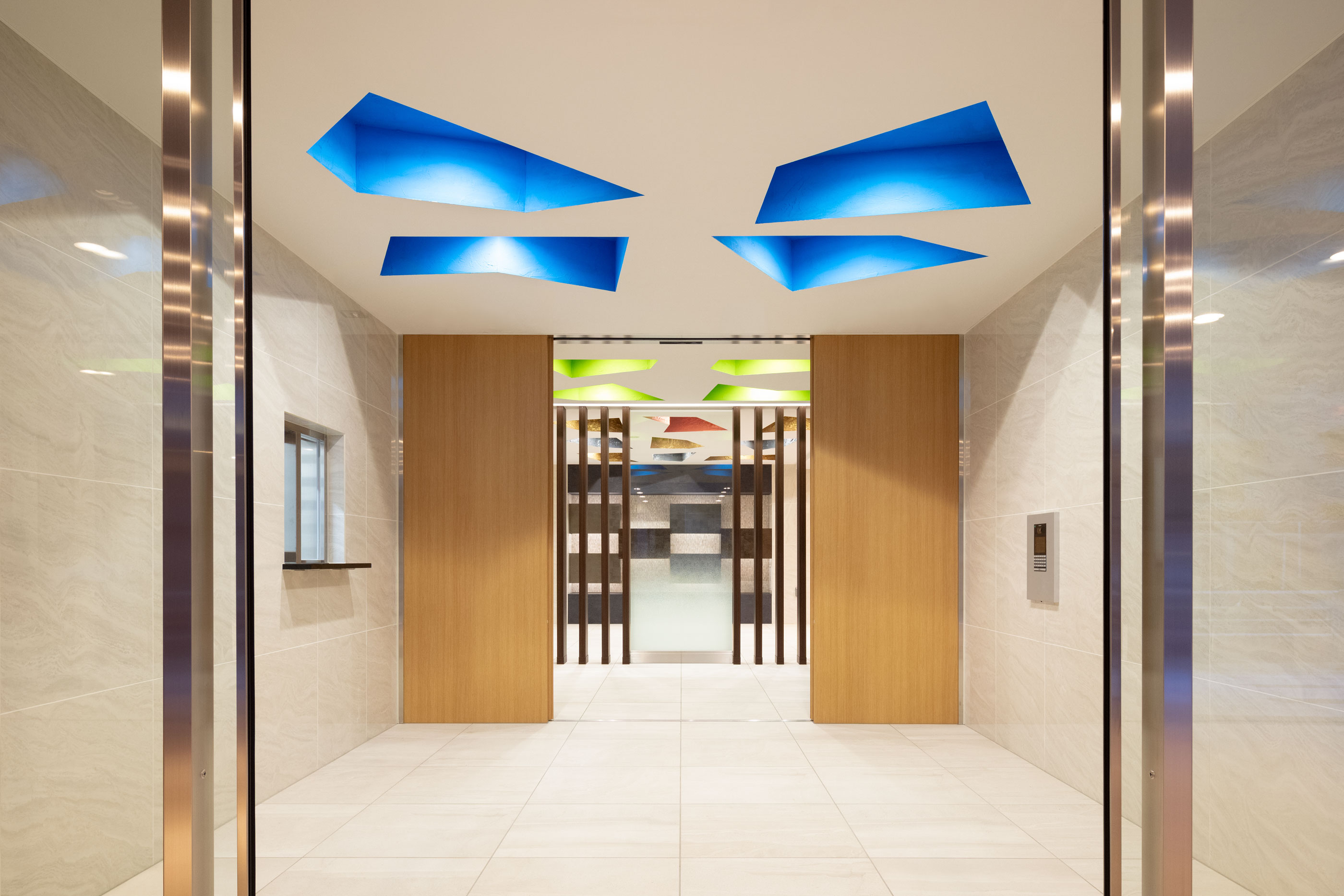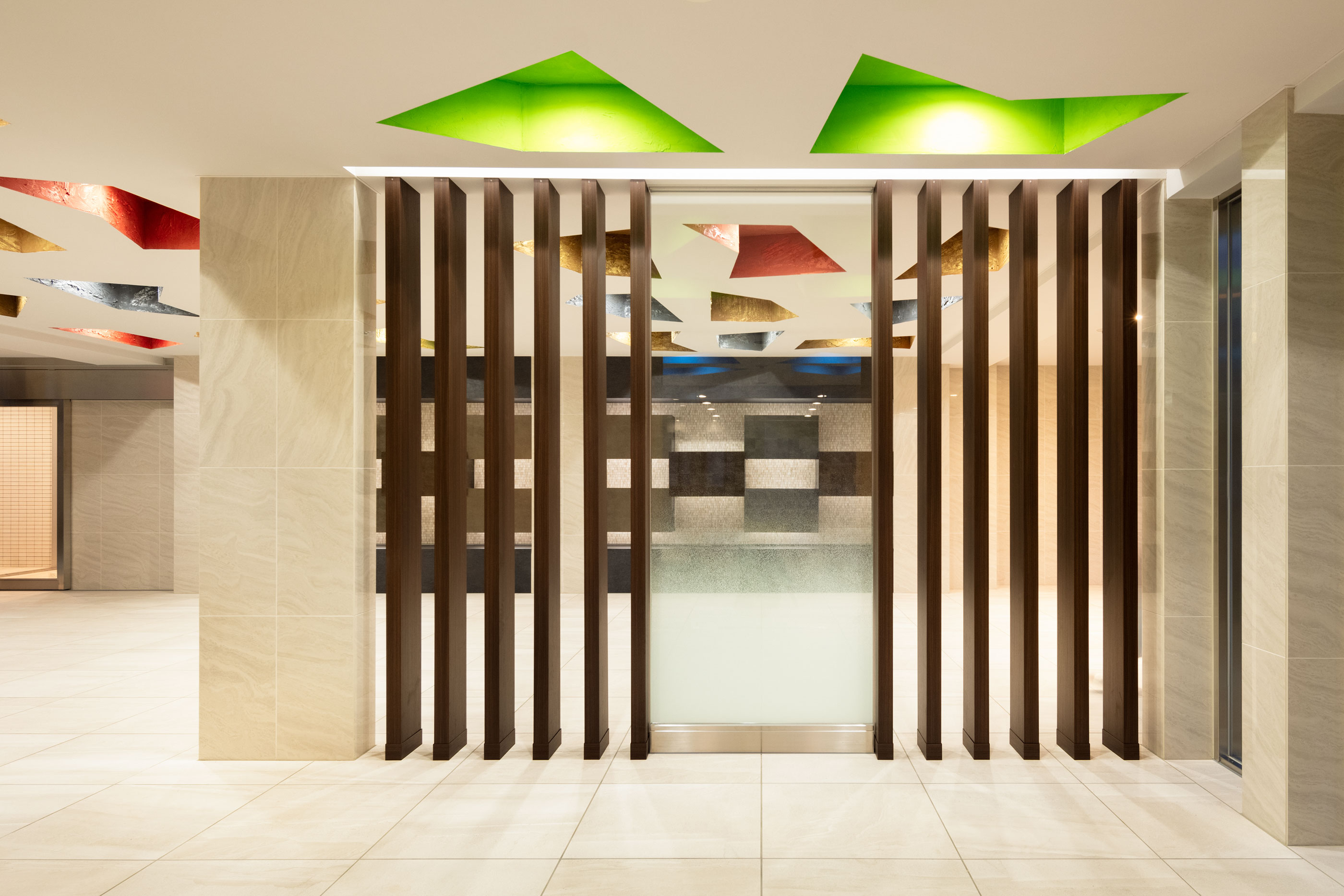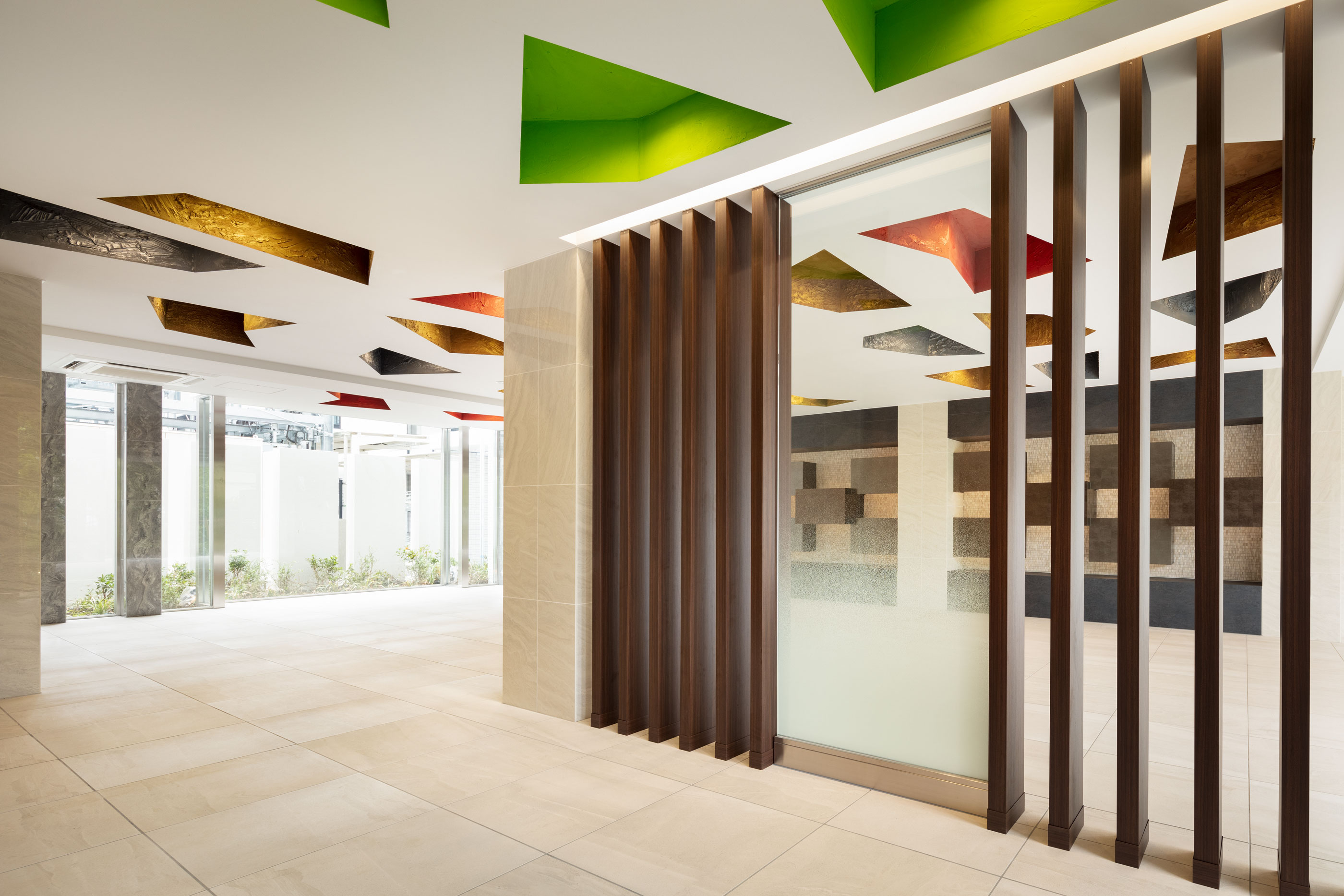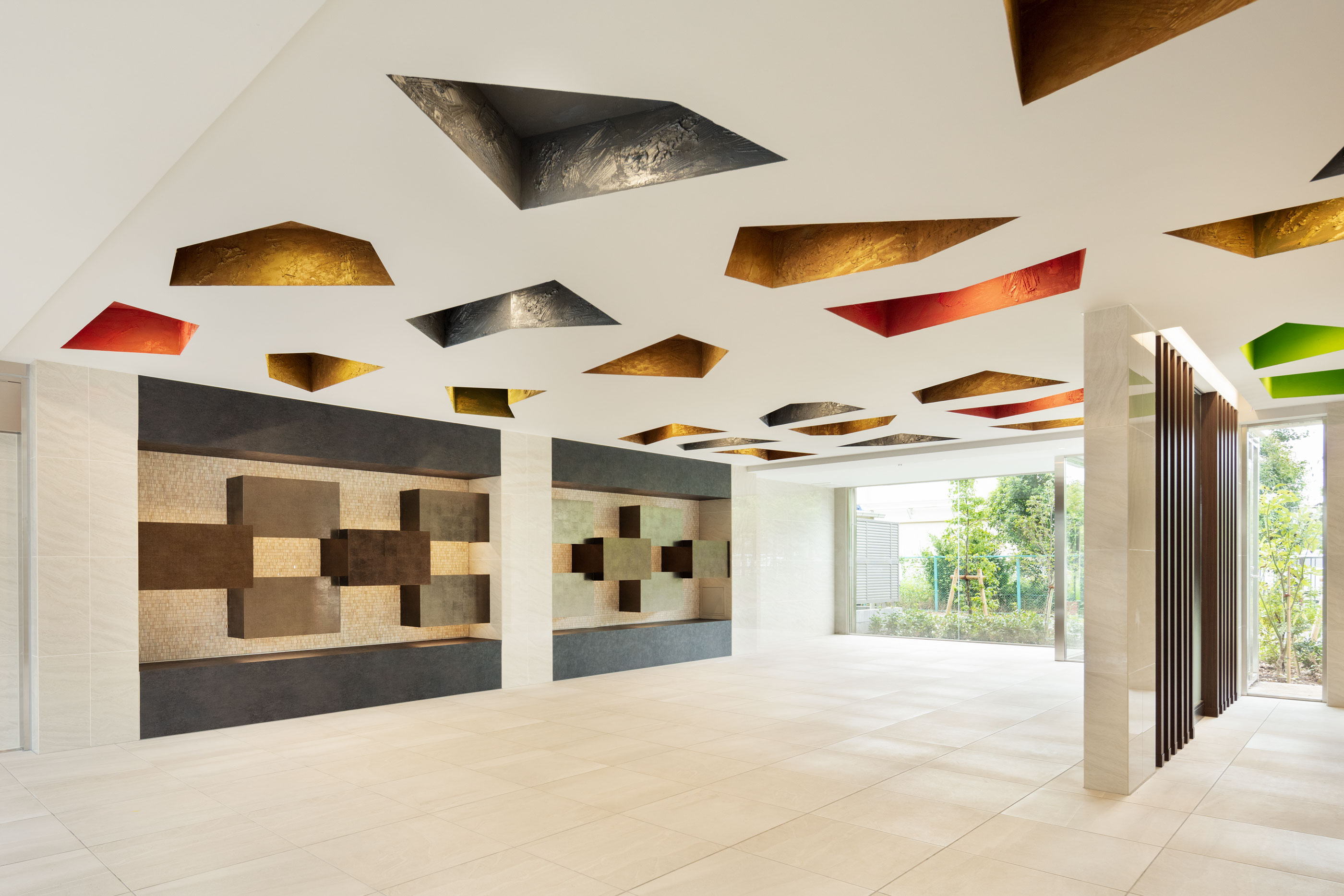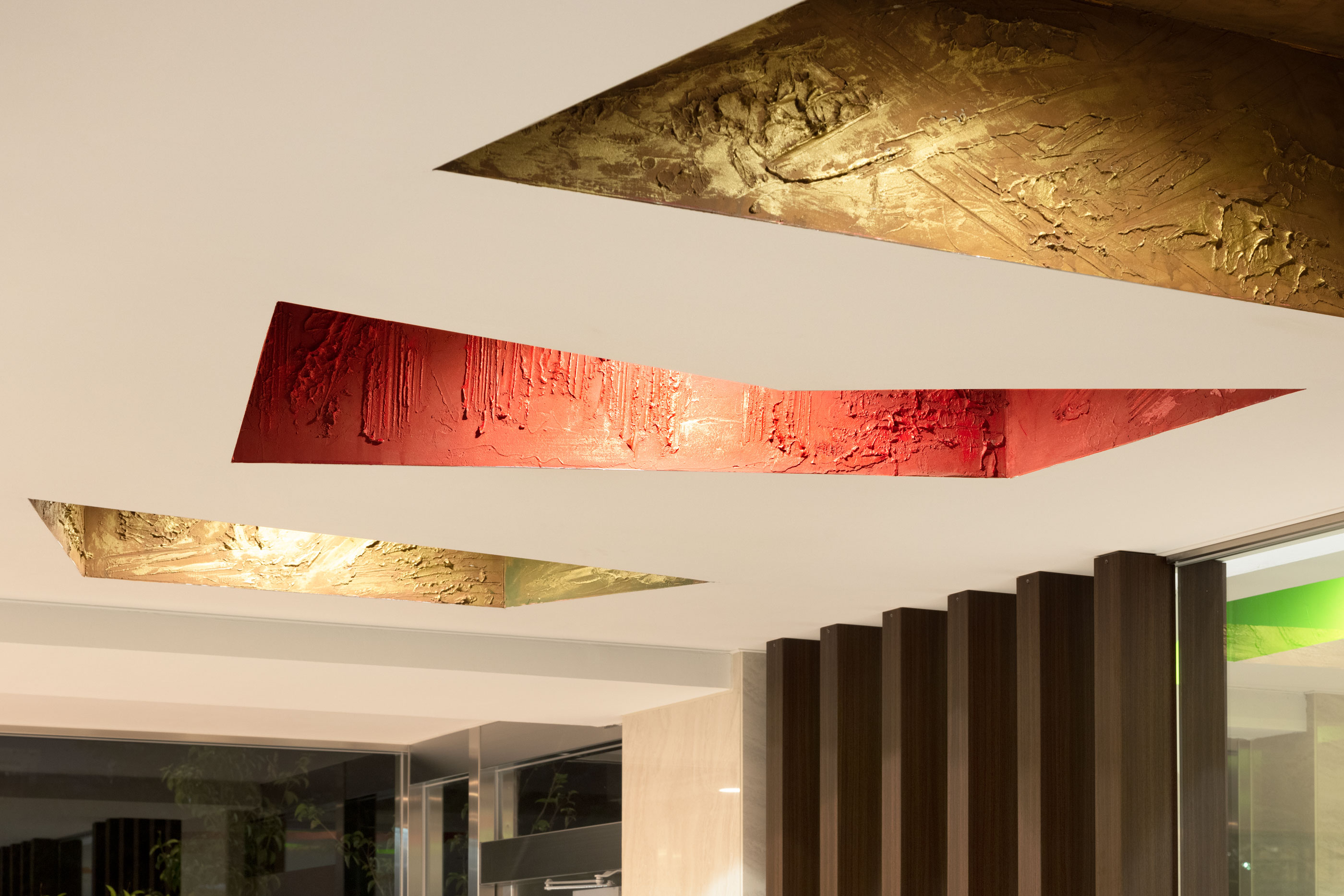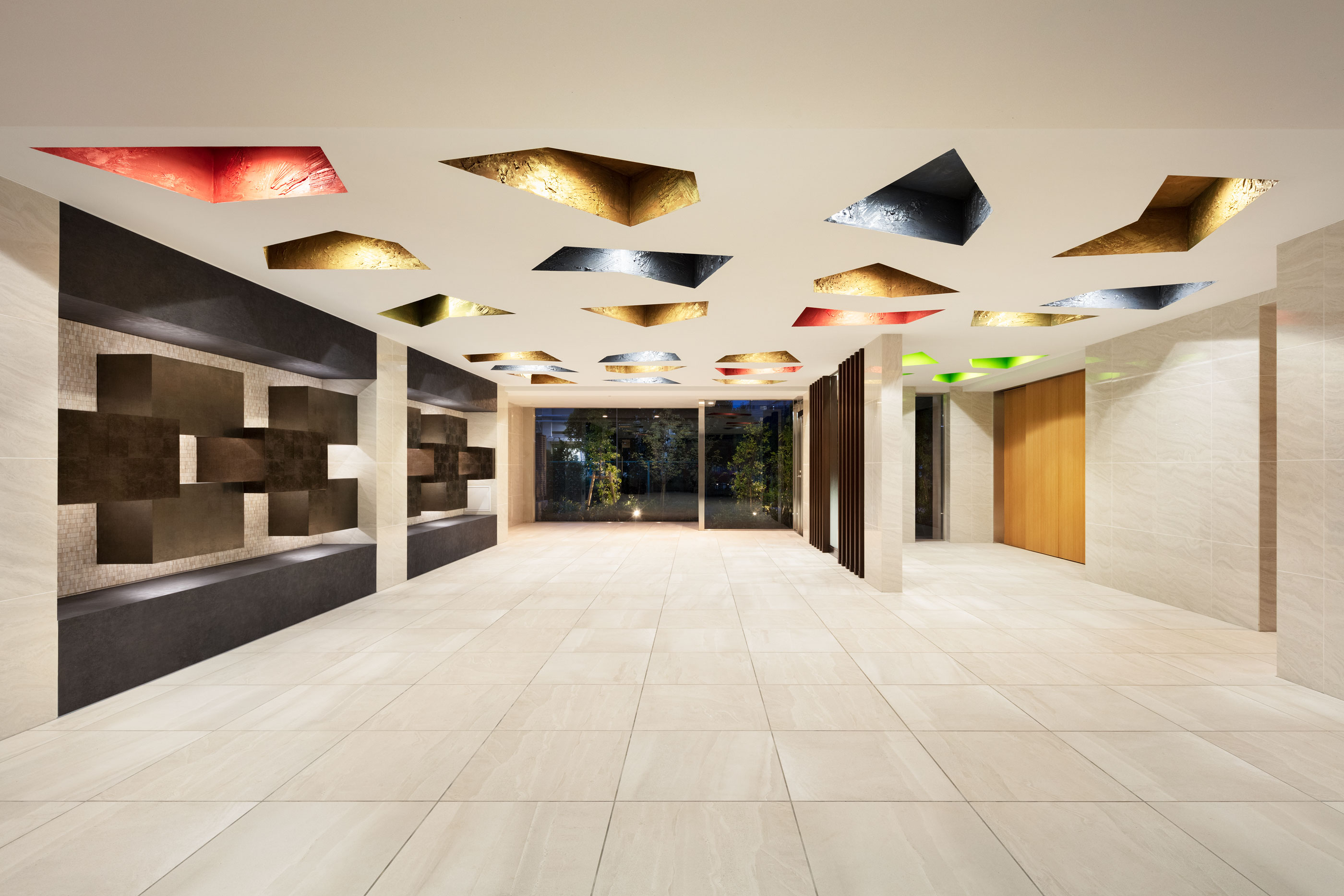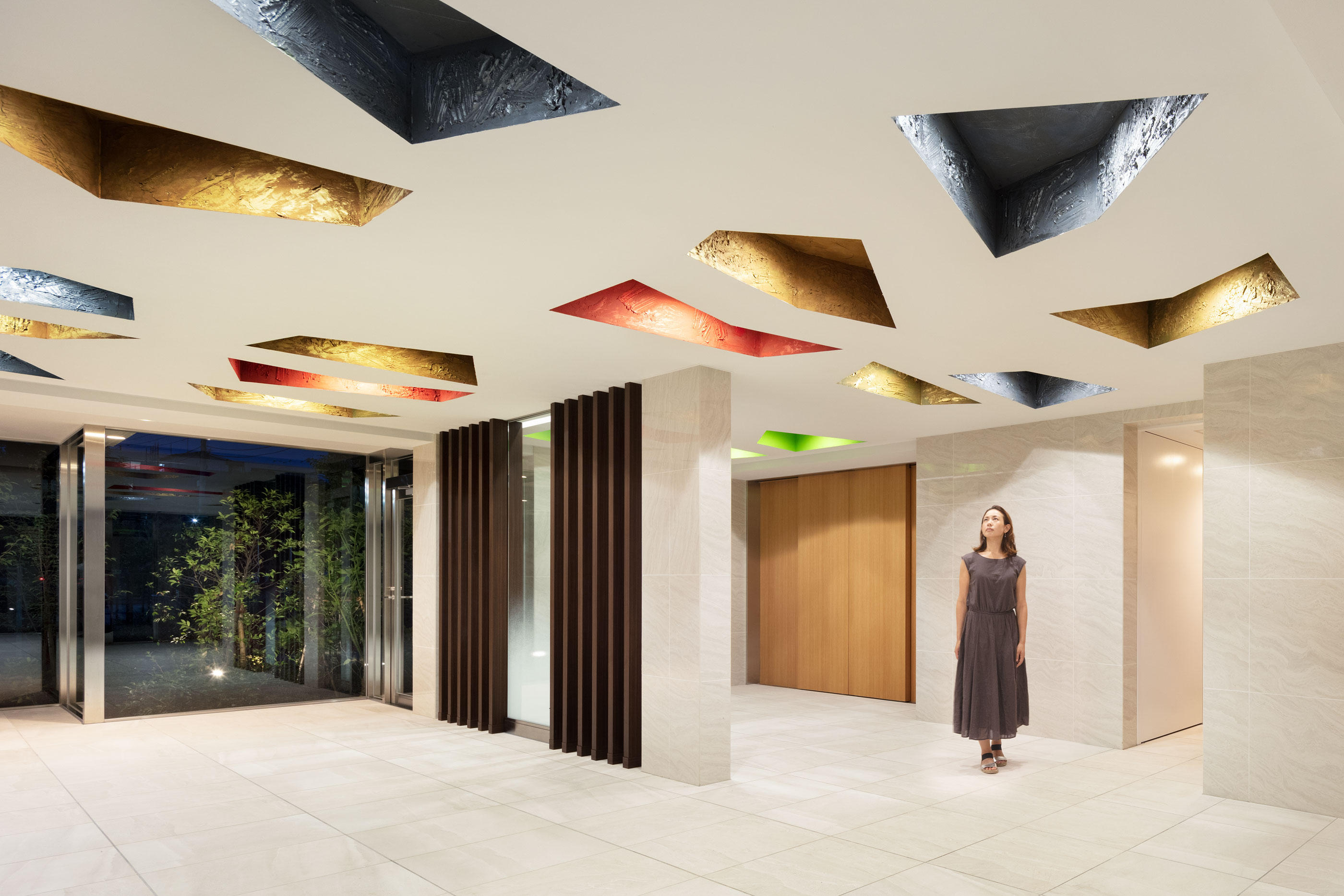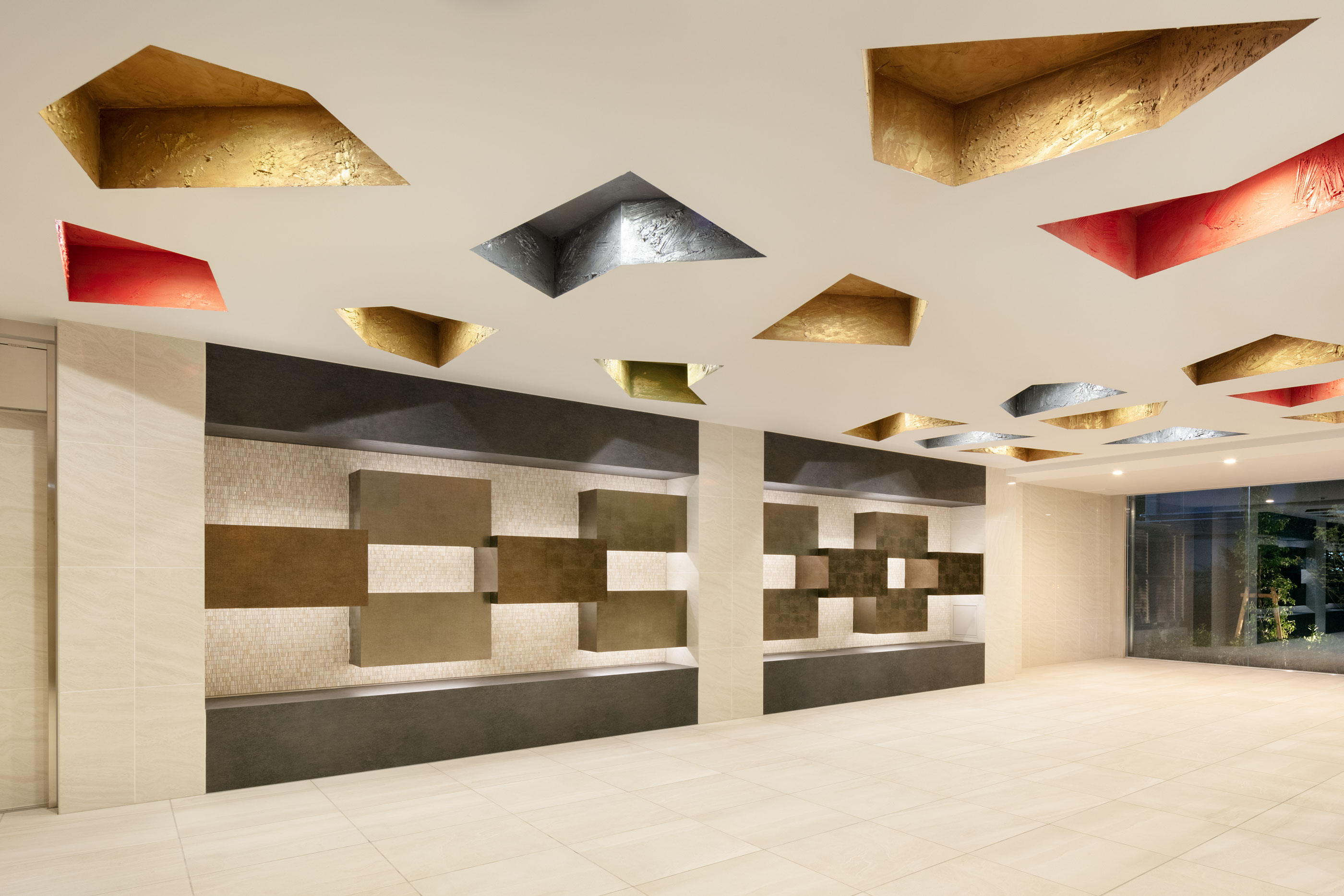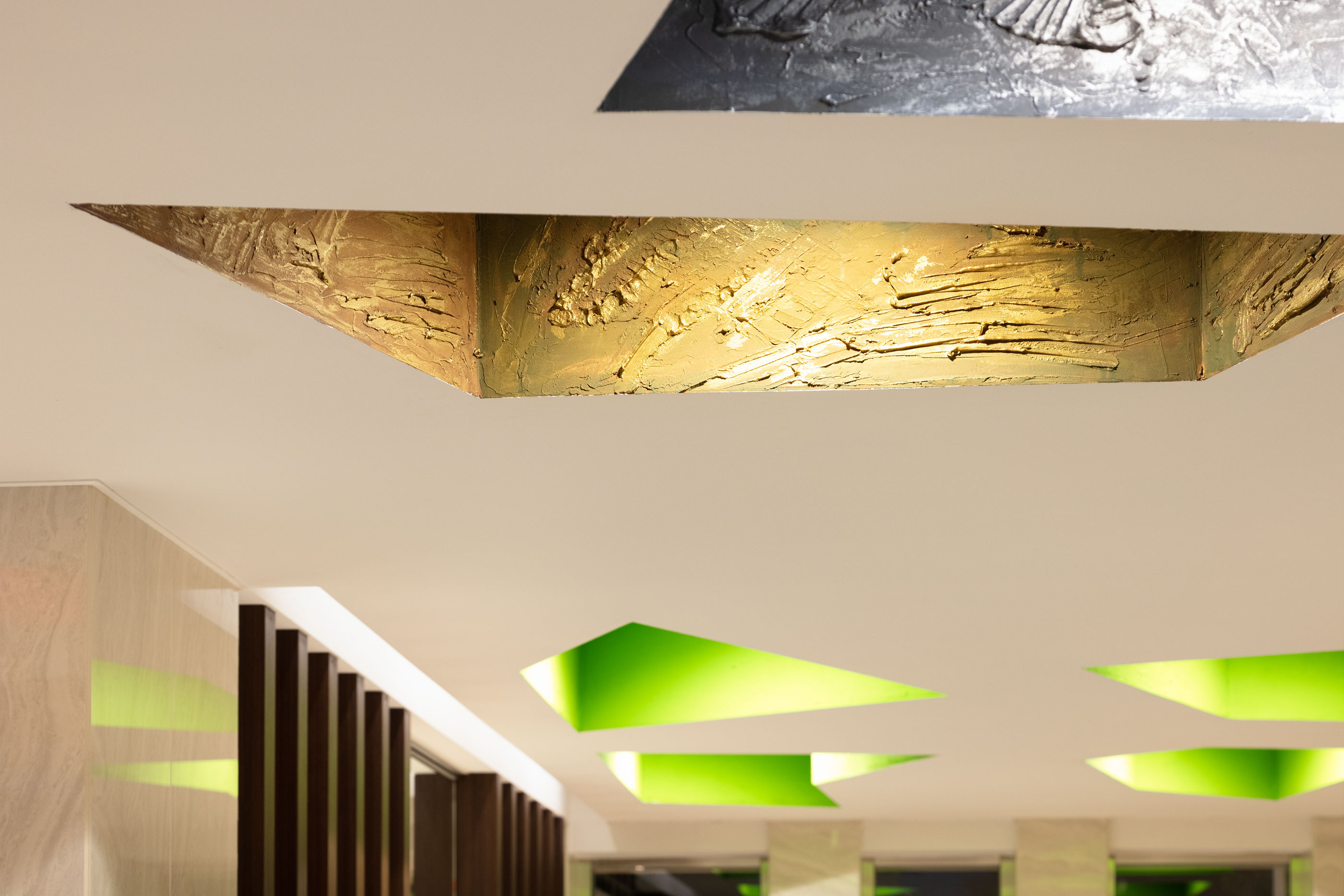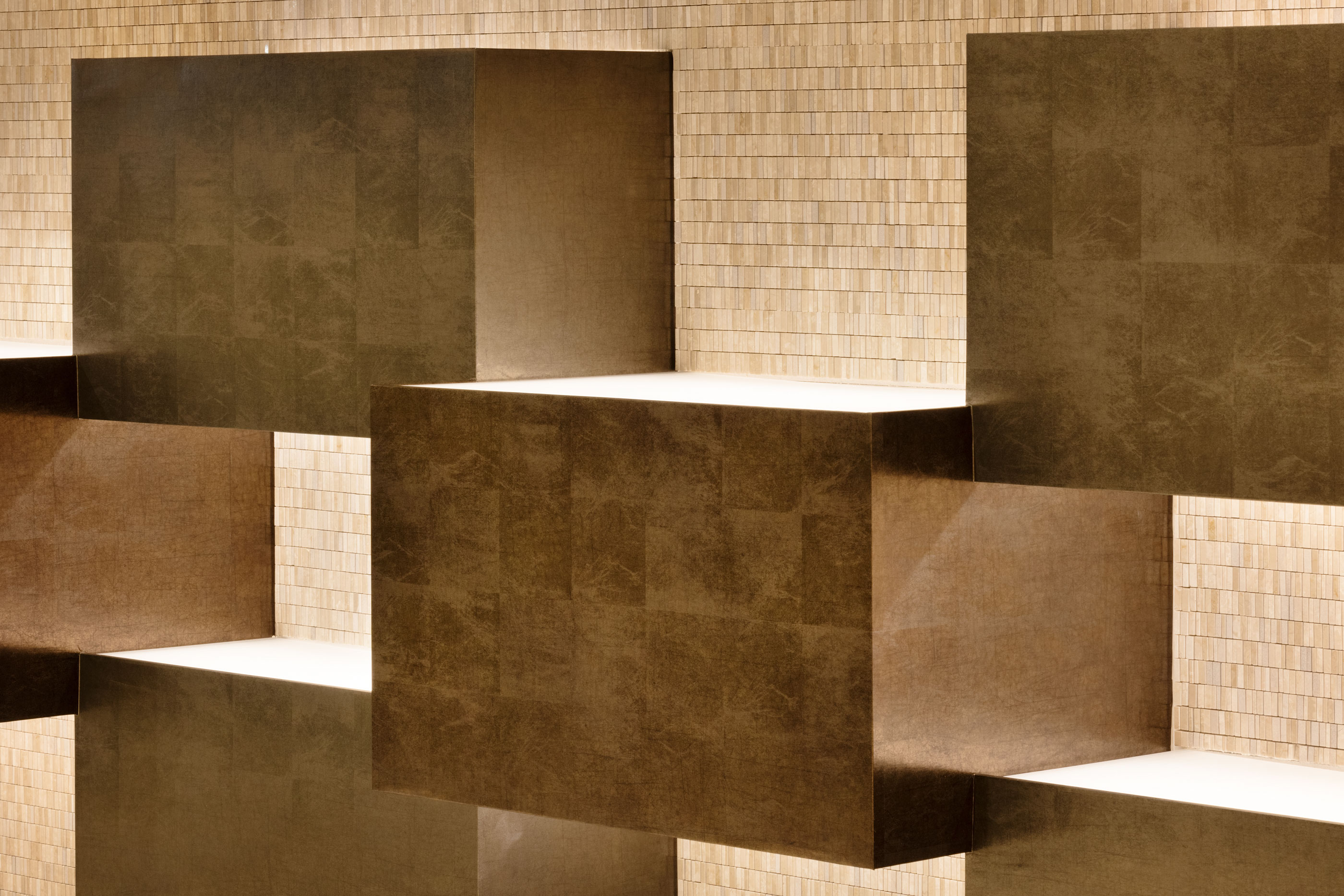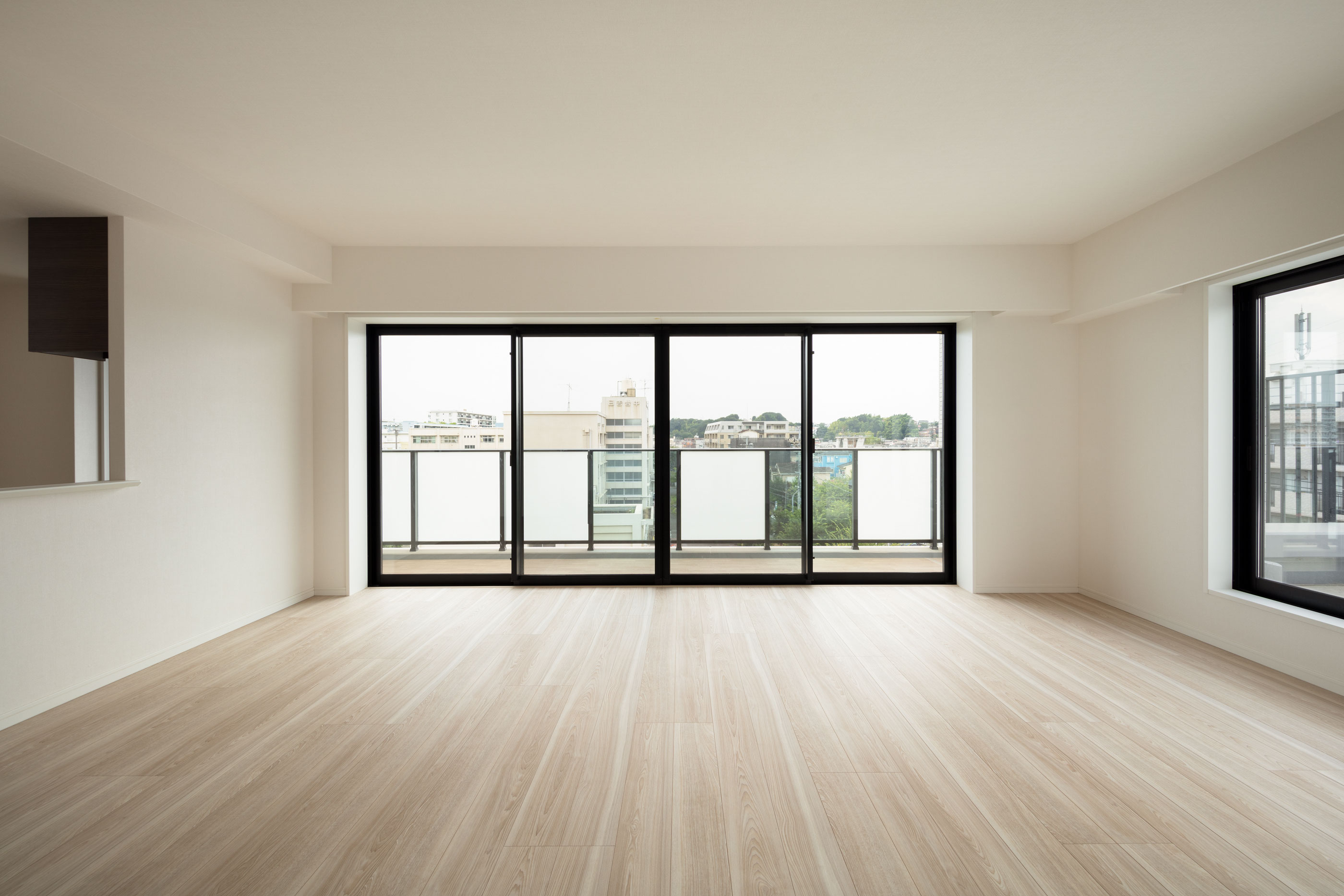 丘陵地帯にある100住戸の集合住宅
敷地周辺は、緩やかな起伏に富む緑豊かな丘が連なり、丘を連想させる地名や古墳遺跡、農業産業で重要な川があり、また、地層の断面が荒々しく露出する箇所もある、大規模な丘陵地帯である。そこで、丘のある周辺の景観の構造を意識し、そこに潜む、丘/地層/川などが形成される自然の力に呼応した集合住宅を計画することを試みた。
建築の構成は、中庭を中心としたコの字型の配置計画としている。
外観は白を基調に、バルコニーに周囲の青空や緑のイメージを帯びたカラーガラスをランダムに配置した。
中庭は、周囲の景観の構造を抽象化し、緩やかに傾斜した円形のベンチ、多角形の植栽、円形の芝生、川のように色分けされた床面、など、周辺のダイナミックな自然の表情を反映した要素を展開し、人々を包有する柔らかなスペースを作りだしている。
エントランスホールには、周辺の青空や、樹木の木漏れ日、丘の傾斜した地層の断面など、自然をモチーフとした多角形の照明体を天井全体に広げた。
照明体は、大地の隆起する力と、川の水面の輝く光を意識した、荒々しく艶やかな質感を帯び、その陰影と変化のあるパターンにより、空間全体に生き生きとした自然の力と煌めきを溢れさせている。
鑑賞者の位置や視線の角度に応じて、天井の照明体と、壁の箱状造形体の重なりが、ダイナミックに、あるいは微妙に変化し、その表情が織り成す多様な質感とリズムを豊かに感じられる空間が現れている。
起伏に富んだ丘陵地帯の風景と共鳴し、幾重にも絡み合う地層に潜む自然のエネルギーに感応した集合住宅の実現を目指した。
-Permeated by the Energy of Hills, Strata and Rivers-
We performed the design for a residential building located in a hilly area.
Surrounded by rolling hills covered in lush green trees, place names and burial mounds reminiscent of hills, as well as rivers relied upon by the agricultural industry, the building site is set in a large hilly area where cross sections of the stratum are exposed in some places.
Thus, we set out to integrate into our design the structure of the surrounding hilly landscape while echoing the natural power of its hills, strata, and rivers.
The construction follows a U-shaped layout centered around a courtyard.
The exterior of the building is mostly white with balconies decked by a random arrangement of colored glass panel3s symbolizing the sky and greenery surrounding the site.
The courtyard abstracts the structure of the surrounding landscape by putting forward elements giving it the dynamic appearance of its natural environment, such as a gently undulating circular bench, polygonal planters, circular lawn patches, and floors colored as bodies of water, thus creating a soft and enveloping space for its users.
Illuminated polygonal recesses dot the entire ceiling of the entrance hall revealing natural motifs, such as azure skies, sunlight filtering through green foliage and exposed sloping strata.
Each illuminating body has a rough and glossy texture that calls back to the rising power of the hilly grounds and the light shining off the water surface of the rivers. The resulting shadows and changing patterns fill up the whole space with the lively power and sparkle of nature.
Moreover, the juxtaposition of the ceiling lighting units and the box-shaped structures on the walls create in turn dynamic or subtle changes depending on the position of the viewer and the angle of the line of sight. This visual tapestry reveals a space giving a rich sense of diverse textures and rhythms.
Resonating with the landscape of rolling hills, the residential building channels and gives form to the natural energy embedded in multiple layers of intertwined strata.
Design Firm: Moriyuki Ochiai Architects
Design Team : Moriyuki Ochiai, Jillian Lei, Xingguang Li
Use: Residential architecture
Location: Kanagawa Japan
Client : Shinnihon Corporation
Constructor: Shinnihon Corporation
Special Paint : Osamu Yamaguchi
Lighting: Kayo Yokoyama(Koizumi )
photo: Takumi Ota(www.phota.jp)
Design Firm: Moriyuki Ochiai Architects
Design Team : Moriyuki Ochiai, Jillian Lei, Xingguang Li
Use: Residential architecture
Location: Kanagawa Japan
Client : Shinnihon Corporation
Constructor: Shinnihon Corporation
Special Paint : Osamu Yamaguchi
Lighting: Kayo Yokoyama(Koizumi )
photo: Takumi Ota(www.phota.jp)
Award