炎の勢いやワインの多様な色の
共鳴するエネルギーを空間全体に溢れさせたレストラン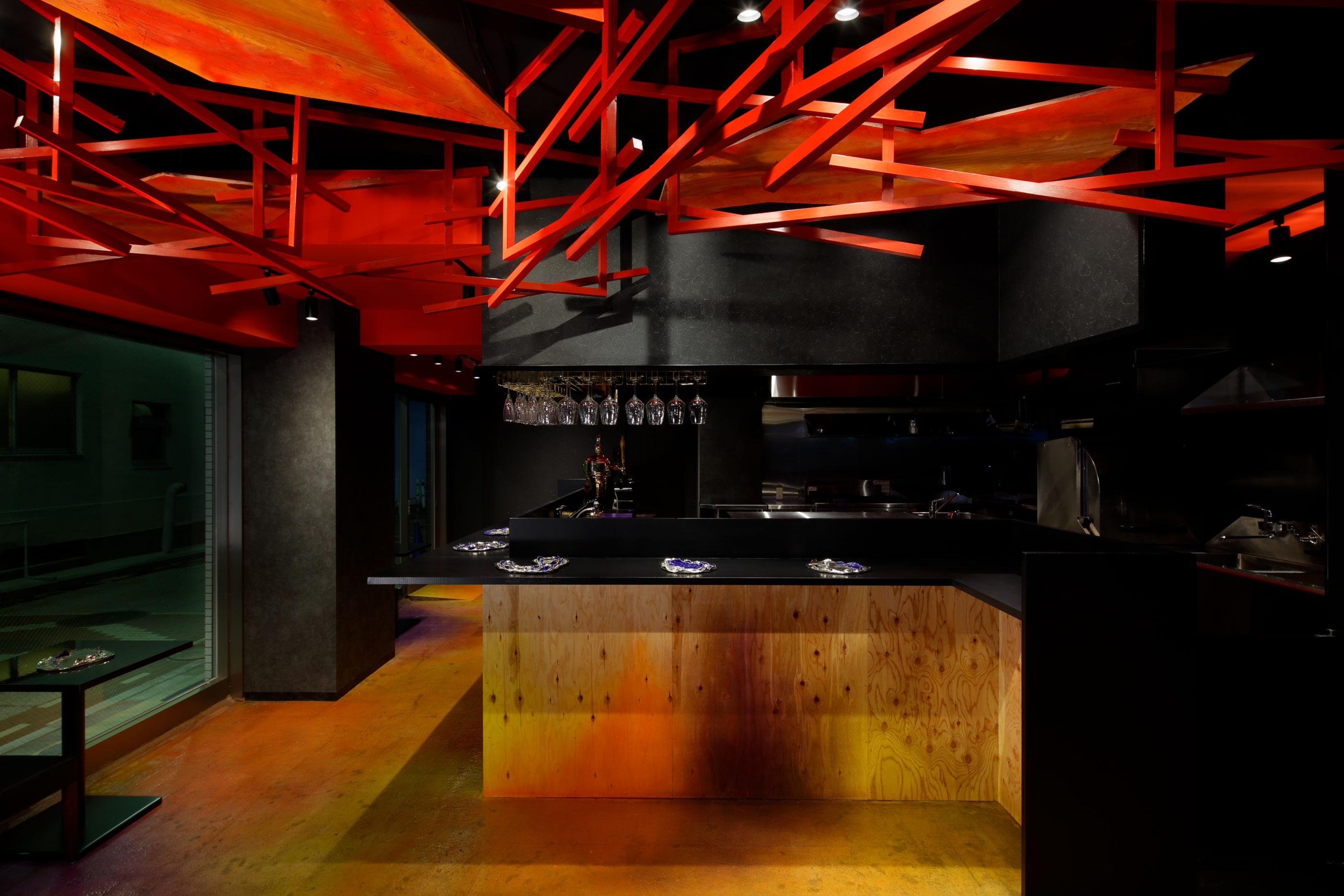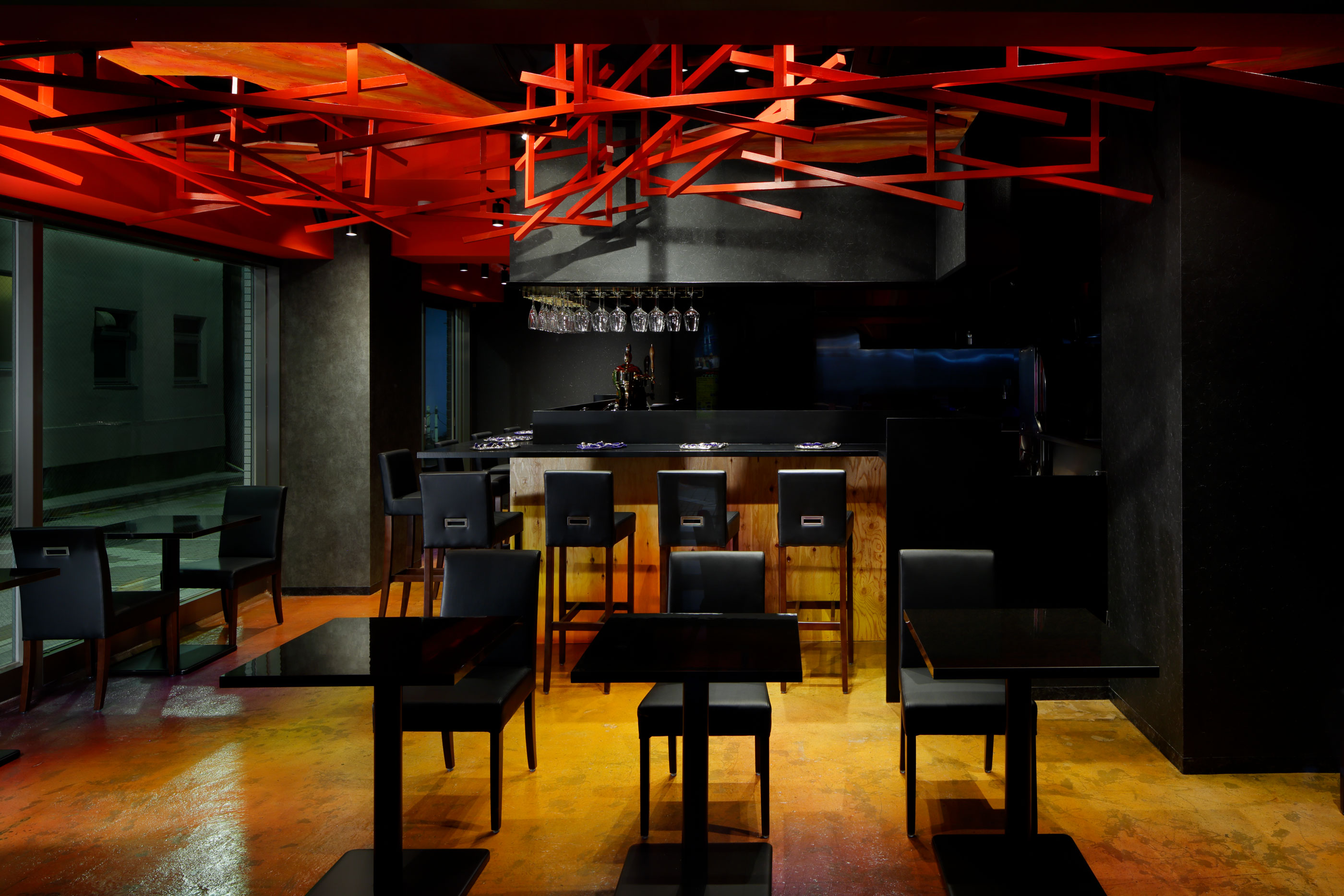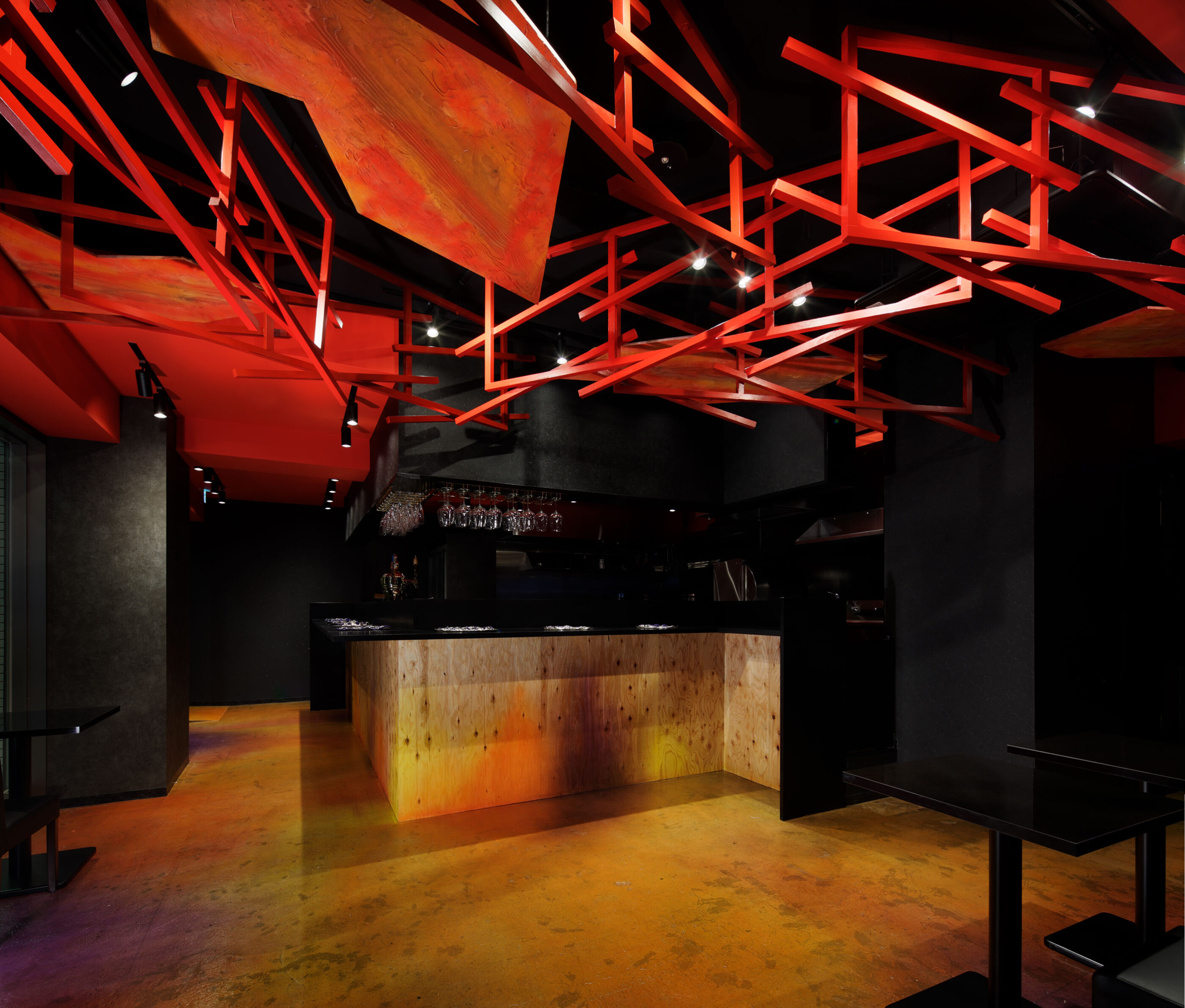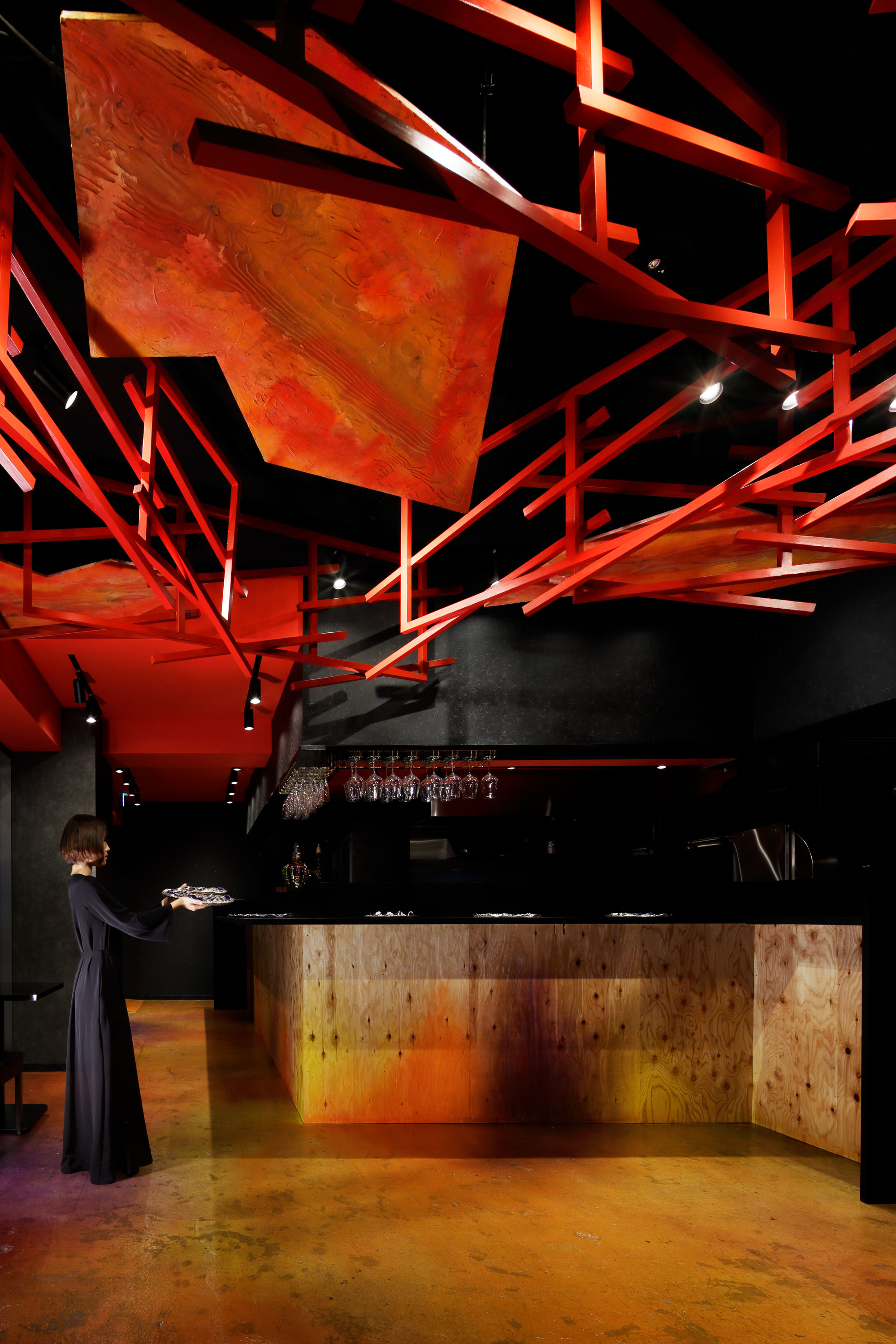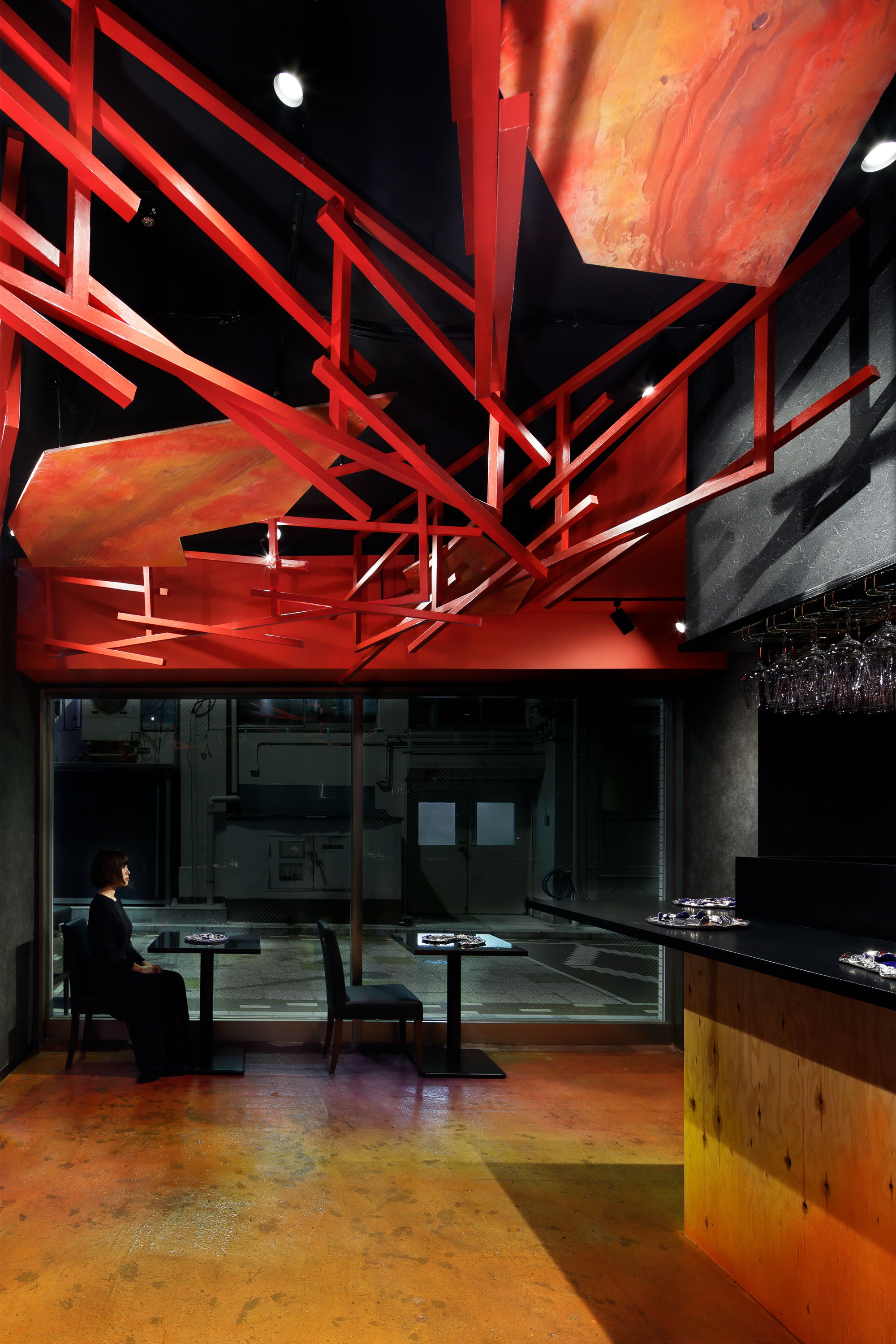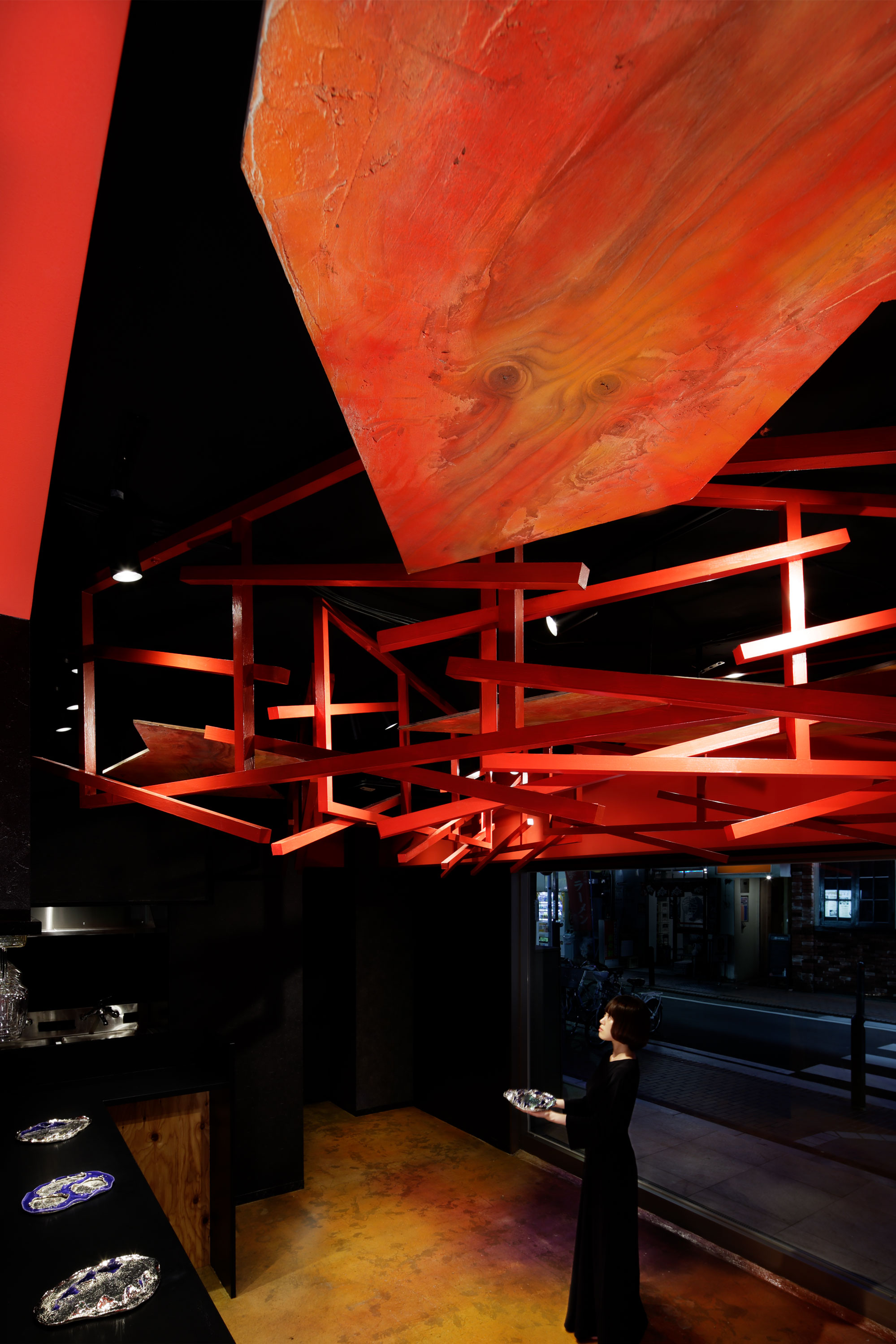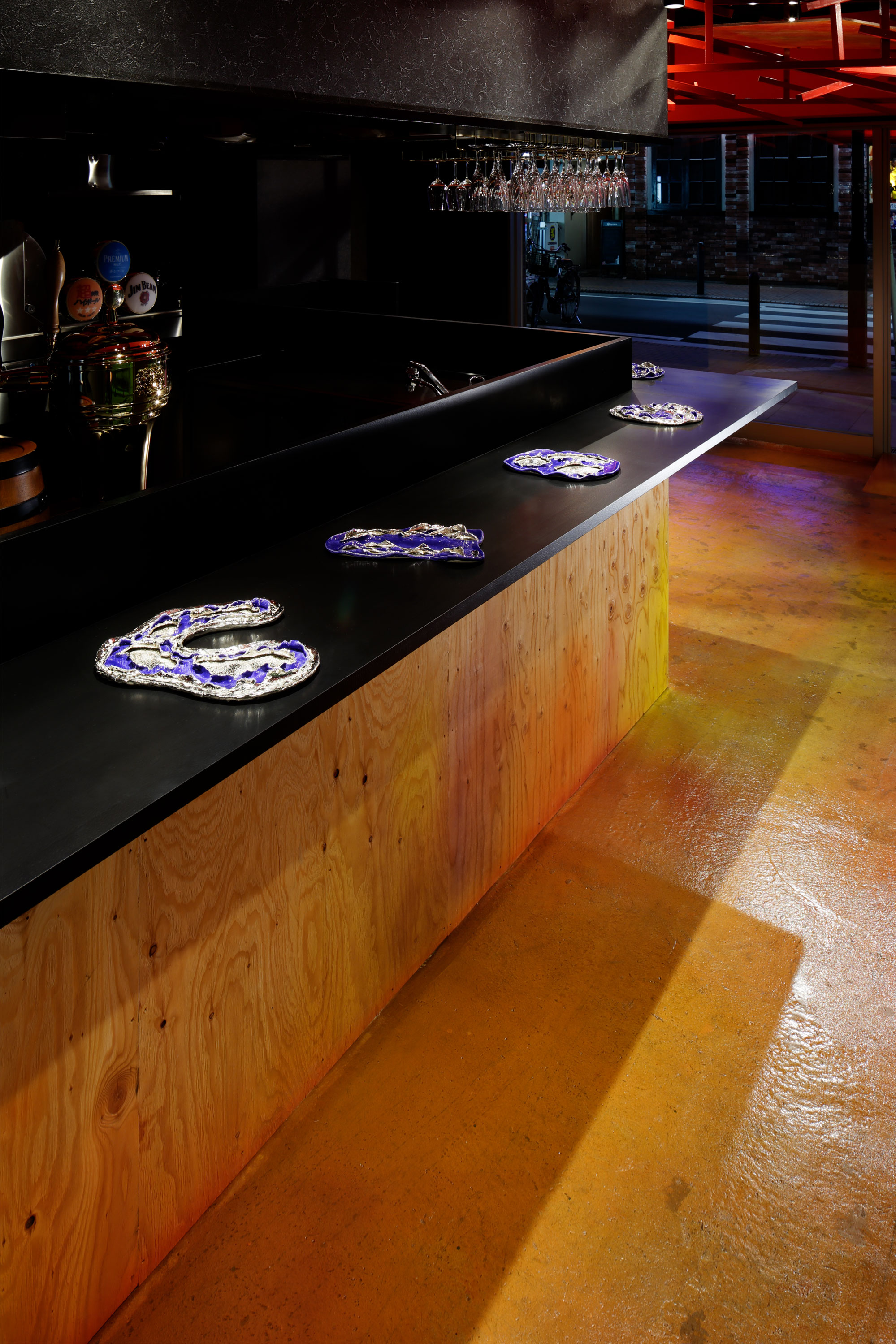 レストランの計画
提供される料理は、ダイナミックな炎を使った肉料理とワインのセレクトに特徴があり、その魅力を伝える空間創りが求められた。
そこで、炎の勢いやワインの多様な色の、共鳴するエネルギーを空間全体に溢れさせようと試みた。
天井面には、線状の鋭い炎の勢いを感じさせる赤色の格子群と、炎の力強い揺らめきを感じさせる赤色の特殊な仕上げを施したプレートを組合せ、重層する炎のエネルギー体を作り出す。
床には、炎やワインの色を混合させたイメージで着色し、赤、オレンジ、黄色、紫のグラデーション状に彩られた艶のある透明樹脂の床を広げた。
天井と床の色とが共鳴し、特別に制作された専用の飲食皿が空間に美しい煌めきを与え、相互に反射した全体像は、鑑賞者の視線の位置や角度により、複雑な様相を見せながら変化していく。
格子群とプレートとの活発なエネルギーの重奏により幾つもの表情を演出し、炎/ワインが融合した深遠な色の波に包まれる空間が実現している。
The menu offers meat dishes cooked using a dynamic flame paired with select wines with character. Deliverables included a space that would embody and convey this appetizing experience.
We sought to fill the entire space with the energy resonating from the intensity of the flame and diverse colors of the wine.
The ceiling plane reveals a multilayered body of flame energy by combining red latticework conveying the intensity of the steeply spiraling flame as well as red plates coated with a special finish representing the strong flickering of the flame.
For the floor, our idea was to color it as though we were combining the colors of the flame and wines. Thus, we created a floor with a glossy transparent resin colored in a gradation of red, orange, yellow, and purple.
The color of the ceiling and floor resonate with each other, and the specially produced exclusive dining ware gives the space a beautiful glimmer.
The overall mutually reflective view produces intricate and constantly evolving expressions depending on the position and angle of the diners' line of sight.
Through the lattice and plate ensemble's lively energy, we were able to create a myriad of expressions and realize a spatial experience infused within the deep colors of the flame and wines.
construction : aslego
special paint : osamu yamaguchi
photo: fumio araki
construction : aslego
special paint : osamu yamaguchi
photo: fumio araki